SPICY LEMONGRASS AND SEAFOOD SOUP
Chef Rob Feenie
Serves 4
Ingredients:
3 Tbsp olive oil
1 cup chopped galangal
1 cup chopped lemon grass
½ cup chopped kaffir lime leaves
¼ cup peeled and chopped ginger
8 red Thai chilies, finely chopped
5 cloves garlic, peeled and crushed
½ cup chopped onions
½ cup chopped celery
1 cup chopped carrots
8 cups cold water
¼ cup cilantro stems
1 cup palm sugar (Asian food stores)
¾ cup fish sauce
¾ cup fresh lime juice
4 pieces halibut (each 2 oz.), cleaned and skinned
4 oz. mussels, precooked, meat only
4 oz. clams, precooked, meat only
Canned coconut milk to taste
Fresh lime juice to taste
4 scallops cut horizontally, 1/8-inch thick rounds
¼ cup julienned Thai basil leaves
¼ cup cilantro leaves
¼ cup tomato concasse
¼ cup snow peas, blanched and thinly sliced
¼ cup pea shoots (Asian food stores)
8 tbsp cilantro oil
Method: Soup
Heat olive oil in a stockpot on medium-high heat. Add galangal, lemongrass, kaffir lime leaves, ginger, chilies, garlic, onions, celery and carrots. Sauté for 10 minutes or until onions are soft and translucent (it is done when you breathe in the aroma and can feel the slight burning sensation of the chile at the back of your throat).
Add water, cilantro stems, Thai basil stems, pam sugar, fish sauce and lime juice.
Bring to a boil, then remove from the heat and strain through a fine0mesh sieve; discard solids and reserve the broth.
To Assemble:
Reheat the broth in a clean saucepan on medium heat.
Add halibut and poach for 1 to 2 minutes.
Add mussels and clams.
Add coconut milk to taste (first shake the can well to emulsify the milk so that it does not separate).
Decrease the heat to medium-low and bring the soup to a gentle simmer (do not allow to boil).
Season to taste with salt and a little more lime juice.
Remove halibut from the soup and place a piece in the center of each of four warmed soup bowls.
Scatter thinly sliced scallops, Thai basil, cilantro, tomato concasse, snow peas and pea shoots around halibut in each serving.
Remove mussel and claim meat from the soup and divide evenly among four bowls.
Ladle hot soup over ingredients in each bowl. Drizzle 2 teaspoons of cilantro oil around each piece of halibut.
Method: Tomato Concasse
Bring a pot of water to a boil. Add whole tomatoes and blanch them for about 10 to 20 seconds (the riper the tomatoes, the less blanching time needed).
Use a slotted spoon to remove tomatoes from the boiling water and immediately plunge them into a bowl of ice water to stop the cooking.  Allow tomatoes to cool for about 1 minute.
Remove tomatoes from the ice water. Use a small paring knife to remove the tomato cores, and then peel.
Cut tomatoes in half. Use a small spoon to gently scoop out inside flesh or gently squeeze out seeds (keep the inside flesh to make tomato sauce or to ad to stocks and soups.
Cut tomatoes into ¼-inch dice; will keep in an airtight container in the refrigerator for no longer than 1 day.
Ingredients: Cilantro Oil
1 cup fresh cilantro
½ cup fresh Italian (flat-leaf) parsley
1 cup grapeseed oil
Method: Cilantro Oil
Blanch herbs by placing them in boiling water just till they wilt, about 10 seconds.
Immediately shock herb by transferring them to a bowl of ice water to preserve colour. Drain herbs, then dry thoroughly between two towels.
Puree herbs in a blender, then slowly add grapeseed oil and incorporate.
Transfer to an airtight container and refrigerate overnight to infuse. Strain through a cheesecloth-lined sieve and discard herbs.
Herbed oils will keep in the refrigerator for up to 2 months in an airtight container. Makes about 1 cup.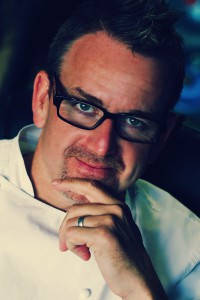 Chef Rob Feenie, Executive Chef, Cactus Restaurants Ltd.  
The driving culinary force behind Cactus Restaurants Ltd., the award-winning collection of 26 casual fine dining restaurants in BC, Alberta and Saskatoon, Rob Feenie is also one of Canada's most recognized and celebrated chefs.
At Cactus Restaurants Ltd., Chef Feenie leads the culinary team, blending his talent for creating elegant, globally-inspired cuisine with his passion for simple dishes using fresh, sustainable ingredients.  Chef Feenie's innovative approach to cooking has continued to drive the evolution of Cactus Club Cafe's menu selections and its commitment to sourcing the best fresh, local and sustainable products wherever possible.  
Growing up in Burnaby, BC, Chef Feenie first developed a curiosity for international cuisine over countless traditional family dinners at his Japanese neighbours' home. This early experience was followed by a high school exchange program where he was first introduced to European chefs and techniques.  At 20, Chef Feenie attended the Dubrulle Culinary Institute in Vancouver and upon graduating, became a Sous-chef in some of Western Canada's top restaurants, notably Le Crocodile and Cherry Stone Cove in Vancouver and The Rim Rock Café in Whistler. 
While at Le Crocodile he began a series of work and educational trips, or stages, throughout Europe and North America, starting in Alsace with Chef Emile Jung at Au Crocodile and Chef Antoine Westermann at Le Buerehiesel, both Michelin three-star rated restaurants. In North America he worked with Chef Charlie Trotter, at Trotter's Restaurant in Chicago, and Chef Jean-Georges Vongerichten at Jean-Georges in New York.
In 1995 Chef Feenie opened the internationally celebrated Lumière Restaurant in Vancouver, followed by Lumière Tasting Bar and then Feenie's, a more casual Canadian Bistro, next door to Lumière, in 2003.  Throughout his career, Chef Feenie has secured international culinary recognition, including the coveted Relais Gourmand and Traditions et Qualitè designations, in addition to the Mobil Travel Guide four-stars designation and the AAA Five Diamond Award.  In 2009 and 2011, Chef Feenie won the Vancouver Gold Medal Plates competition.
Chef Feenie has published four cookbooks: Rob Feenie's Casual Classics, Rob Feenie Cooks at Lumière, Lumière Light and Feenie's. He also starred on New Classics with Chef Rob Feenie on Food Network Canada for five seasons.  In 2005 Feenie became the first Canadian to win on the popular television show Iron Chef America by defeating Chef Masaharu Morimoto.