THOMAS HAAS TOASTS 10 DELICIOUS YEARS A DECADE OF INDULGENCE
Internationally Renowned Chocolatier Gives Thanks to Loyal Fans with Exclusive Series of Anniversary Celebrations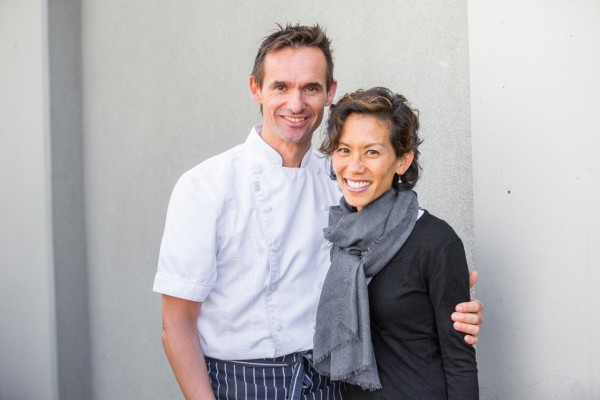 It's been a delicious decade since fourth-generation chocolatier and pâtissier Thomas Haas opened the doors of his eponymous café in North Vancouver, and the internationally celebrated chocolatier is marking the milestone by doing what he invariably does best: tempting people's tastebuds.
To kick off a year-long anniversary celebration, Haas is giving thanks to his loyal fans by unveiling a toothsome trifecta that includes 10 Delicious Days of Giveaways, a Customer Appreciation Day and an exclusive 10th Anniversary Chocolate Bar collection with a new flavour introduced each month.
As a show of gratitude to the city that he has proudly called home for 20 years, Haas will soon unveil #THAASx10 where unsuspecting Vancouverites will be treated to 10 Delicious Days of Giveaways from Thurs., Nov. 19 to Sat., Nov. 28 and a chance to win a trip-of-a-lifetime for two to Paris, France alongside Haas himself.
The November festivities will culminate with a special Customer Appreciation Day at Haas' North Vancouver location (998 Harbourside Dr.) on Sat. Nov. 28 from 8 a.m. to 5:30 p.m. featuring complimentary treats and entertainment for all ages.
Haas' collection of 10th Anniversary Chocolate Bars will make its debut in stores and online on Nov. 19, and will feature an array of milk-, dark- and white-chocolate varieties, with a unique flavour introduced each month. Priced between $7 to $10 per bar, the full cast of flavours includes:
November '15: Hazelnut & Cocoa Nibs 
December '15: Eggnog
January '16: Walnut & Cognac 
February '16: Pear & Ginger
March '16: Rosemary & Warm Vanilla 
April '16: Cherry Blossom 
May '16: Rhubarb & Cinnamon 
June '16: Strawberry & Pistachio 
July '16: Raspberry
August '16: Lemongrass 
September '16: Apricot & Passionfruit
October '16: Pecan, Caramel & Fleur de Sel 
"This year marks a very special celebration for both myself and Lisa," says Haas. "We have been truly humbled by the support that we have received from our customers, friends and family since the first day we opened. We never forget that all of them have been, and continue to be, the true secret to our success."

Stay tuned for more exciting details about the #THAASx10 10 Delicious Days of Giveaways, which will be released just prior to the event's kickoff on Nov. 19. Those wishing to be part of the 10th anniversary celebrations are encouraged to follow @thaaschocolates on Instagram, where details will be revealed later this month.

About Thomas Haas Chocolates & Pâtisserie
An internationally renowned, fourth-generation pâtissier, Thomas Haas gained experience in Michelin-starred restaurants in Europe and North America before settling in Vancouver and opening his own namesake chocolaterie, patisserie and café in 2005. Haas — Vancouver Magazine's Pastry Chef of the Year in 2011, '13, '14 and '15 — uses only the finest raw ingredients sourced both locally and from around the globe and, in keeping with family custom, eschews the notion of assembly lines and mass production techniques, instead trusting in a talented team of pastry chefs and chocolatiers whose finesse and sensitivity is lovingly expressed in every hand-spun confection.
Thomas Haas products are exclusively available at both his Kitsilano and North Vancouver cafés as well as select leading hotels, retailers and restaurants across North America. www.thomashaas.com
North Shore | 128 – 998 Harbourside Dr. | North Vancouver, BC  V7P 3T2 | 604-924-1847
Kitsilano | 2539 West Broadway | Vancouver, BC  V6K 2E9 | 604-736-1848
Hours: Tuesday through Saturday from 8 a.m. to 5:30 p.m. (closed Sunday and Monday)
Twitter: @thaaschocolates  |  Instagram: @thaaschocolates  |  Facebook: /thaaschocolates