The City of Bhangra Festival is throwing a backyard party for the entire city this week featuring one of Vancouver's biggest fusion bands: Delhi 2 Dublin.
Presented by the Vancouver International Bhangra Celebration Society (VIBC) in partnership with Zee TV Canada, this all out dance and music celebration is well underway and not over yet, especially with Delhi 2 Dublin set to grace the stage.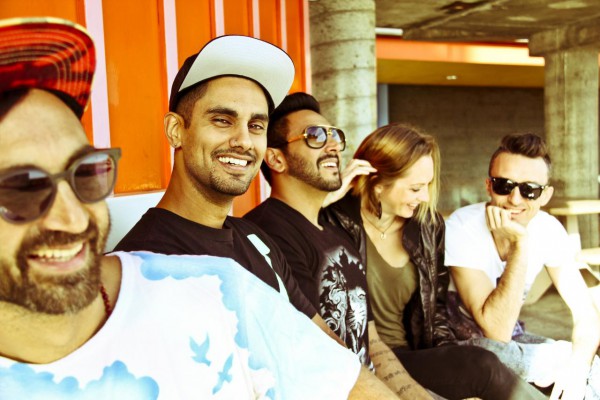 (Photograph by Josli Rockafella)
That's right! Delhi 2 Dublin will be performing right in the heart of the city on the plaza of the Vancouver Art Gallery amongst a lineup of impressive artists for Downtown Bhangra. Festivities will begin at 5:00 PM this Friday evening, June 5 and admission is free.
Delhi 2 Dublin is Vancouver's very own Celtic-Punjabi group. Over the years, Delhi 2 Dublin has released eight amazing albums, seizing the power of cultural fusion and becoming one of the most talked about bands in Canada. Band members Tarun Nayar and Sanjay Seran have performed at various VIBC events since the Festival's inception.
Downtown Bhangra will be taking place both Friday and Saturday this weekend but you'll want to be there on Friday to catch this special appearance from Delhi to Dublin. Both days will feature extraordinary performances from bhangra groups from all over including DC Metro Punjabi Arts Academy from Washington, DC, Nachde Shokeen Gabroo (NSG) from San Jose, CA, and Shaan Mutiyaaran Di Bhangra Club (SMD) from New York, NY.
Headliners for Friday will include Shava, a "Finnjabi" group, whose music has its roots in the soil of India and East-Helsinki, and DJ Anjali who will also be performing at the official afterparty. Be sure to come by Saturday, June 6 to witness the last day of Downtown Bhangra and to see UK-based Jaz Dhami perform.
In the mean time, don't forget to join us for Bhangra on Main featuring Raju Johal tomorrow night at Fox Cabaret, produced in partnership with Music on Main!
For more information on Delhi 2 Dublin: http://www.delhi2dublin.com/
For a schedule of events, more information about the headliners and ticketing details
please visit: http://www.vibc.org/
About the City of Bhangra Festival:
City of Bhangra Festival is presented annually by Vancouver International Bhangra Celebration Society (VIBC). Founded in 2004, VIBC is a not-for-profit organization dedicated to strengthening the community we live in by engaging diverse audiences through celebration and the joy of bhangra.