Top exhibition of all things renovation & design to hit BC Place Stadium February 19-23, 2014
Real advice, inspiration and experts will make home improvement magic at the 41st annual BC Home + Garden Show
Gearing up for a home makeover?
The 41st annual BC Home + Garden Show will offer real advice, real inspiration and real experts to help prep for any home improvement project, be it a basic décor update or a major renovation. From February 19-23, 2014 at BC Place Stadium, guests will hear expert suggestions from the best in the biz, get style stimulation from a slew of exciting new features and shop the show (read: 425 top-notch exhibitors), all under one roof.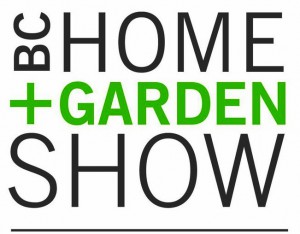 Buy tickets online and save $3 courtesy of Homestars at www.vancouverhomeshow.com
STAGES
HGTV Main Stage
Spring cleaning takes on a whole new meaning with inspiration from Canada's top design, renovation and real estate experts on the HGTV Main Stage. Armed with insight from past projects and years of on-the-job experience, duos are reigning supreme for 2014, including HGTV's Bryan & Sarah Baeumler, Mike Holmes Jr. & Sherry Holmes, and Parker Barrow co-owners Janette Ewen & Jef Hancock. Intimidating designspeak need not apply.
View the HGTV Main Stage schedule at www.vancouverhomeshow.com
Urban Fare Cooking Stage
Vancouver's leading chefs will lay it all out on the table, with signature recipes that will leave the crowd hungry for more. Think all things spring, from BBQ and beer pairings to comfort food and cocktails, complete with local flavours and eye-pleasing plating that transfer effortlessly to any home kitchen. Who's up for seconds? Presented by Urban Fare, Western Living Magazine and FortisBC.
View the Urban Fare Cooking Stage schedule at www.vancouverhomeshow.com
The Vancouver Sun Gardening School
Growing pains, begone! Led by Vancouver Sun gardening editor Steve Whysall and his team of gardening gurus, daily seminars will guide budding horticulturists through the nitty-gritty of plant growing with free seminars covering topics from seeding to composting. Dig in! Presented by the Vancouver Sun. Landscaping by Lily Design.
SPECIAL ATTRACTIONS: ONE DAY ONLY!
Opening Night
The BC Home + Garden Show ushers in the latest showcase of home improvement must-haves with an evening of renovation-based revelry featuring snacks, sips and perks for all. Get the goods early at the hottest design party of the season while enjoying world-class entertainment from local band DNA6, the company of Vancouver's creative insiders and plenty of surprises all night long.
Wednesday, February 19, 4 – 9 PM
Chopping Block presented by Urban Fare
Ready those roasting pans! Competition will heat up the Urban Fare Cooking Stage when four home chefs go head-to-head in a culinary battle royale. Participants will prepare three courses using mystery ingredients chosen by public vote, with the loser of each round getting "chopped" from the competition. Last person standing will receive the ultimate bragging rights – not to mention an exclusive prize courtesy of Urban Fare. Chefs, start your stovetops! Presented by Urban Fare and 102.7 The Peak.
Saturday, February 22, 2 – 4 PM
Dominion Lending Centres Day
Don't break the bank! Financial issues are usually the least-sexy part of buying or renovating a home – until now. On Friday, February 21, investing and mortgage experts from Dominion Lending Centres, Canada's national mortgage and leasing company, will act as knights in money-savvy armour on the HGTV Main Stage, doling out their top tips (and exclusive goodie bags for early birds) on how to keep your home financially fit for the future. Talk about a sweet deal.
Friday, February 21, 12 noon – 5 PM
MUST-SEE FEATURES
Ask an Expert
Stumped on style? Interior decorating experts, professional landscapers and certified contractors will tackle design dilemmas of all kinds with free, 10-minute consultations for beleaguered renters and harried homeowners alike. Come equipped with swatches and sketches to receive the best advice in the biz – no decorating topic denied! Presented by Intact Insurance. Styled by Friendly Decorator.
West Coast Power Smart Home
Home remodeling is the stuff of nightmares for many a homeowner – until now. Enter this year's Dream Home, where home improvement, green living and modern west coast design will meet in a marriage of style and sustainability. Landscaped by Rob Spytz Design, this dwelling will inspire visions of the region's breathtaking wood and seascapes, all while enjoying eco-chic comforts styled by the Friendly Decorator herself, Christine Friend. Presented by BC Hydro.
Living Melodies
Sight and sound will meet in living colour to create eight glorious garden plots inspired by famous tunes. Explore more than 7,000 square feet of green oases complete with breathtaking blossoms, eye-catching water and stone features, stylish outdoor furniture and the industry's top local experts to tend to all your landscaping laments. Eden, eat your heart out.
Better Gnomes & Gardens
Inspired by the world-renowned Chelsea Flower Show's decision to lift a century-long ban on garden gnomes in 2013, Vancouver's movers and shakers will show off their creative flair by turning a plain garden gnome into a whimsical treasure. Guests can bid on their favourites to benefit Sole Food Street Farms, an urban agricultural community dedicated to transforming empty lots into fruitful farming plots, empowering and employing the underprivileged along the way. All proceeds benefit Sole Food Street Farms.
The Twinings English Tea Garden
Traditional teatime gets a modern reimagining with a nod to our posh neighbours across the pond. Enjoy a piping hot brew and tip your hat to everyone's favourite royal family while enjoying the sights and sounds of an expertly landscaped oasis. Jolly good, chaps! Presented by Twinings Canada and Cedar Rim Nursery.
Portobello West
Inspired by London's world-famous street market, Portobello West is Vancouver's best-known fashion and art market. A selection of top emerging talent will showcase their wares in a special pop-up edition, with enticing opportunities to increase the inventory of any closet, jewellery box or art collection. Shopping local has never looked so good.
m(ART)ket
Tired of all things boring and beige? This curated collection of artwork from Vancouver's most talented up-and-coming artists is guaranteed to banish bare-wall blues without breaking the bank. With pieces ranging from simple to sculptural, there's style and size to suit every taste and trend. Works of art, indeed.
BCLiving Magazine Lounge
Relax (sans guilt) in this luxurious lounge refreshment and BC Living Magazine in hand. Styled by Vancouver's favourite local decorating duo A Good Chick To Know and conveniently located adjacent to the HGTV Main Stage, this chic space will invite you to press pause without passing up on any of the action. Grab a drink and snag some snacks while reading up on all the latest home décor trends!
Al Fresco Wine Lounge
Some home improvement projects, no matter how complex, are just no match for a wino's sophisticated palate. Steal away to Gemstone's chic backyard patio and indulge in a glass or two, complete with flavourful fare from a variety of vendors. Cheers to that. Presented by Gemstone Masonry & Landscape Supply and Coast Spas.
DIY Done Right
Pinspirations realized! DIY divas will hear top repurposing recommendations straight from the source as the pros from Habitat For Humanity Greater Vancouver walk them through upcycling projects using pieces from the Vancouver ReStores. Visitors will earn a gold star for sustainability and major bragging rights by sharing their eco-friendly handiwork over social media. Move over, Martha Stewart. Presented by Habitat for Humanity Greater Vancouver and Greater Vancouver ReStores.
Help Desk
Hardwood floors desperate for a refinish? Master bath begging for fresh tiles? Look no further than the Help Desk, where a slew of experts will provide tips and trade secrets to nudge your home improvement project in the right direction. Stop by the concourse or east entrance to get started. Asking for help is the first step to success! Presented by HomeStars.com.