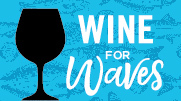 Once again Naramata Bench Wineries Association (NBWA) sets sail to Vancouver to present Wine for Waves, April 28. It's like a landlocked regatta of BC's best wineries paired with sustainable seafood prepared by some of the finest chefs with all proceeds to benefit Vancouver Aquarium's Ocean Wise program.
"Since the first event in 2013, Wine for Waves has been a great success. Not only has it helped to raise awareness about sustainable seafood in the Lower Mainland and the Okanagan, but it's also directly contributed nearly $100,000 to Ocean Wise and our program's conservation work. The funds this event has raised have helped us to expand our reach with new partners, conduct research on local, small-scale fisheries and spread the word in the community about why eating sustainability is so vital to our oceans," said Ann-Marie Copping, Ocean Wise program manager. "Wines from Naramata Bench Wineries Association and delicious seafood from our partner chefs have proven to be a winning combination. We're looking forward to another great night of wining and dining with some of B.C.'s best in food and wine."
Along with tantalizing tastes of Ocean Wise selections and BC wine Spring releases from the Okanagan's Naramata Bench, meet talented winemakers and chefs, and bid on silent auction items which include exclusive Naramata wine packages and experiences. At this event, strictly for those 19+, you'll enjoy a fabulous evening while supporting a worthy cause.
To buy tickets and learn more about this fabulous feast including all the sponsors, click on http://www.oceanwise.ca/events/wine-waves-2017-vancouver/ (You'll also find photographs from last year's Wine for Waves.)
Sip and Savour Spring Wine Releases from Participating Wineries:
Bella Wines | Bench 1775 Winery | Black Widow Winery | D'Angelo Estate Winery | Daydreamer Wines | Deep Roots Winery | Elephant Island Orchard Wines | Hillside Winery | Kettle Valley Winery | La Frenz Winery | Lake Breeze Vineyards | Lang Vineyards | Misconduct Wine Co. | Monster Vineyards | Moraine Estate Winery | Nichol Vineyard and Winery | Perseus Winery | Poplar Grove Winery | Quidni Estate Winery | Red Rooster Winery | Serendipity Winery | Terravista Vineyards | Therapy Vineyards | Three Sisters Winery | Tightrope Winery | Upper Bench Estate Winery | Van Westen Vineyards
Preview the menu and the Participating Restaurants:
African peanut soup | Ambrosia Restaurant and Lounge – Naramata Inn
Smoked oyster crostini, pickled onion and herbed cream cheese | Fanny Bay Oyster Bar
Braised octopus and harrisa tartar, ikura roe, raw radish "spring roll" | Forage
Sopressata meatball with pine nut crust, truffle aioli | Hillside Winery & Bistro
Light-seared Pacific salmon, chickpea puree, cauliflower, chermoula vinaigrette | Holts Cafe
Koji-cured coho salmon, german butter potato, spring nettles, cultured organic cream, fried rice | Nomad
Organic black tiger shrimp, braised fennel and tarragon risotto, parmesan foam | Ocean Mama Seafood
Crispy shortrib wonton year of the rooster smoked plum asian slaw | The Pecking Room at Red Rooster Winery
Selection of cheeses | Upper Bench Creamery
Wild green salad and cheese-stuffed prosciutto cup | Urban Fare
Halibut ceviche, avocado, jalapeno vinaigrette, orange, heirloom tomato relish | Vancouver Aquarium
Vanilla Pod – Poplar Grove Winery
YEW seafood + bar
Hope to see you there mateys!
– Roslyne Buchanan