The Vancouver Foodster Sangria Challenge Awards are just in. This event involved nine sangria creations from restaurants in Vancouver, North Vancouver, Richmond and Langley.
In the media judges' category, the results were:
First place was a tie! The Apron (Richmond) with their Solstice Sangria, described as a bright refreshing white sangria with fresh herbs and fruit. Ingredients: Longtable Distillery London Dry Gin, Peller Family Series Chardonnay, fresh mint, basil, grated ginger, watermelon, strawberries, fresh lime juice, simple syrup, soda. Also in first place was Pinnacle Pier Hotel's (North Vancouver) Sapporous Sangria – A fruity rosé wine, combined with orange liqueur, blueberries fresh cherries and topped with ginger ale.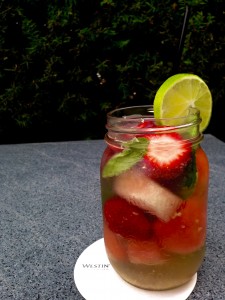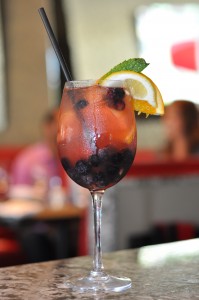 Second place went to Sassy Sangria from C Prime Modern Italian Steakhouse & Wine Bar (Vancouver) – Ingredients: grapefruit, oranges, lemons, limes, raspberries, pineapple, Framboise, malbec, brandy, Cointreau liqueur, Grand Marnier, pineapple juice, fresh tarragon, Lillet blanc, Regan's orange bitters.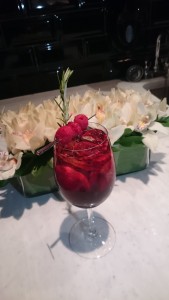 Ban Chok Dee (Langley) took third place for their Siam Ginger Sangria. This summer quencher is made from The Ned Sauvignon Blanc (New Zealand), OR-G Liqueur (persimmon mingling with papaya, mango and lime); Absolut Raspberry Vodka; lychee juice; lime juice; club soda; strawberries, pineapple, grapes, lime, lemon, blueberry, orange; mint leaves; and ginger root.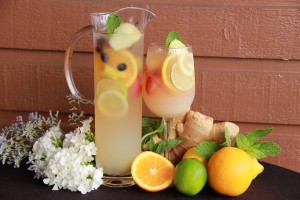 Vancouver Foodster also encourages people to go out to the participating restaurants and try the drinks for themselves and vote for their favourites.
In the People's Choice category, the results were somewhat different:
First place – Ban Chok Dee
Second place – Pinnacle Pier
Third Place – U&I Thai (Vancouver) for their U&I Thai Sangria made with Backyard Riesling white wine, lime, orange, lemon, lychee soho, 7-up, raspberry, blueberry, watermelon.
So how do you like your sangria? Do you just dump some red wine in a punch bowl or water jug, load it up with whatever fruit you have on hand and then hit it with ice and soda? Or do you have your own special recipe? If so, perhaps you'd like to share it in the comments below. Whatever, your answer, it sounds like it'd be fun to get out to one of the participating restaurants and try some of these winning combinations.
The full list of participating restaurants can be found here