Commercial Drive Brunch Crawl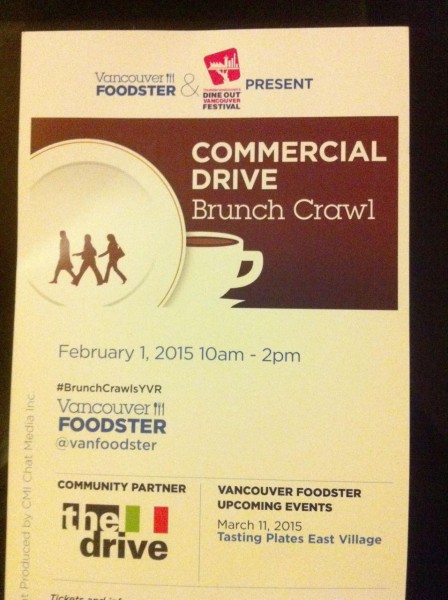 When's the last time you spent a day strolling along Commercial Drive? From Venables, south to 12th Avenue, there are a plethora of funky shops and eateries. You could spend a month eating your way around the world with restaurants featuring cuisine from Mexico, El Salvador, Ethiopia, Jamaica and Italy to name but a few.
On Sunday, I attended the Commercial Drive Brunch Crawl, one of the 'Dine Out Vancouver' events presented by Vancouver Foodster. My friend and I started out at Famoso Neapolitan Pizzeria. Here, we could choose two of three types of pizza, Margherita, Cavoletti or Korean BBQ'd Pork. The Margherita pizza was a basic, can't-go-wrong selection of Campania tomato sauce, fior-di-latte (buffalo mozzarella), fresh basil and extra virgin olive oil. Cavoletti? Wow! This weird and wonderful combination of – bear with me – oven roasted brussel sprouts, prosciutto crisps, fior-di-latte, gorgonzola cheese, dates, walnuts with a drizzle of honey just has to be tasted to be believed. The Korean BBQ'd pizza featured slow-roasted spiced pork butt, Korean BBQ sauce, fior-di-latte, green onion, cheddar cheese and hoisin sauce. It was tasty with just a little bit of heat. Parallel 49 Brewing was onsite and served up samples of their Gypsy Tears and the Salty Scot. Perfect with a brunch pizza.
We walked a couple of blocks south, crossed the street and went in to Stateside Craft. This 'local' serves up 40 craft beers and has two Beer Ball games as well as a selection of vintage pinball machines, just to keep things interesting. They offered a choice of Corn Bread Waffles, three types of Egg Bennys or Braised Brisket Corn Hash. My friend ordered the waffles, which were impressive. They were light with a nice corn bread crunch. The fruit, whipped cream and bacon only made them even better. I opted for the smoked bacon, avocado and cheddar eggs Benny. Yum, yum, yum. A table near us started off with Caesars and they looked fantastic with their celery and bacon sticks. Breakfast in a glass.
It was time to walk off a few calories, so headed to the southern end of the crawl. Bakery Sate, a French style artisan bakery, just south of 12th Avenue, opened six months ago and is doing well with local residents. They make everything from scratch and use no preservatives or artificial flavours. Bakery Sate offered Crawl participants a beautiful take away box of a buttered croissant, a cheddar cheese scone and a coconut macaroon, all delicious. In the display case were samples of walnut cookies, chocolate chip cranberry, coconut macaroon and chocolate sparkle cookies, all gluten free, which means calorie free too doesn't it? I enjoyed a sample of their gluten free brownie with a cup of tea before we headed out the door.
Bakery Sate was our halfway point so we crossed the street and headed back up the Drive. Lear Faye had a line up by this time so we went next door to Jarn, which features Folk Lebanese food. Their tasting plate featured Mint Labneh, (pressed yogurt, garlic and dried mint), Foole (muddled fava beans and chickpeas) and Manoushet Zaatar (thyme, oregano and sesame seeds on top of traditional flatbread). All very tasty, but my favourite was the latter dish. There was still a line up next door, so we headed on to Federico's Supper Club.
Federico's Supper Club was the poshest establishment we visited. It is reminiscent of a Las Vegas show lounge inside with and a large dance floor for the dinner and dance crowd. This is more than just a place for a meal. The table is yours for the evening and the owner provides the entertainment every evening. If you go on a Thursday or Sunday you're likely to see regulars who show up to practice ballroom dancing. The staff takes great pride in the history of the building and you can see archival photos on the walls. There, we sampled Rigatoni all Gricia (smoked pork cheeks, pancetta, Pecorino Romano, black pepper), Fritelle di Baccala (salt cod fritters on mint pesto and roasted red pepper) and Terrina di Cioccolato (chocolate terrine, callebaut chocolate, mixed berry compote). I'll certainly be back for dinner some evening.
Our last stop was Turks coffee. The offering there were Butter Espresso or Velvet Cortado and a sample of their lemon square. I was very sorry to have missed out on Lear Faye, but judging from the crowds they drew, it must be a very worthwhile place to visit.
I was very impressed with this event; not only was it well organized and the food great, but we had outstanding reception everywhere we went. Kudos must go out to Vancouver Foodster Richard Wolak who organized this well run event. Check out his web site for five other neighborhood brunch crawls including Gastown, Kitsilano, Main Street, Downtown Vancouver, and West End, all presented by Tourism Vancouver.