Magnetic Charisma with Line-Up of Foremost Flamenco Artists from Around the Globe. Festival Ignites the Spirit of Flamenco with Program of Spellbinding Dance, Music and Visual Art 
The Vancouver International Flamenco Festival (Flamenco Festival) is delighted to announce the official line up for its electrifying 25th anniversary season, September 12-27, 2015 with free and paid events at various venues on Granville Island and throughout Vancouver. This year's festival highlights include dazzling performances by some of the world's leading flamenco dancers and musicians, including the internationally acclaimed Andrés Peña & Pilar Ogalla Company (Spain), the renowned Canadian Esmeralda Enrique Dance Company (Toronto) and Fiona Malena Flamenco (Calgary), in addition to Vancouver's own award-winning Flamenco Rosario.
"We're thrilled to celebrate 25 years of the Vancouver International Flamenco Festival. Since its beginnings, the festival has remained at the cusp of the city's flourishing flamenco scene, encouraging innovation and experimentation, while remaining deeply rooted in the traditions of the beloved aesthetic," says Rosario Ancer, Artistic Director & Founder, Vancouver International Flamenco Festival. "Our legacy of inspiring passion and a profound appreciation for traditional, contemporary and cutting-edge flamenco as a global movement continues. Through world-class performances, workshops and demonstrations, we offer aficionados, novices, and families of all ages exciting opportunities to discover the vibrant and poetic art form – from its highly-rhythmic dance and percussive palmas (handclapping), to its fervid vocals and intricate guitar!"
2015 Vancouver International Flamenco Festival Highlights, include:
Arte y Pasion Exhibit (Vancouver)
Basic Instinct Art Studio:  September 12 – October 2, 2015
A collection of absorbing works from a list of gifted Vancouver artists that capture the vivacious duende or soul of flamenco. Inspired by live flamenco dancers from a series of modeling sessions at the life drawing studio, each fascinating work created with paint, pen, pencil or stylus presents a unique interpretation of the flamenco dancer's process.
Cadiz De La Frontera by Andrés Peña & Pilar Ogalla Company (Spain)
Vancouver Playhouse Theatre:  September 19, 8pm
Spain's award-winning Andrés Peña from the town of Jerez, described as "a full-blooded, skillful flamenco dancer" (Manuel Bohórquez) and the adored flamenco star Pilar Ogalla of Cadiz, lauded as "an extremely complete flamenco dancer, with a mastery of the art of the dress and train and promenades"(Juan Verguillos) together perform an enchanting duet exploring the entanglement of two contrasting worlds – Jerez found inland, and Cadiz by the sea.
La Música del Flamenco Featuring Angelita 'La del Lito' (Vocals) and Victor Kolstee (Guitar) (Vancouver)
Centro Flamenco: September 20, 8pm
Cante Flamenca songstress Angelita 'La del Lito', a flamenco festival favourite, lends her sultry wail to a series of exhilarating flamenco works accompanied by Flamenco Rosario's prodigious Music Director and guitarist Victor Kolstee, known for his nimble technique and ability to evoke the raw essence of flamenco. The potent duo is joined by a band of accomplished local musicians in true peña (flamenco club) style.
Arbolé by Fiona Malena Flamenco Ensemble (Calgary) 
Waterfront Theatre: September 24, 8pm
A mesmerizing collaboration inspired by a journey through the deep and mysterious forests of Andalusia between internationally acclaimed flamenco virtuoso Karen Lugo, known for her splendid technique and strong personality, and celebrated Calgary-based dancer and Artistic Director Fiona Malena, praised for her distinctive, imaginative style and highly musical approach.
Traditional Flamenco by Peña Flamenca (Victoria)
Waterfront Theatre: September 24, 8pm
A group of highly-committed musicians and dancers together offer a diverse and stimulating spectrum of flamenco's colours, contrasting the darker and dramatic shades of the cante jondo (deep song) with the bright and spirited Tangos por fiesta. The vibrant ensemble mixes improvised rhythms with traditional choreography to conjure an authentic feeling of Spain's flamenco stages or tablaos.
Tiempos by Esmeralda Enrique Spanish Dance Company (Toronto)
Waterfront Theatre: September 25, 8pm
The recipient of four Dora Mavor Moore Award Nominations, Esmeralda Enrique is one of the most prominent flamenco artists in Canada. The fierce Toronto-based bailaora who's dancing was once described by the Globe and Mail as "poetry in motion" returns to the flamenco festival with a stirring solo performance investigating our elusive relationship with time and its capacity to consume us.
Penelopeia by Palma Performing Arts (Vancouver)
Waterfront Theatre: September 25, 8pm
Outstanding alumni and former instructor of the Flamenco Rosario Dance Company, Palma Kontogianni returns to the flamenco festival to once again charm audiences with a multi-disciplinary solo work fusing elements of flamenco, contemporary clásico and Greek folk dance to tell the classic love story of Penelope and Odysseus from Homer's Odyssey.
Fast-Forward Rewind by Flamenco Rosario (Vancouver)
Waterfront Theatre: September 26, 8pm
Led by flamenco festival co-founder, dancer and choreographer Rosario Ancer, the award-winning company takes audiences on a sensuous journey revisiting their most acclaimed repertoire of the past 25 monumental years starting with the first ever work from 1997 Raices (Flamenco Roots). The evening then weaves through a story of self-discovery in Mis Hermanas (2008) to 2013's moving La Monarca, inspired by Ancer's own creative transformation, and concludes with the intimate and personal Quadrilogue Affective (2015), a glimpse into Ancer and Victor Kolstee's powerful artistic and deeply personal partnership.
The Vancouver International Flamenco Festival also features a variety of flamenco workshops, demonstrations, and master classes. For the complete festival lineup, visit: vancouverflamencofestival.org
ABOUT VANCOUVER INTERNATIONAL FLAMENCO FESTIVAL (vancouverflamencofestival.org)
The Vancouver International Flamenco Festival is one of few celebrated festivals devoted to Flamenco Art outside of Spain. Since its beginnings in 1990, the coveted event has developed a mature understanding of Vancouver's multicultural audiences by nurturing the form's hybridized roots in Sephardic, Persian, Gypsy and Indian cultures. The festival strives to reflect and connect diverse sociocultural identity through work narratives underlining flamenco's universal message of humanistic tolerance. Now a two-week long annual event, the festival remains visible presenting works at multiple venues throughout Vancouver, such as Granville Island's Waterfront Theatre, the Playhouse Theatre, Scotiabank Dance Centre, Vancouver Public Library, and Lower Mainland's Centro Flamenco. With a quarter century of flamenco presence behind it, the festival shines a stronger light on Vancouver for younger generations of dancers all around the world, while building new relationships with sister organizations across the nation, helping to forge a more integrated Canadian identity of flamenco.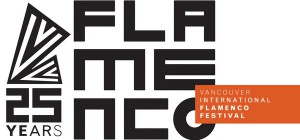 LISTING INFORMATION
2015 Vancouver International Flamenco Festival
Dates: September 12 to 27, 2015
Tickets:  Free to $130.00
Address:
Various Vancouver Venues
Box Office:
vancouverflamencofestival.org or 604.568.1273