What better way to spend a sunny afternoon then having lunch with friends on a patio overlooking the water. The Gillnetter Pub, right off the Mary Hill bypass in Port Coquitlam, sits along the bank of the Pitt River just where it meets the Fraser. This is a popular place – especially the deck on a sunny day.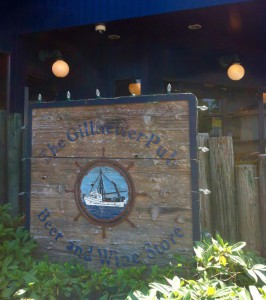 On this occasion I was there with some colleagues to celebrate a birthday. We arrived before noon and it was a good thing because there were few empty tables by the time we left.
The service was good as was the selection of beers, including Central City's Red Racer IPA – yahoo! The wine-by-the-glass selection was adequate; the food was good and reasonably priced. The people in our party ordered a shrimp and avocado salad (I'll have to try that next time), a chicken wrap (the pesto mayo would have benefited from more pesto), fish and chips and a won ton soup.
Our bill came with a $1.00 off coupon for the cold beer and wine store, which is just beside the entrance. There is even a dock for boaters to tie up to.
Give them a try when you are in the area.
Check them out at: gillnetterpub.com