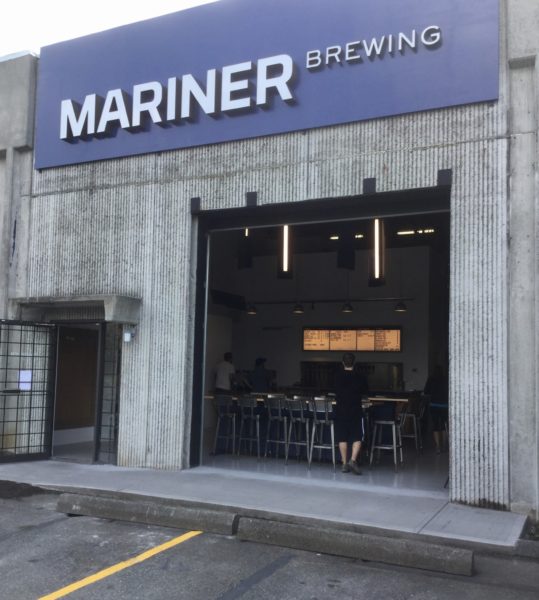 Mariner Brewing opened its door just a few days ago, right across from Milestones restaurant and from the looks of it, it has certainly struck a chord with local beer lovers.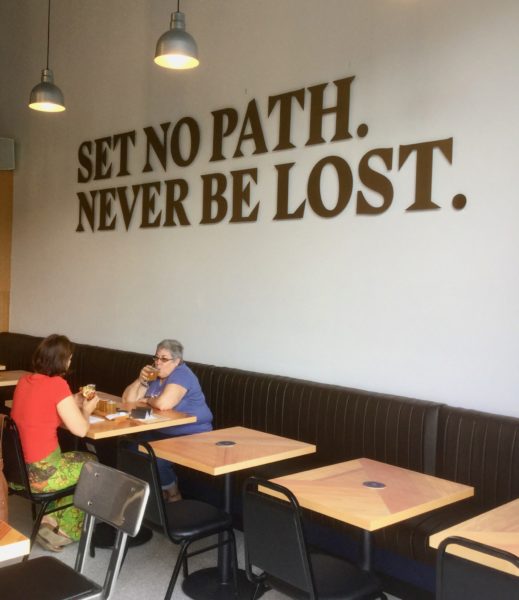 I had the good fortune to be able to sit down with partners Lauren Ang (25) and Byron Vallis (26) early Sunday afternoon, shortly after opening time, before things got too busy. This young couple exudes enthusiasm, even though they must be exhausted after working almost around the clock, for months getting Mariner ready for opening.
A lot of work went into refurbishing the building including installing bigger water lines and reinforcing the concrete floor to accommodate the four large brewing tanks. Friends and family have proven invaluable, helping with the renovations that got the 3000 square foot facility ready for business. From signing a lease to opening the brewery was a long journey.
It all began some years ago when Byron, who had made beer at home for some years, was looking to upgrade some of his equipment and stopped into Yellow Dog, Port Moody's first craft brewery. He was inspired and wanted to get into craft brewing as well.
Vallis, a Dr. Charles Best high school grad, headed to Emily Carr for industrial design, which turned out not to be for him. Shortly after, he switched to SFU and pursued environmental science. More recently, he worked at Art Knapp's Plantland in Port Coquitlam for Wim Van der Zalm. He often spoke of his hobby (and I am assuming shared a glass or two with Wim) and of his dream to open a craft brewery. Obviously, Wim was impressed with Byron's work ethic, his passion and his beer making ability. They soon formed a partnership based on the shared core values of exploration, discovery, quality, excellence, and community, and set out to make Mariner a reality.
Their timing was fortuitous, as Coquitlam had been eyeing the success of Port Moody's Brewery Row and was considering allowing craft brewing in their city. The trio did their homework and examined similar businesses both locally and across the line.
Wim Vander Zalm brings financial support and a business background, which should help ensure their ongoing success. Also, with Wim's help, they have their own hop vine growing out back – talk about fresh hops!
Beer festivals have helped them gain public awareness and people now have one more reason to travel out of east Vancouver to explore the growing beer culture of the Tri-Cities.
Kevin Wilson is Mariner's brewmaster. He has almost a decade of experience having previously crafted beer for Russell Brewing and Dead Frog. Along with Lauren, Byron, four full time, and eight part-time employees, he looks forward to sharing their passion and their product with you.
The current line up features beers designed to appeal to a wide variety of beer lovers. Cream Ale, Amber Ale, Northeast IPA and Sour Weiss. A recent cask offering of Scotch Ale was very popular and will likely reappear in the coming months. They also offer two guest taps, which at the time of my visit were Moody Ales Affable IPA and a Pale Ale from Steamworks.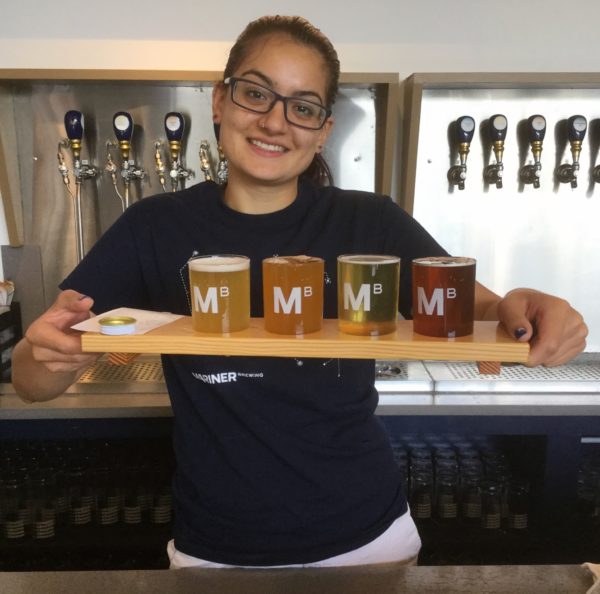 Kevin and Byron sat down and decided on what mainstays they should have on tap and decided on their current line up, adding special offerings from time to time, most recently their malty Scotch Ale and an upcoming Mocha Stout. They are also considering a Flanders Red Ale and a White IPA.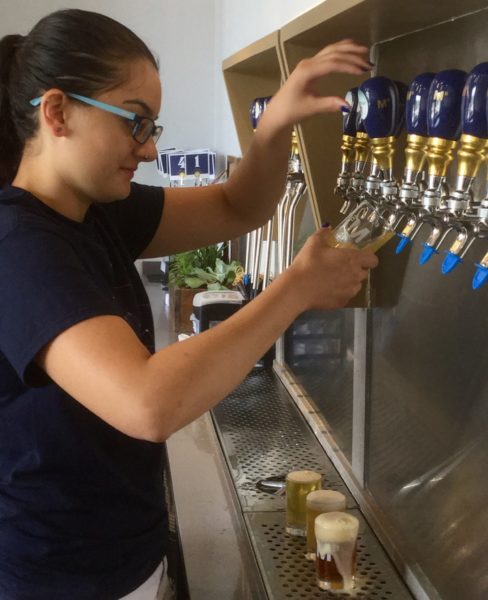 While I sat and sipped away at my flight, Byron explained the differences between Northeast IPAs and Westcoast IPAs. I learned that some of my personal favourites – Yellow Dog's Play Dead IPA, Driftwood's Fat Tug IPA and Central City's Red Racer IPA are all examples of the Westcoast style. I am well aware that these beers can be excessively bitter for some, however they may be surprised to discover that they like Northeast version, which is less hoppy, though pungent with tropical fruit and citrus notes (often noticeable grapefruit). Byron sees it as being their flagship beer and one that will likely always be available.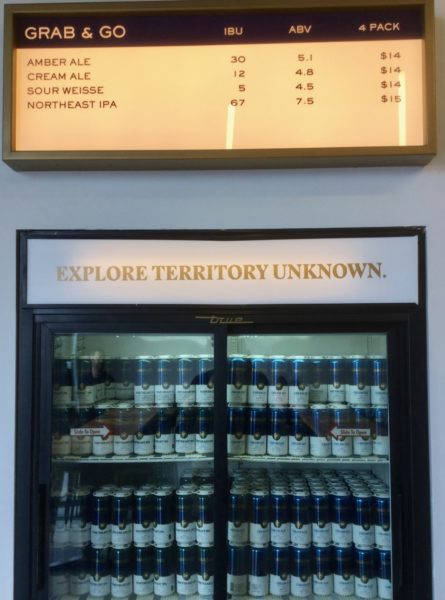 If it is your first visit to Mariner, I suggest trying a flight (four small samples) of their beers so you can determine your favourite. Returning fans, can order by the glass or walk away with cans or a growler (small refillable jug).
While they don't have a full kitchen, Mariner offers shareable bites to accompany their beverages. Currently, the menu includes a variety of hot dogs – Vietnamese, Perogy, Donair and Classic as well as Spinach Dip, Beer Cheese Dip and a Meat and Cheese Platter. They are also exploring the possibility of partnering with Pasta Polo and offering their pizzas.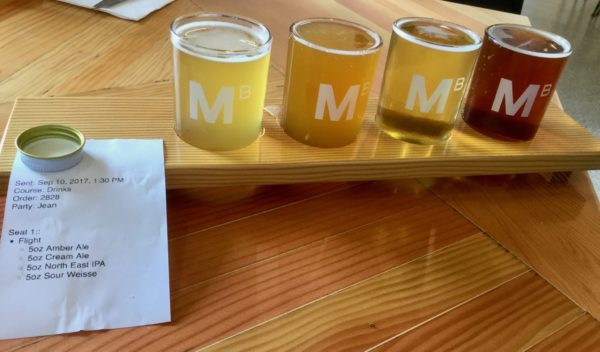 I loved the magnetic tab on the end of their paddles, which were designed by MT Beer Caddy, which holds a slip of paper listing the beers in the flight, making it easy to remember your favourites.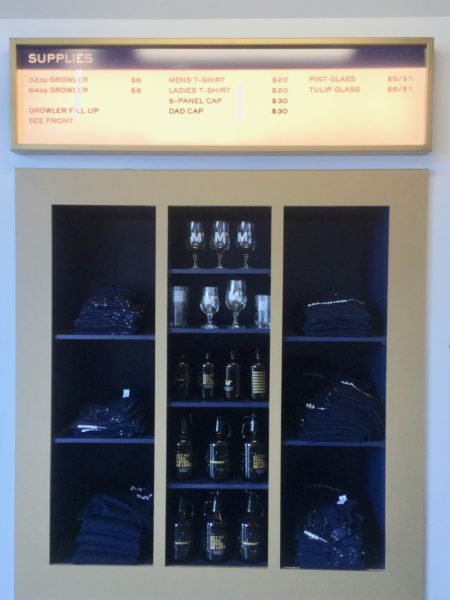 Mariner Brewing is close to public transit and there is plenty of parking out front, especially after 5 when the other business in the complex close for the day.
For more information check out their website at MarinerBrewing.ca