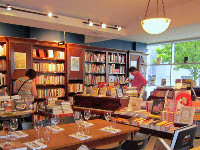 What do you get when more than 170 people gather at more than 30 restaurants across the province all on one night? You get a fabulously successful fundraiser that was a lot of fun and Canada's largest concurrent dinner party. This past Wednesday (August 12th), Les Dames' d'Escoffier BC Chapter held its annual Summerdine to raise funds for its scholarship and outreach programs. The net profit from the night's various dinner parties was a record-setting $13,700 – $3,000 more than the previous year. In addition to the dinner parties, Les Dames also held an on-line auction for a luxury Get-Away Weekend in the Okanagan and a 50/50 raffle. The successful bidder on the Get-Away is Nancy Thibault. The 50/50 draw produced $900 for the Green Tables initiatives Les Dames BC support –Project CHEF and Growing Chefs.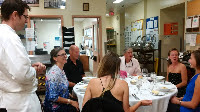 "We have so many sponsors who helped make this success possible," says event co-chair Bonita Jo Magee of Grounded in Vancouver. "First and foremost are the 31 restaurants, wineries and cooking schools who donated the dinners. This event would not exist without their support. Then there's the BC Wine Institute who stepped up and donated BC wine specifically paired to each dinner. Forage at the Listel Hotel hosted an after party for all the Vancouver participants and Terra Breads helped feed our volunteer teams working the evening."
Tables ranged in size from 4 seats to 10 with locations just as varied including at the picture-perfect Speirhead Winery in the Okanagan, surrounded by books at Vancouver's iconic Barbara-jo's Books to Cooks and at a special Kitchen Chef's Table set at the legendary Fairmont Empress Hotel in Victoria. That very night the stories started flooding in to Ms. Magee and her co-chair, Annette Rawlinson of Service Excellence and on Facebook about the generosity of the hosts. Many went above and beyond to make the evening extra special.
One host, who has a kitchen garden, provided guests with bags and invited them to harvest some of the fresh produce to take home.  Another, with a noted wine cellar, served the wine provided by BCWI for the evening then proceeded to open 3 more vintage bottles from his private collection and refused payment. "All our hosts epitomize the generosity and graciousness of our industry and we are so very grateful to them," said Ms. Rawlinson.
Full list of 2015 participating host locations.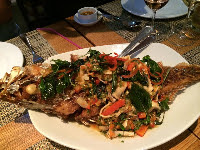 Watch for Summerdine to return in August 2016 with even more inventive locations, fabulous food and great wine.
Les Dames D'Escoffier is an international association dedicated to supporting the advancement of women in the hospitality and culinary domains as well as fostering industry excellence through educational and charitable activities.  Each year the BC Chapter produces events to raise funds in support of these endeavours.
For information on Les Dames D'Escoffier BC Chapter and updates on its various events and programs please visit: www.lesdames.ca and Facebook or follow us on Twitter @LesDamesBC 
For information on Les Dames d'Escoffier International: 
www.idei.org