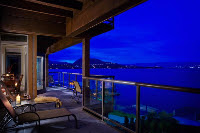 Picture this – a well-appointed suite in a luxury resort with views over-looking Lake Okanagan and the mountains beyond, a perfectly laid table laden with beautiful food, champagne flutes sparkling with effervescent bubbles, the dark and vibrant seduction of a Prohibition-era speakeasy. What's missing from this picture? You are!
A fun-filled weekend awaits the lucky winner of BC Chapter of Les Dames d'Escoffier Summerdine Auction. Going live online July 29th at 7 a.m. and closing at 11:59 p.m. the evening of Summerdine, August 12th, the winning bidder will win a luxurious Okanagan Get-Away Weekend for Two featuring:
•    two nights at The Cove Lakeside Resort
•    a bottle of Bella Rosé Sparkling Wine in the room
•    dinner at Salted Brick
•    cocktails at 27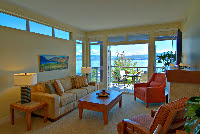 The prize package carries an approximate retail value of $800. Bids can be placed at Les Dames online auction site.
The Cove Lakeside Resort :  Located on the western shore of Okanagan Lake, Cove Lakeside Resort offers stunning views of the lake and mountains in the distance. From here, you can tour Mission Hill Family Estate Winery or Quails Gate Estate Family Winery, or play a round of golf on one of several nearby championship golf courses. A short drive or boat ride brings you to the charming shops and restaurants of downtown Kelowna. The Cove Marina offers water sports and boat tours. The Cove Lakeside's suites feature a warm and inviting waterfront traditional luxury design with full designer kitchens, fireplaces and private balconies from which to enjoy the magnificent view. A vacation at The Cove Lakeside Resort ensures all the delights of Okanagan Valley within an exclusive setting away from the more crowded areas. Enjoy a swim in one of the Resort's lakefront pools or take a stroll along its private beach.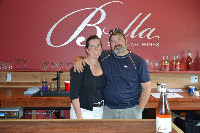 Bella Wines: Bella is a sparkling wine house capturing the beauty of British Columbia fruit in every bubble.  Focusing on Chardonnay and Gamay Noir, Bella sparkling wine is an elegant, genuine expression of the vineyards we source from. Sparkling wine, by nature, invokes emotions associated with special occasions.  At Bella every day brings little wins, moments of joy, and a life worth rewarding.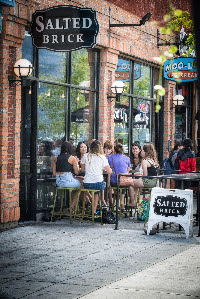 Salted Brick : Chef Jason Leizert has brought a new concept to downtown Kelowna – a place to come for brunch, lunch or dinner focusing on making food that is rooted in the work of local farmers and artisans.  Chef Leizert is also handcrafting charcuterie using locally sourced, free range meat that is hormone and antibiotic free.
27: The first craft cocktail lounge in the Okanagan, 27 pays homage to the history of the year 1927, when Prohibition was at its peak, and illegal speakeasies, serving the classic cocktails we know today, popped up all over North America. Merging these two ideas, the owners of 27 have created a room that has the foundation of a speakeasy, with the accents, tastes and vibe of the decadent, exotic lifestyle of the '27 Club.'  27 is located in the Prestige Hotel, in downtown Kelowna.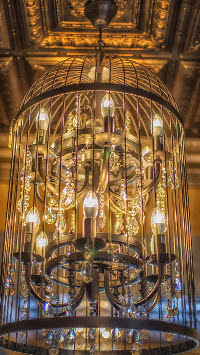 This is one picture that needs to include you – so bid now and bid often – remember you only have until 11:59 p.m. on August 12th to win yourself a dream weekend away.
Les Dames D'Escoffier is an international association dedicated to supporting the advancement of women in the hospitality and culinary domains as well as fostering industry excellence through educational and charitable activities.  Each year the BC Chapter produces events to raise funds in support of these endeavours.
For information on Les Dames D'Escoffier BC Chapter and updates on its various events and programs please visit: www.lesdames.ca and Facebook or follow us on Twitter @LesDamesBC / event hashtag #LDSummerdine   Auction link: http://lesdamesbc2015.eflea.ca
For information on Les Dames d'Escoffier International: www.idei.org