Ahhh tomatoes – the ultimate summer food – ripe, juicy and brimming with sunshine goodness. Tomatoes are a passion for many people – including Provence Chefs/Proprietors Alessandra and Jean-Francis Quaglia. "We are fortunate to have so many heirloom varieties available locally," says Chef Jean-Francis. "There isn't any flavour that says 'summer' more to me than tomato. The flavours are so intense and each variety is completely different from the other but all are equally wonderful."
For the month of August,  Provence Restaurants – Provence Mediterranean Grill (P1) in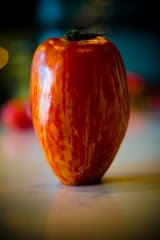 Point Grey and Provence Marinaside (P2) in Yaletown will celebrate all things tomato with its Sixth Annual Tomato Festival – featuring special three-course prix fixe menus that will satisfy even the most addicted tomato-holic. Each of the two restaurants has a completely different menu and price.
Provence Mediterranean Grill $45 – available August 1 through 31
P1's menu starts with a tasty Appetizer Trio featuring Provence's famed Tomato Tarte, Caprese Salad and Chilled Tomato Cappuccino. From there restaurant Chef Essex Balce has created three options for tomato tinted Mains:
• Beef Tenderloin– Bacon Tomato Marmalade, Tomato Farci, Broccolini and Black Peppercorn Red Wine Jus.
• Sable Paupiette – stuffed with Sun-Dried Tomatoes, Capers and Almonds accompanied by Fingerling Potato, Baby Kale and Tomato Saffron Nage.
• Lobster and Fresh Pappardelle – Slow Oven-Dried Heirloom Cherry Tomatoes, Arugula, Shimeji Mushrooms, Tarragon Gremolata.
Many don't realize that tomatoes are actually fruit, not vegetables. The tomato's seductive fruitiness is highlighted in the Dessert Course – Candied Tomato and Rhubarb Panna Cotta napped with Grape Tomato Coulis and accompanied by a Pistachio Tuile.
Provence Marinaside $53 (optional wine pairing $22) – available August 1 through September 11.
P2's menu offers multiple choices for each of the three courses. In keeping with the restaurant's wine forward approach and new Wine Wall, Sommelier Rachelle Goudreau has suggested an optional wine pairing for each dish to enhance diners'enjoyment.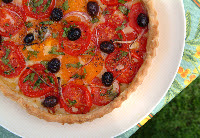 Starters present three tough choices: – Crab-Stuffed Heirloom Tomato (roasted pepper and artichoke, herb breadcrumb gratinée). Wine: Unsworth Allegro 2014 Cowichan Valley, BC or Provence's Signature Tomato Tarte (black tapenade, tomato, garlic chips, fresh dill, puff pastry). Wine: Le Petit Chat Malin Rosé 2014 Languedoc, France or Tomato and Nectarine Salad (seared scallops, basil oil). Wine: Synchromesh Riesling2013 Okanagan, BC.
Chef Jean-Francis is also offering three choices of Mains:
• Halibut Puttanesca – accompanied by zucchini ribbons, piquillo pepper polenta, anchovy, black olive, tomato, crispy capers. Wine: Maverick Rosé 2013 Okanagan, BC
• Bucatini in Heirloom Tomato Arrabbiata Sauce – artisan blend of veal, beef and pork,fresh basil, local buffalo mozzarella. Wine: La Nova Salento Negroamaro 2012 Puglia, Italy
• Grilled Lois LakeSteelhead and Prawn Duo – yellow tomato and warm vegetable salad, smoked plum tomato and black garlic vinaigrette. Wine: Le Vieux Pin Rosé 2013 Okanagan, BC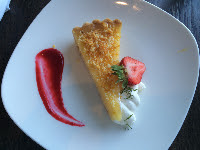 To end on a sweet note Marinaside diners choose a Dessert from the restaurant's regular menu. Lemon Tarte with tangy lemon curd, hazelnut brittle and whipped cream is the classic choice to finish off a Provençal dinner. Others may opt for silky Crème Caramel or for Provence's version of a traditional favourite – Berry and White Chocolate Clafoutis to name but three of the many choices available. To accompany dessert, Ms. Goudreau has selected Paradise Ranch Late Harvest Cab/Merlot 2012 Okanagan, BC.
It doesn't matter whether you've ever heard of a Yellow Currant or can tell a Black Sea Man from a Black Krim; once you've tasted a sun-kissed heirloom tomato, one thing is for sure – you'll be able to tell the difference between them and the tasteless varieties found in many supermarkets. So do yourself a flavour favour and discover the joys of 'real tomatoes' at Provence's Sixth Annual Tomato Festival this August. Full menus for both locations can be viewed and reservations made on Provence's website.
Feature photo by Emrys Horton