The 10th annual  Well Seasoned BBQ Off the Bypass presented by C&D Logistics is almost here and we've got the top 10 reasons you should attend this smokin' hot BBQ competition.
Here are the Top 10 Reasons to Attend the 10th Annual BBQ off the Bypass:
1. It's been a decade in the making! 10th Annual event with even bigger prizes.
2. Wear your stretchy pants and sample some of the best BBQ in the Pacific Northwest.
3. You can bring the kids! It's free and family friendly.
4. You can groove while you taste. Local Band, The New Shackletons will be playing live.
5. Buy and eat local- Local Pork, Local Chicken, Local Beef, Local Turkey.
6. Food trucks onsite: The Chili Tank & Bambino's.
7. Watch the BBQ showdown with 25 competing BBQ teams from Alberta to Oregon.
8. Chef Dez, Red Seal Chef, Chopped Canada competitor and food columnist, emceeing the competition.
9. Charitable partner TinyKittens Society to be on site taking donations & talking about Kitten Reality TV.
10. A chance to meet local lifestyle celebrity Black Box & BC Bake Off Judges (full list below).
What:
10th Annual BBQ off the Bypass
When:
September 13th, 2015  from 10:00am – 4:00pm
Where:
#117-20353-64 Avenue, Langley, British Columbia.
Who:
Please contact Amy Chen for photo and interview opportunities.
•Angie Quaale, BBQ champion and host of BBQ Off the Bypass.
•Chef Dez, BBQ Off the Bypass emcee and Red Seal Chef.
•Last year's Grand Champion and Langley's own House of Q.
For more information on BBQ Off the Bypass, please visit the website.
Black Box Judges include: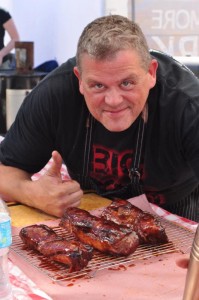 Alexandra Gill, The Globe and Mail
Natalie Browne, Kitchen Uncorked
Nicolle Hodges, Valley Buzz
David Stansfield, Tap & Barrel
Bosco Mo, AM1470/Eatalreadeee
Marc Smith, 30 Day Adventures
Alyssa Dawson, Novus TV
Joyce Lam, Van Foodies
Kelly Ann Woods, Gillespie's Fine Spirits
Maryanne Lechleiter, Stimuli Magazine
Rebecca Coleman, Cooking By Laptop
Sarah Kertcher, More Than Your Average Mom
Stephanie Yuen, Beyond Chopsticks & Epoch Times
Andrew Silver, owner COBS Bakery
Estelle Matheson, pastry chef & Well Seasoned instructor
Nancy Newberry, AllRecipes.com
Kate Amangoulova, Langley CGA
Andrew von Rosen, Town Hall Brands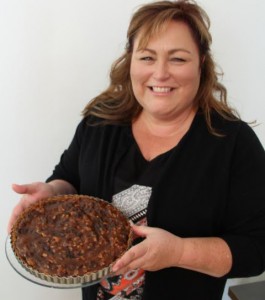 There's still time to enter the the 6th Annual BC Bake Off at BBQ off the Bypass.
Ingredients:
1 cup brown sugar
1/4  cup cornstarch
1 1/4  cups water
2 egg yolks
1 pinch salt
1 1/2  tablespoons  unsalted butter
1 teaspoon vanilla
3/4  cups pecans, toasted & chopped
3/4 cups raisins
Directions:
•Mix cornstarch and brown sugar together in medium saucepan.
•Beat together egg yolks, water, and pinch of salt. Add to cornstarch and sugar. Add chopped pecans & raisins.
•Simmer on medium stirring constantly until mixture thickens.
•Boil 1 minute, constantly stirring.
•Remove from heat, add butter and vanilla.
•Pour into baked pie shell, decorate top with additional pecans
•Let cool and set at least 1/2 before serving
For the crust:
Ingredients:
1/2 cup unsweetened shredded coconut
1 1/2 cups almond flour
2 Tablespoons coconut oil
1/4 tsp salt
2 Tablespoons Maple Syrup
Directions:
•Preheat oven to 350 degrees.
•In a food processor, pulse together almond flour, salt and shredded coconut until finely ground.
•Melt together coconut oil and maple syrup and add to almond flour and coconut mixture, pulse until coarse crumbs form (dough should clump together when squeezed with fingers).
•Transfer dough to a greased 9-inch tart pan with a removable bottom. Using your fingers, evenly press dough in bottom and up sides of pan.
•Bake in center of oven until golden and firm, about 15- 20 minutes. Transfer to a wire rack to cool completely, at least 1 hour.
About BBQ off the Bypass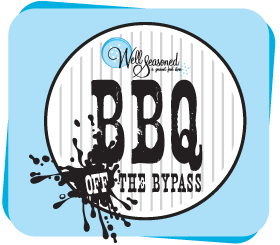 The annual BBQ OFF the Bypass is a Langley BC-based BBQ competition and more. The event attracts the best competitive BBQ teams from throughout the Pacific Northwest for a sizzling competition in five categories: chicken, brisket, ribs, pork butt, and an open choice category. FREE to the public, the event features live music, interesting displays, tasty vendors and delicious FREE finger licking barbecue samples. The BBQ off the Bypass is also the site of the Great BC Bake Off, an annual amateur pie baking competition, open to the public.
The event is free to the public. Learn more at: http://bbqoffthebypass.com