Welcome to the Vancouver Foodster Stacked Sandwich Challenge. Restaurants from all over the city were invited to create and enter a Stacked Sandwich creation into this challenge. Each restaurant will be featuring their creations on their menu from September 10-30, 2015.
A few of the unique creations in this challenge:
Saj & Co.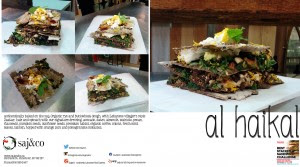 AL Haikal
Price: $13
Created by: Malek Anouti
Description:  AL Haikal means strcuture or temple. temple as it looks like an architectural temple viewed from different perspectives; also haykal is a synonim of my newborn boy Kayan!
Ingredients: Authentically baked on the saj; Organic rye and buckwheat dough, with Lebanese villager's style Zaatar, kale and spinach with our signature dressing, avocado, dates, almonds, walnuts, pecan, flaxseeds, pumpkin seeds, sunflower seeds, premium tahini, organic coffee, onions, fresh mint leaves, labneh, topped with orange zest and pomegranate molasses.
Offered: Mon – Fri 12pm – 3:30 pm and 6pm – 9 pm; and Saturday and 6pm – 10pm
Saj & Co.
813 Davie Street, Vancouver
Web: https://www.facebook.com/sajco
Twitter: @Sajnco
Doughgirls Bakeshop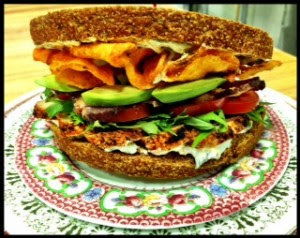 The Benedictine Club Crunch
Price: $10.50
Created by: Rose Concepcion & Thuy Kelp
Description: The Doughgirls #DownHomeDoneRight club sandwich w/a twist. Free-Range Cajun spiced chicken breast*, Fraser Valley double  Smoked bacon*, avocado, roma tomatoes, UBC Farm organic greens**, Deep River Mesquite BBQ Potato Chips, and Benedictine (A cucumber, scallion, herb cream cheese) on our Organic Anadama Bread (An old-time New England loaf of molasses & corn grit). Served w/a side salad of seasonal greens, house-made pickles & Chipotle Buttermilk Dressing.
Offered:  lunch and early dinner until closing Monday-Saturday 8am-6pm plus seasonal late Fridays till 8pm, Sundays 9am-5pm.
Doughgirls Bakeshop
3322 Shrum Lane (Westbrook Village)
Tel: (604) 333-5474
Web: http://www.doughgirlsbakeshop.com/
Twitter: @DoughgirlsBake
The Copper Chimney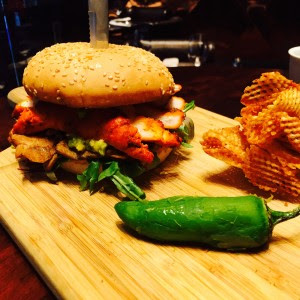 Do Ranga Stacked Sandwich
Price: $18
Created by: Executive Chef Jaroslaw Faryna
Description: spiced masala lamb, tandoori chicken, apple pear walnut chutney, micro greens, avocado salsa, sesame bun, spicy chips
Offered: Lunch and dinner daily
The Copper Chimney
567 Hornby Street, Vancouver
Tel: 604-689-8862
Web: http://www.copperchimney.ca/
Twitter: @CopperChimney_1
The full list of participating restaurants can be found here
http://vancouverfoodster.com/2015/09/10/vancouver-foodster-stacked-sandwich-challenge/
For our Challenges, we have 2 sets of winners. The People's Choice winners will be selected by the public who are invited to visit any of the participating restaurants and order the Stacked Sandwich creations and then decide on which ones they think are worthy of winning the challenge by casting their votes.
For this challenge we have 3 media judges and they are:
Tara Lee
Freelance journalist and broadcaster. Writer for Georgia Straight
Twitter: @VanGluttond
Aaron Alexander
Writer and Creator of BC BuzZ….Plus a film fanatic, music lover & lover of the arts!
Twitter: @aaronmalexander
Jay Minter
Writer of food and the arts for On The List, Vancouver Presents and other publications.
Twitter: @jminter
Voting: The public is invited to order these Stacked Sandwich creations at the participating restaurants keeping in mind this criteria – originality, creativity, uniqueness,  traditional, non-traditional, price, value and most importantly taste. People can vote the same day after trying the creation and they can vote once a day throughout the promotion. People will be encouraged to Vote for their favourites from September 10-30, 2015.
http://vancouverfoodster.com/stacked-sandwich-challenge/
With a smartphone, customers will be able to vote from their table in the restaurant right after they have eaten the Stacked Sandwich creation.
We will announce the winning restaurants and their Stacked Sandwich creations on October 1, 2015.
About Vancouver Foodster
Founded in 2009 by Richard Wolak, Vancouver Foodster is Vancouver's premier online "Essential Food & Drink Intelligence" guide. The site offers expert advice on the hottest restaurants, parties, and openings this city has to offer, as well as the most interesting dining trends and newest cuisines and food around the region. Vancouver Foodster also runs a series of food challenges with restaurants and chefs throughout the year!