Fresh Tomato Tarte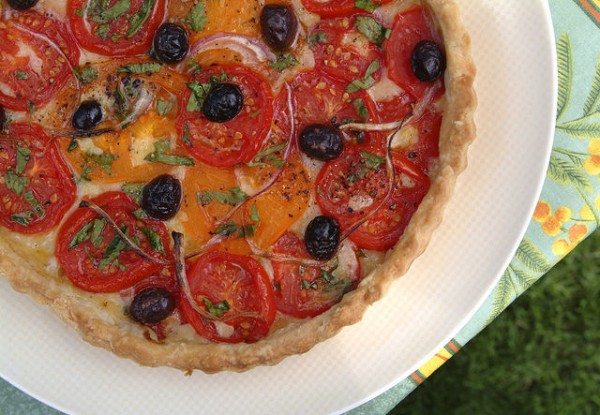 Chef Alessandra Quaglia
Makes 1 – 9" tart to serve 6
From: New World Provence, Modern French Cooking for Friends and Family, Arsenal Pulp Press 2007
Ingredients for Pastry
1 2/3 cups flour

1 tsp. salt

6 tbsp. cold un-salted butter, cut into pieces

1 egg yolk

3 tbsp. ice cold water
Method for Pastry
In s food processor add flour, salt and butter

Pulse until butter resemembles small peas

Add egg yolk and continue to pulse to combine

Add ice cold water and pulse again until pastry separates from sides of bowl (you may need extra cold water if this doesn't happen)

Remove dough and knead on a lightly floured surface for 1 minute

Form into a ball, cover with plastic wrap and refrigerate for 1 hour.
Ingredients for Filling
2 tbsp. Dijon mustard

1 cup Gruyere cheese, thinly sliced

3 medium red tomatoes, sliced

2 medium yellow tomatoes, sliced

½ medium-sized sweet red onion, sliced

¼ cup Niçoise olives (Kalamata may be substituted)

1 tbsp. extra virgin olive oil

¼ tsp. sea salt

freshly ground black pepper to taste
Method
Preheat oven to 375°F

Remove dough from refrigerator and roll to fit a 9" tarte pan with removable bottom

Brush mustard over dough

Distribute cheese evenly over mustard

Arrange tomatoes on top of cheese

Top with sliced onion and olives

Bake for 30 – 35 minutes until crust is golden brown

Serve warm drizzled with oil and sprinkled with salt and pepper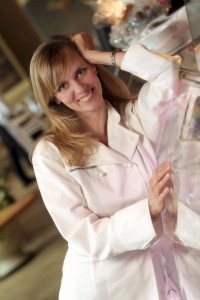 Alessandra Quaglia Chef/Owner
Chef, restaurateur, author, parent, carpenter, blogger and dancer are words that, when combined, accurately describe Chef Alessandra Quaglia, chef and co-owner of Provence Restaurants in Vancouver. A native of Toronto, Alessandra was born into a family of extraordinary cooks.  Her maternal grandmother is a Master Danish Open-face Sandwich Maker and Alessandra credits her mother with being a "superb cook extraordinaire."
Fresh out of high school, Alessandra went to live in Copenhagen where she landed a job in breakfast buffet prep at the Hotel Admiral.  Back in Canada the next year, inspired by her Danish experience, she enrolled in Toronto's George Brown School of Hospitality to get a diploma in Culinary Management.  While attending George Brown she worked in the kitchen of Fenton's and later went on to apprentice at the Windsor Arms Hotel in both The Courtyard Cafe and Three Small Rooms.
Wanting to gain more hands-on experience, Alessandra headed off to France where she volunteered her labour as a Stagiere working her way around the Côte d'Azure under such noted chefs as Jacques Maximin in Nice, Jean-Jacques Jouteux at Le Provençal and Bruno Caironi (former Sous Chef to Alain Ducasse) at Le Grill in the Hôtel de Paris in Monte Carlo.  She returned to Nice to become Commis de Cuisine under Dominique LeStanc at Hôtel Negresco (2 Michelin stars) where she caught the eye (and the heart) of the Chef de Partie Tournant – Jean-Francis Quaglia. She didn't speak much French and he didn't speak any English. Their mutual love of food helped bridge the language barrier.
In 1991 she joined Jean-Francis to work under his mother, Chef Suzanne Quaglia, of Marseilles' famed Le Patalain.  In 1992 the couple moved to Canada.  Alessandra's first job in Vancouver was Pasta Chef at Umberto Menghi's Splendido on Robson.  Next came The Raintree on Alberni as Entremetier and Saucier followed by the position of Entremetier at Chef Bruno Born's Le Coq D'Or.  When Born moved to the Sheraton Wall Centre Hotel he took Alessandra and Jean-Francis with him where Alessandra became part-time Chef de Partie Saucier at Indigo Bistro Moderne.  In June 1995 she left Indigo to start a family.  There are now four in the Canadian branch of the Quaglia clan – Alessandra, Jean-Francis, Matisse (born July 1995) and Remi (born January 1997).
Alessandra partnered with husband Jean-Francis to open Provence Mediterranean Grill in December 1997 – a 65 seat restaurant in Vancouver's Pt. Grey neighbourhood. In 2002 she and Jean-Francis 'gave birth' to their second location, Provence Marinaside in Yaletown. In 2007, to mark Provence's 10th anniversary, the couple co-authored the book New World Provence – Modern French Cooking for Friends and Family and in 2011, Alessandra took on the challenge of completely renovating Provence Mediterranean Grill, including wielding a sledgehammer and painting the walls herself. In mid-December 2012, the Provence 'family' expanded once more when the coupled opened TWB-The Wine Bar adjacent to Provence Marinaside.  Along the way, Alessandra has also produced and starred in a series of videos – The Dancing Chef, which combine her two passions – cooking and salsa dancing. Alessandra epitomizes today's multi-tasking woman as she deftly juggles the multiple responsibilities of wife, mother, chef and restaurateur.
Provence Mediterranean Grill (Point Grey) 4473 West 10th Ave., 604.222.1980
TWB-The Wine Bar (Yaletown): 1167 Marinaside Crescent next door to Marinaside., 604.681.4144
Provence Marinaside (Yaletown) 1177 Marinaside Crescent at the foot of Davie St., 604.681.4144