Daube de Boeuf

This is a classic Provençal recipe that has been passed down from generation to generation in our family. Here we give you Mamie Suzanne's recipe that in 1987 won 1st Prize at the Comite Nationale Gastronomie de France.
Ingredients – bouquet garni:
1 bay leaf
3 sprigs thyme
4 large sprigs parsley (including stalks)
10 cm (4 inch) piece celery stalk with leaves
two 10 cm (4 inch) pieces leek (green part)
Method – bouquet garni:
Place the bay leaf, thyme, parsley and celery on one piece of green leek. Cover with the remaining piece of green leek. Tie securely with fine string, leaving a length of string attached so that the bouquet garni can be easily retrieved.
Ingredients – daube de boeuf:
1 bouquet garni (see above)
3 lbs boneless beef shank, cut into large cubes
3 medium onion diced
3 carrot diced
5 whole garlic cloves
4 whole cloves
750 ml red wine (cotes-du-Rhone)
1 piece of dried orange peel (see note below)
½ cup olive oil
Method:
Take all the ingredients except the olive oil and combine them into a bowl, make sure that all the meat is covered by the red wine.
Cover and marinate overnight.
Next day, drain the meat from the liquid and keep the liquid aside.
Separate the meat from the vegetables and reserve the vegetables.
Heat a pan on high heat with ½ cup of olive oil and brown the meat on all sides – about a minute a side.
After all the meat has been seared move the meat into a pot.
Pour the marinating liquid over it and add in the reserved vegetables.
Cover and bring to a simmer on medium heat for 2.5 hours. Make sure not to rapidly boil the stew, you will end up with strands of meat rather than chunks of meat.
Jean-Francis Quaglia   Chef/Owner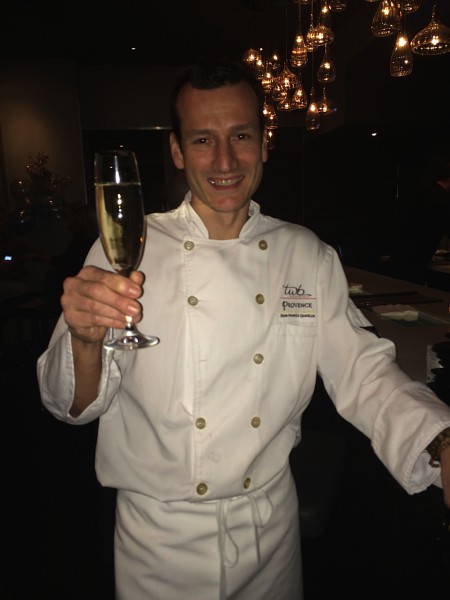 A native of Marseille, France, Jean-Francis comes naturally to the culinary world as his mother is acclaimed Chef Suzanne Quaglia of Marseille's famed Le Patalain and one of the very first female chefs in France. At age eight, he made his first 'Tarte au Citron' from his mother's recipe. This same tarte is now featured on Provence's menu. When Jean-Francis was 16, Chef Suzanne opened her first restaurant and Jean-Francis decided that he too wanted to become a chef, enrolling at the École Hôteliere de Marseilles.
Hôtel Sorbitel in Marseille was the location of his first apprenticeship following graduation. From there he had a brief stint in his mother's restaurant before heading off to the Côte d'Azure and Monte Carlo where he started as Commis de Cuisine under the direction of Chef Bruno Caironi (formerly Sous Chef to Alain Ducasse). Jean-Francis then went on to work with Chef Elie Mazot at Relais et Chateau's Le Chateau de la Chevre D'Or in Eze.
As Chef de Partie Tournant, Jean-Francis mastered every station in the kitchen while working under the direction of Chef Dominique LeStanc at Hôtel Negresco in Nice (2 Michelin stars). Hôtel Negresco was to be a turning point in his life as it was there, in 1990, that he met a young Canadian, Alessandra Mossa, who later became his wife. In 1991 Jean-Francis (with Alessandra) returned to Marseille to work as Sous Chef in his mother's Le Patalain. The next year he and Alessandra moved to Canada and were married.
Jean-Francis' Canadian career began as Sous Chef under Bruno Born at Le Coq D'Or in Vancouver's Kitsilano neighbourhood. During Jean-Francis tenure there, the restaurant won the coveted award of Best French Restaurant at the annual Vancouver Magazine Restaurant Awards. In 1994, Born closed Le Coq D'Or to head up food and beverage for the soon-to-be-opened Sheraton Wall Centre Hotel. He took Jean-Francis with him to be Chef de Cuisine at one of the hotel's two restaurants – Azure Seafood Restaurant.  When the hotel's owner later decided to consolidate food services in one restaurant and closed Azure, Jean-Francis was picked to become Chef of the hotel's remaining restaurant – Indigo Bistro Moderne.
Pursuing a life-long dream, Jean-Francis left the Sheraton Wall Centre to open a place of his own.  The result – Provence Mediterranean Grill – opened its doors in the Point Grey neighbourhood of Vancouver on December 17, 1997. In 2002 he and Alessandra took the plunge, opening a second location – Provence Marinaside, on the sea wall in Yaletown. Marinaside, as locals affectionately call it, focuses its menu on seafood featuring a fresh seafood bar, catch of the day as well as a wide selection of fish and shellfish. When the sun shines, and with the view of the adjacent marina, you'd swear you were on the Côte d'Azure. In 2007, to mark Provence Mediterranean Grill's 10th anniversary, Jean-Francis and Alessandra co-authored the book New World Provence – Modern French Cooking for Friends and Family.
Early in 2012, there was another celebration as Provence Marinaside celebrated its 10th Anniversary on February 23rd, 2012. Later in the same year (mid-December 2012) the Provence 'family' expanded once more when Jean-Francis developed and opened TWB-The Wine Bar adjacent to Provence Marinaside. The casually elegant Wine Bar serves 50 wines by the glass and serves light tapas-style plates called 'Bites.' It has rapidly become a neighbourhood favourite for its value-priced great food, good wine and fabulous people-watching.
Provence Mediterranean Grill (Point Grey): 4473 West 10th Ave., 604.222.1980
Provence Marinaside (Yaletown): 1177 Marinaside Crescent at the foot of Davie St., 604.681.4144
TWB-The Wine Bar (Yaletown): 1167 Marinaside Crescent next door to Marinaside., 604.681.4144