Our "in-house" sommelier Ryan Lewis has kindly sent us his suggestions for this great dish.
The obvious and possibly best match for a dish like this one would be Sauvignon Blanc, which pairs extremely well with each individual ingredient. A wine with high acidity is the key here as it will match up with the acid in the tomatoes and the dressing, whilst cutting through the richness of the lobster. There are however, plenty of options, as Chardonnay, Pinot Gris and even Sparkling will pair nicely. With the long weekend coming up I've decided to do the pairings featuring some of our homegrown talent right here in B.C.
For the traditional pairing I chose the 2013 Fairview Cellars Sauvignon Blanc $19. Not (and I believe intentionally so) as pungent as it's New Zealand counterparts this white has citrus, grapefruit, tropical and herbal notes to compliment tangy acidity.
If you are looking to take this pairing up notch for your lazy Sunday afternoon lunch why not try with some bubbles. Dry Champagne will work nicely here but sticking with our B.C. theme and a much friendlier price point try the 2013 Bella Sparkling Blanc de Blancs (Oliver Westside Vineyard) $24.
Ryan Lewis
Sommelier, Writer
Independent Wine, Beer and Sprits Consultant
-ISG Level 3 Diploma Certified-
LOBSTER SALAD
Chef Alessandra Quaglia and Executive Sous Chef Sheldon Maloff
Makes 4 servings
Ingredients:
Large pot of heavily salted water, with lid
2 whole live lobsters
Large pot of ice water
8 asparagus spears
1 large heirloom tomato
Salt and pepper to taste
Champagne Vinaigrette (see below)
Preparation:
Cover and bring the pot of salted water to a boil.
When the water is boiling drop in the lobsters, cover, and cook for 7 minutes.
Immediately remove the lobsters and plunge them into the ice-water bath.
Let them cool for 15 minutes.
Remove from ice-bath, drain and cut each lobster in half. Set aside.
Lightly blanch asparagus in boiling salted water and then quickly place into ice-bath to stop the cooking.
Remove from ice-bath and drain.
For each serving you will use 2 asparagus spears. Chop each spear into 6 pieces and set aside.
Slice the heirloom tomato into quarters and then thinly slice each quarter.
For each serving, arrange one quarter of the tomato slices on a plate and season lightly with salt and pepper.
Arrange 12 of the asparagus pieces on and around the tomatoes.
Place a half lobster on top of the tomatoes, cut side up.
Drizzle each lobster half with some of the vinaigrette and some on the side of the tomatoes.
Champagne Vinaigrette
1 cup good extra virgin olive oil
3 Tbsp. champagne vinegar
2 tsp. clear, liquid honey
1 tsp. Dijon mustard
1 pinch salt
Place all the ingredients in a bowl and whisk together or place in a glass jar with a lid and shake to emulsify.
Provence Marinaside (Yaletown): 1177 Marinaside Crescent at the foot of Davie St., 604.681.4144
TWB-The Wine Bar (Yaletown): 1167 Marinaside Crescent next door to Marinaside., 604.681.4144
Provence Mediterranean Grill (Point Grey): 4473 West 10th Ave., 604.222.1980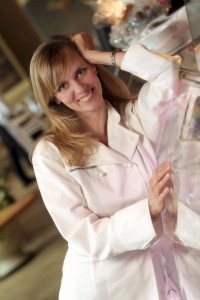 Alessandra Quaglia Chef/Owner
Chef, restaurateur, author, parent, carpenter, blogger and dancer are words that, when combined, accurately describe Chef Alessandra Quaglia, chef and co-owner of Provence Restaurants in Vancouver. A native of Toronto, Alessandra was born into a family of extraordinary cooks.  Her maternal grandmother is a Master Danish Open-face Sandwich Maker and Alessandra credits her mother with being a "superb cook extraordinaire."
Fresh out of high school, Alessandra went to live in Copenhagen where she landed a job in breakfast buffet prep at the Hotel Admiral.  Back in Canada the next year, inspired by her Danish experience, she enrolled in Toronto's George Brown School of Hospitality to get a diploma in Culinary Management.  While attending George Brown she worked in the kitchen of Fenton's and later went on to apprentice at the Windsor Arms Hotel in both The Courtyard Cafe and Three Small Rooms.
Wanting to gain more hands-on experience, Alessandra headed off to France where she volunteered her labour as a Stagiere working her way around the Côte d'Azure under such noted chefs as Jacques Maximin in Nice, Jean-Jacques Jouteux at Le Provençal and Bruno Caironi (former Sous Chef to Alain Ducasse) at Le Grill in the Hôtel de Paris in Monte Carlo.  She returned to Nice to become Commis de Cuisine under Dominique LeStanc at Hôtel Negresco (2 Michelin stars) where she caught the eye (and the heart) of the Chef de Partie Tournant – Jean-Francis Quaglia. She didn't speak much French and he didn't speak any English. Their mutual love of food helped bridge the language barrier.
In 1991 she joined Jean-Francis to work under his mother, Chef Suzanne Quaglia, of Marseilles' famed Le Patalain.  In 1992 the couple moved to Canada.  Alessandra's first job in Vancouver was Pasta Chef at Umberto Menghi's Splendido on Robson.  Next came The Raintree on Alberni as Entremetier and Saucier followed by the position of Entremetier at Chef Bruno Born's Le Coq D'Or.  When Born moved to the Sheraton Wall Centre Hotel he took Alessandra and Jean-Francis with him where Alessandra became part-time Chef de Partie Saucier at Indigo Bistro Moderne.  In June 1995 she left Indigo to start a family.  There are now four in the Canadian branch of the Quaglia clan – Alessandra, Jean-Francis, Matisse (born July 1995) and Remi (born January 1997).
Alessandra partnered with husband Jean-Francis to open Provence Mediterranean Grill in December 1997 – a 65 seat restaurant in Vancouver's Pt. Grey neighbourhood. In 2002 she and Jean-Francis 'gave birth' to their second location, Provence Marinaside in Yaletown. In 2007, to mark Provence's 10th anniversary, the couple co-authored the book New World Provence – Modern French Cooking for Friends and Family and in 2011, Alessandra took on the challenge of completely renovating Provence Mediterranean Grill, including wielding a sledgehammer and painting the walls herself. In mid-December 2012, the Provence 'family' expanded once more when the coupled opened TWB-The Wine Bar adjacent to Provence Marinaside.  Along the way, Alessandra has also produced and starred in a series of videos – The Dancing Chef, which combine her two passions – cooking and salsa dancing. Alessandra epitomizes today's multi-tasking woman as she deftly juggles the multiple responsibilities of wife, mother, chef and restaurateur.
Provence Mediterranean Grill (Point Grey): 4473 West 10th Ave., 604.222.1980
Provence Marinaside (Yaletown): 1177 Marinaside Crescent at the foot of Davie St., 604.681.4144
TWB-The Wine Bar (Yaletown): 1167 Marinaside Crescent next door to Marinaside, 604.681.4144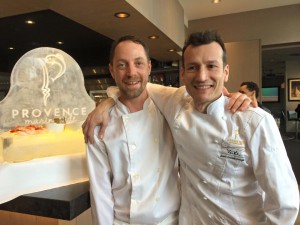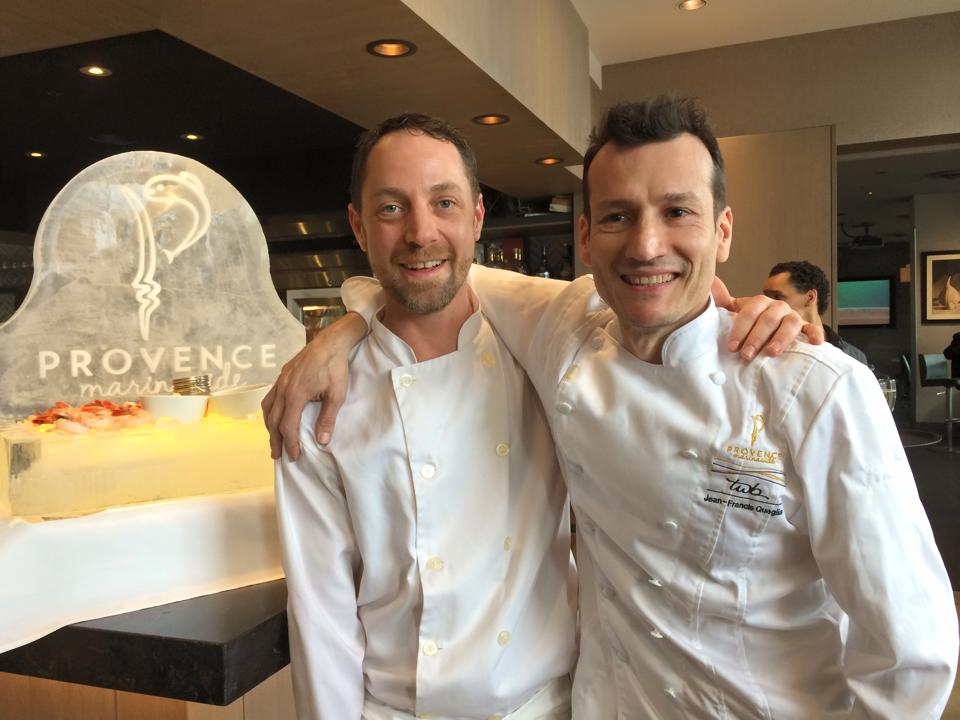 Kitchen Profiles ~ Head Chef Sheldon Maloff 
A restaurant runs like an army with two major divisions: Front of House and Back of House. While FoH is a freewheeling system of seniority, BoH has a strict hierarchy with the Chefs at the top. Allow me to introduce our second-in-command, Head Chef Sheldon Maloff.
At what point in your life did you first become interested in cooking?
"At about age eight or nine I became my mom's little prep cook. It was always my mom, my sister and I in the kitchen making homemade pickles, jams, perogies, that sort of thing. My dad and brother have more of the traditional Russian attitude towards cooking so they stayed out of it, but I always liked pitching in. I was a total picky eater as a kid, though, which drove my mom crazy. I practically lived off of French Fries, pizza and cucumbers soaked in vinegar."
When did you decide you wanted to turn cooking into a career?
"Most of my job experience as a teenager was in restaurants, but I never really took it seriously until I was 19. I was Kitchen Manager at Mr. Mike's West Coast Grill in Quesnel [where I grew up] but I felt stuck. I had an idea that cooking was what I wanted to do, but at the time there was no culinary program or fine dining restaurants in my hometown. So I took a leap of faith and applied to the Pacific Institute of Culinary Arts in Vancouver. From then on it's been nothing but one amazing opportunity after another."
What was the busiest time in your life?
"There was a point when I was working at Bridges, Wild Rice and Monk McQueens all at the same time. I wanted to keep my options open and gain experience with different types of cuisine and service styles. But then I got a boyfriend, so I had to quit one of my jobs."
Kitchens are portrayed as hyper-masculine environments these days. Is it challenging maintaining authority as a gay man?
"Not at all. My kitchen respects me because I'm a good chef and I can be a hard-ass if things aren't done properly. You have to have a thick skin and a sense of humour in this sort of work environment. On one of my first shifts at Provence, our pastry chef Pauline called me out in front of everyone, accusing me of grabbing her ass. I freaked and blurted that I didn't do it, that I was gay. Everyone burst out laughing, they had set me up. It's hilarious now but you have to be ready for that sort of thing."
What has been the best part of working at Provence?
"Definitely the chefs I have worked under. Four years ago I still had a lot to learn, so Cullin David, our former Executive Sous Chef [and now Executive Chef/Co-Owner at Calabash Bistro] was a mentor and huge inspiration to me. And JF, of course. We're like brothers now."
What do you cook at home?
"I'm into healthy Asian-style adaptations right now. I have a new crockpot that I'm thinking of breaking in with a batch of Galbi Jim [Korean braised shortribs]."
What is one thing about you that readers might find surprising?
"I'm actually a big softie and I love animals. I wish I had time for a dog, but right now it's just me and my rescue cat, Gidget, and my Betta fish, Spike."
Provence Marinaside (Yaletown): 1177 Marinaside Crescent at the foot of Davie St., 604.681.4144
TWB-The Wine Bar (Yaletown): 1167 Marinaside Crescent next door to Marinaside., 604.681.4144
Provence Mediterranean Grill (Point Grey): 4473 West 10th Ave., 604.222.1980