A wine pairing for Chef Alex Chen's Porchetta #TasteofThursday recipe*
I'd recommend pairing a Pinot Noir with Chef Alex Chen's delicious Porchetta recipe. Pinot Noir is a versatile varietal, and a natural pairing for pork. It also happens to be one of my favourite varietals!
Although I'm partial to Burgundy, some B.C. Pinot Noir is starting to command attention with its delicate, layered and complex aromas. I'm a big fan of Foxtrot Vineyards in Naramata, which we have the privilege of working with here at Boulevard.
I would pair Chef Alex's Porchetta with the Foxtrot's Henricsson Vineyard Pinot Noir, a ruby-hued pinot that offers aromas of leather, strawberry and raspberry. The red fruit delights the palate with licorice, black tea and classic earthiness. This perfectly balanced pinot is both memorable and approachable, and is very indicative of the terroir of the Henricsson Vineyard site.
If you needed any more reassurance that this one is a winner, we teamed up with Foxtrot at this year's Gold Medal Plates competition in Victoria, and their Henricsson Vineyard Pinot Noir came in first place along with our own Chef Alex Chen!
*see below for the Porchetta recipe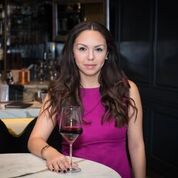 A certified sommelier, Claxton — formerly of Vancouver's Homer St. Café and Bar, Wildebeest, Fable Kitchen and Cioppino's Mediterranean Grill & Enoteca — was recently hired in a management role at Boulevard before quickly being promoted to her new post, where she joins accomplished sommeliers Steve Edwards (Director of Operations) and Brian Hopkins (Maître d').
Among Claxton's goals is to bring more accessibility to Boulevard's extensive list of old- and new-world wines and champion British Columbia's wineries, both established and up-and-coming alike. Claxton will also boost Boulevard's focus on pairing Champagne and sparkling wine with Executive Chef Alex Chen's signature, seafood-focused menu, while honouring the restaurant's emphasis on natural, organic and biodynamic wines that, as Claxton says, "allow the grapes to speak for themselves."
"Everything we do at Boulevard is about creating an experience," says Claxton. "It all goes back to the basics: you are the company you keep, and it's a privilege at Boulevard to share such a big stage with people who are striving for perfection every day. To share in that kind of spirit and help carry on that momentum is what will continue to make Boulevard an iconic dining room not just in Vancouver but well beyond."
Facebook: /blvdyvr  
Website: boulevardvancouver.com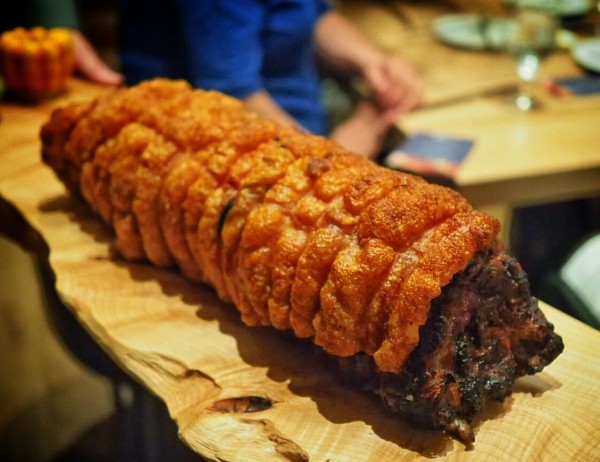 Porchetta
Alex Chen, Executive Chef
Ingredients:
Skin on pork belly 1 side (3900g or 8lbs, 10oz)
Boneless pork shoulder (3800g or 8lbs, 6oz), brined for 4 hours in 1% brine
5 medium shallots brunoise (finely diced and cooked in butter)
8 cloves garlic brunoise (finely diced and cooked in butter)
1 whole zest of orange
1 tsp smoked parpika
2 tsp fennel seed (toasted)
½ tsp ground cumin
½ tsp chipotle powder
¼ tsp ground coriander
1/5 tsp fennel pollen
½ tsp black pepper
¼ tsp pork spice
5 Tbsp brown sugar
40g pickled mustard
1 tsp picked thyme leaves
6 tbsp kosher salt
Method:
Pierce the skin of the pork belly with meat tenderizer to pierce though as much surface area as possible, but not all the way through the skin.
Butterfly the pork belly to spread open as flat and as wide as possible without splitting it completely. The meat should still be attached.
Heavily season the pork with salt and pepper.
Score the pork shoulder so it can spread as wide as possible to cover the surface area of the pork belly.
Heavily season the pork belly with salt and pepper.
Mix together all the spices in a bowl to form a paste, making sure the brown sugar is fully incorporated.
Spread it evenly around the pork belly and shoulder.
Roll the pork belly and shoulder tightly to expose the skin side facing up.
Tie it tightly with butcher's twine.
Heavily season the skin with salt and black pepper.
Cook in an oven preheated to 300F for 3 hours.
Take the meat out and raise the oven temperature to 550F.
Put the meat back in the oven for 2 minutes to crisp up the skin.
Remove the porchetta from the oven, letting rest for a few minutes. Slice as per your desired thickness and serve.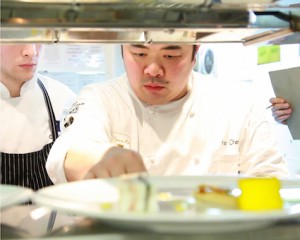 Alex Chen, Executive Chef, Boulevard Kitchen & Oyster Bar
Twitter: @blvdyvr @ChefAlexChen
Instagram: @blvdyvr
Facebook: /blvdyvr  /chefalexchen
Website: boulevardvancouver.com
Alex Chen's culinary vision is an inspired recipe of family tradition and classical technique and training, combined with creative hints of international influences. From his childhood roots in Malaysia to his time in both Vancouver and California, the Pacific Rim and West Coast regions have helped form the basis for Alex's innovative signature style, as well as his love for seafood. So, too, has his emphasis on sourcing the best fresh, local and in-season ingredients.
Alex joined Boulevard Kitchen & Oyster Bar as Executive Chef after charting a top-10 finish representing Canada at the prestigious Bocuse d'Or culinary competition in Lyon, France in 2013. Before spending six years as the Executive Chef of the legendary Polo Lounge at the Beverly Hills Hotel, Alex apprenticed at Vancouver's Wedgewood Hotel, and held the roles of Senior Sous Chef at the Four Seasons Hotel Chicago and Chef de Cuisine at the Four Seasons Hotel Toronto.