Korean Galbi 'Dog'
Chef Alex Chen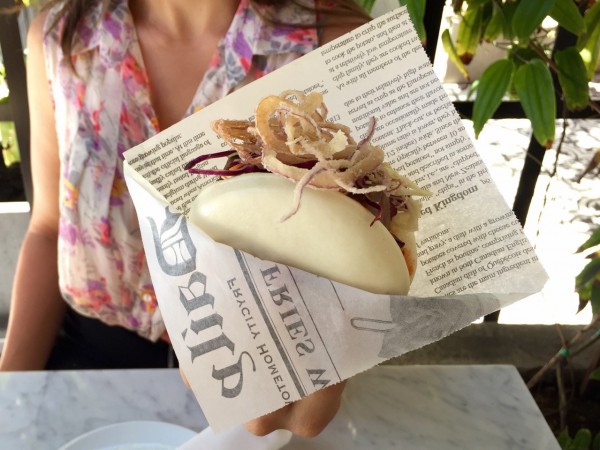 Ingredients:
200g Beef short rib, 1 inch dice
100g beef fat, 1/2 inch dice
1/5 of an Granny Smith apple, do not peel
1/8 of an Asian pear, do not peel
1 tsp peeled ginger, peel
3 Tbs green onion, finely chop
1 Tbs chopped garlic, finely chop
3 Tbs soy sauce
1 tsp korean soy bean paste
1/2 tsp toasted sesame seeds
1/2 tsp sesame oil
3 Tbs sugar
1 Tbs honey
Sausage casing 3 feet
Method:
In a blender, blend everything together except for the beef
Pour the marinade over the beef and refrigerate for 16 hrs
After 16 hours, drain the marinade
Keep all the ingredients cold, including the meat grinder
Using your hand in a continuous circular motion, mix your meat for 30 seconds to combine and evenly distribute the fat
With a sausage stuffer, stuff the meat into the casing
Let it air dry for a day in the fridge
Grill directly onto a medium low oven until it reaches an internal temp of 160 F
Serve on a brioche bun with pickled vegetables and chili paste.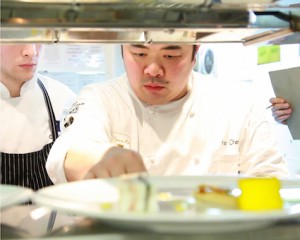 Alex Chen, Executive Chef, Boulevard Kitchen & Oyster Bar
Twitter: @blvdyvr @ChefAlexChen
Instagram: @blvdyvr
Facebook: /blvdyvr  /chefalexchen
Website: boulevardvancouver.com
Alex Chen's culinary vision is an inspired recipe of family tradition and classical technique and training, combined with creative hints of international influences. From his childhood roots in Malaysia to his time in both Vancouver and California, the Pacific Rim and West Coast regions have helped form the basis for Alex's innovative signature style, as well as his love for seafood. So, too, has his emphasis on sourcing the best fresh, local and in-season ingredients.
Alex joined Boulevard Kitchen & Oyster Bar as Executive Chef after charting a top-10 finish representing Canada at the prestigious Bocuse d'Or culinary competition in Lyon, France in 2013. Before spending six years as the Executive Chef of the legendary Polo Lounge at the Beverly Hills Hotel, Alex apprenticed at Vancouver's Wedgewood Hotel, and held the roles of Senior Sous Chef at the Four Seasons Hotel Chicago and Chef de Cuisine at the Four Seasons Hotel Toronto.