Arctic Char (4 servings)
Parsley Coulis: Yield 1.5 cups
Ingredients:
4 cups (packed) flat leave parsley, no stems
1 cup 2% milk
½ cup Heavy cream
2 medium shallots cut into 2 cm
10 garlic cloves stems remove
pinch kosher salt
Directions:
Remove stems from parsley
Bring a large pot of salted water to a rapid boil
Blanch parsley in salted water for 60 seconds
Drain and cool
Squeeze parsley dry with your hands
Bring cream, milk, shallot, garlic and salt to a boil
Let simmer for 20 minutes or until garlic cloves are soft
Add parsley into the milk mixture and adjust seasoning
Puree on high in a blender till smooth
Cool down on ice to preserve color
Wrap with saran wrap directly on the purée to prevent a skin
Potato Gnocchi: 4 servings
Ingredients:
2 potatoes
2 cups all-purpose flour
1 egg
Pinch kosher salt
Pinch black pepper
1 tsp finely grated parmesan
3 tsp finely chopped chives
Pinch of nutmeg
Directions:
Bring a large pot of salted water to a boil
Peel potatoes and add to pot
Cook until tender but still firm (approx. 15 minutes)
Drain, cool and mash
Combine mashed potato with all other ingredients in a large bowl
Knead until dough forms a ball
Shape small portions of dough into long dowels
On a floured surface, cut snakes into half inch pieces
Bring a large pot of slightly salted water to a boil
Drop in gnocchi and cook for 3-5 minutes or until gnocchi has risen to the top
Drain
Mustard Glaze: Yield 2 cups
2 medium shallots finely diced
1 ¾ cup grainy mustard
2 cloves finely diced garlic
1 cup maple syrup
Zest ¾ of an orange
3 turns fresh cracked black pepper
Method:
Mix everything in a mixing bowl
Salsify:
Ingredients:
4 pieces salsify
2 cups 2% milk
2 cloves garlic
2 sprigs of thyme
3 pinches kosher salt
Bay leaf
Method:
Peel outer black layer until you see white core (do not over peel but make sure all black is gone)
Cut off both ends
Place in water with a squeeze of lemon
In a pot add milk, thyme, salt, and bay leaf
Crush garlic and add
Simmer
Cut each piece of salsify into 3 even pieces
Place in pot with other ingredients
Simmer until tender
Check doneness but piercing salsify with a pairing knife, it is done if there is no resistance
Arctic Char:
Pre-heat oven to 350°F
2 scaled filets
Cut each in half
Season with salt and pepper
Sear skin side in a hot pan to crisp skin
Spread mustard glaze on top of each piece
Bake in oven for approx 6 minutes
Assembly:
Slowly warm parsley coulis in small pot
Soft poach an egg
Hot water
1 cap white vinegar
Do not overcook!
In a pan melt a tbsp of butter on med-high heat until foamy
Add gnocchi and sear until golden brown
Add salsify and sear
Season with salt, pepper and lemon juice
Spoon coulis onto the center of the plate and spread into a small circle
Arrange 6 pieces of gnocchi and 3 pieces of salsify around coulis
Place arctic char on top of coulis
Season egg with salt and pepper and place beside arctic char
Cut yolk before serving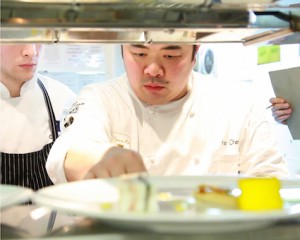 Alex Chen, Executive Chef, Boulevard Kitchen & Oyster Bar
Twitter: @blvdyvr @ChefAlexChen
Instagram: @blvdyvr
Facebook: /blvdyvr  /chefalexchen
Website: boulevardvancouver.com
Alex Chen's culinary vision is an inspired recipe of family tradition and classical technique and training, combined with creative hints of international influences. From his childhood roots in Malaysia to his time in both Vancouver and California, the Pacific Rim and West Coast regions have helped form the basis for Alex's innovative signature style, as well as his love for seafood. So, too, has his emphasis on sourcing the best fresh, local and in-season ingredients.
Alex joined Boulevard Kitchen & Oyster Bar as Executive Chef after charting a top-10 finish representing Canada at the prestigious Bocuse d'Or culinary competition in Lyon, France in 2013. Before spending six years as the Executive Chef of the legendary Polo Lounge at the Beverly Hills Hotel, Alex apprenticed at Vancouver's Wedgewood Hotel, and held the roles of Senior Sous Chef at the Four Seasons Hotel Chicago and Chef de Cuisine at the Four Seasons Hotel Toronto.