Yellowfin Tuna Crudo
Tuna:
1.5 lbs sashimi grade yellowfin tuna
Cut into 16: 2.5 inch by 0.5 inch slices
Tonnato Sauce:
Ingredients:
1 can of high quality canned tuna packed in olive oil (local Italian deli)
1 cup extra virgin olive oil
Heart of one bunch of celery
1 medium shallot
1 medium garlic clove
Lemon juice: half lemon
Lemon zest: half lemon
Pinch fennel pollen
Pinch espelette
Pinch sugar
Method:
Dice the shallot and garlic clove
In a pan, sauté the shallots and garlic
Blend all ingredients in a high speed blender until smooth
 Garnish: (approx. 4 pieces of each per plate)
Frisée (yellow only)
Red mustard frill
Shaved radish
Cherry tomatoes (1 per plate sliced in half)
Castelvetrano olives (1 per plate cut in 4)
White anchovies (1 piece cut in 4)
Olive oil croutons
Capers
Extra virgin olive oil
Lemon zest: 1 whole
Assembly:
Arrange the 4 slices on a round plate in a row, half an inch apart, season with sea salt and lemon zest
Drizzle the tonnato sauce over the slices of tuna
Arrange garnish items on and around the tuna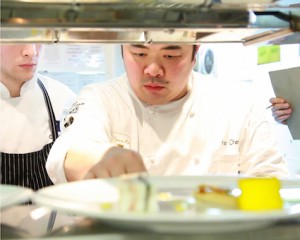 Alex Chen, Executive Chef, Boulevard Kitchen & Oyster Bar
Twitter: @blvdyvr @ChefAlexChen
Instagram: @blvdyvr
Facebook: /blvdyvr  /chefalexchen
Website: boulevardvancouver.com
Alex Chen's culinary vision is an inspired recipe of family tradition and classical technique and training, combined with creative hints of international influences. From his childhood roots in Malaysia to his time in both Vancouver and California, the Pacific Rim and West Coast regions have helped form the basis for Alex's innovative signature style, as well as his love for seafood. So, too, has his emphasis on sourcing the best fresh, local and in-season ingredients.
Alex joined Boulevard Kitchen & Oyster Bar as Executive Chef after charting a top-10 finish representing Canada at the prestigious Bocuse d'Or culinary competition in Lyon, France in 2013. Before spending six years as the Executive Chef of the legendary Polo Lounge at the Beverly Hills Hotel, Alex apprenticed at Vancouver's Wedgewood Hotel, and held the roles of Senior Sous Chef at the Four Seasons Hotel Chicago and Chef de Cuisine at the Four Seasons Hotel Toronto.