Entertain your sense of style with this colourful and fun for all seasons collection
Le Creuset is pleased to introduce their brand new colourful range of dinnerware just in time for summer and outdoor entertaining season. This new collection of tactile, durable and beautiful pieces adds the ideal finishing touch to every meal and comes in an array of Le Creuset signature colours. Perfect for mixing and matching, tailoring to the seasons and spicing up any dinner table with a pop of colour.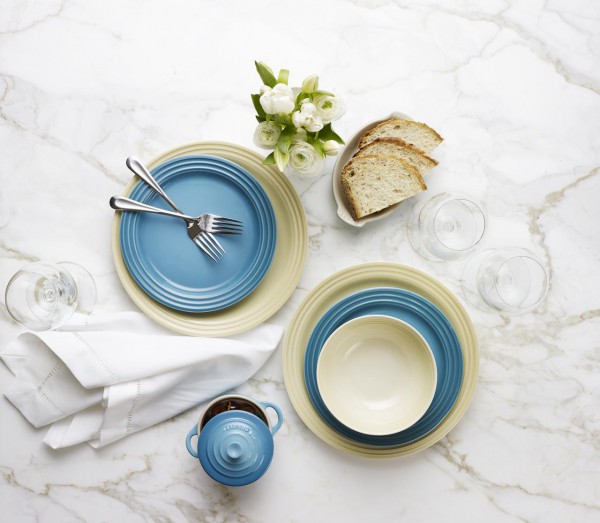 Le Creuset's dinnerware is crafted from the highest-quality stoneware and finished in a vibrant, protective glaze for long-lasting performance and resistance to staining. Each dinnerware plate and bowl features Le Creuset's familiar three-ring accent and are safe for broiler, oven, microwave and dishwasher use. A premium protective finish resists chipping and fading, as well as flavour/odour absorption. Whether catering a large summer garden party, a simple weeknight dinner, or a traditional holiday feast, each stylish dinnerware piece is perfect for sharing favourite meals with family and friends.
Makers of premium, classic cookware, Le Creuset has included four versatile items in their dinnerware range, which include: Dinner Plates, Dessert/Salad Plates, Coupe Pasta Bowls and Cereal Bowls. This collection is also offered in nine signature Le Creuset colours, including Cherry, Marseille, Flame, Soleil, Palm, Caribbean, Dune, Truffle, and White to perfectly coordinate with their cast-iron and stoneware items. All items are also packaged in sets of four, allowing for a sophisticated matched set in a single hue or for personalized colourful mix and match combinations.
Prices range from $80 to $120 for sets of four and are available at Le Creuset flagship stores in Sherway Gardens (Toronto), Carrefour Laval (Montreal) and Chinook Centre (Calgary), as well as select fine kitchen stores across the country. Please visit www.LeCreuset.ca for more details.
About Le Creuset: 
Le Creuset represents a tradition of lasting, authentic design. Since 1925, the iconic brand has inspired generations with premium products that epitomize enduring quality, classic aesthetics and rigorous craftsmanship. In kitchens around the world, Le Creuset isn't just a way to cook; it's a lifestyle choice — a way to savour a genuine passion for fine ingredients and premium tools. Today, Le Creuset is the most sought-after cookware product in Canada amongst both professional chefs and home cooks alike. LeCreuset.ca