Eau Vivre is an unassuming little winery near Keremeos, in Cawston, tucked in off Hwy 3 on Lowe Drive. Opened in 2009, this small production winery has won more than it's fair share of acclaim, including two Lieutenant Governor's 'Award of Excellence in BC Wine'. Small producers tend to strive for quality and Eau Vivre is no exception. Owners Dale Wright and Jeraldine Estin are very happy keeping their production small and focusing on small lots of well-crafted wines. Their name, which translates to 'Drink Life', reflects this quest for quality.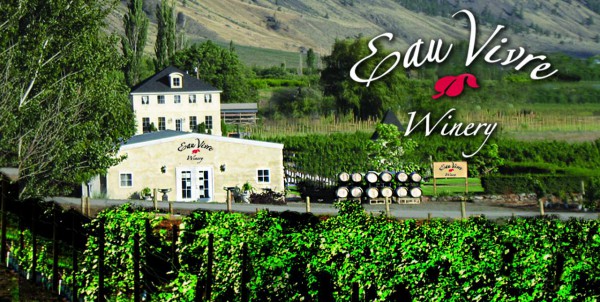 Winemaker Anthony Buchanan studied oenology and viticulture in Washington and Oregon before working in the Okanagan and Similkameen Valleys. He is a big fan of Burgundian style wine. He also understands the importance of spending time in the vineyard to ensure the very best grapes possible.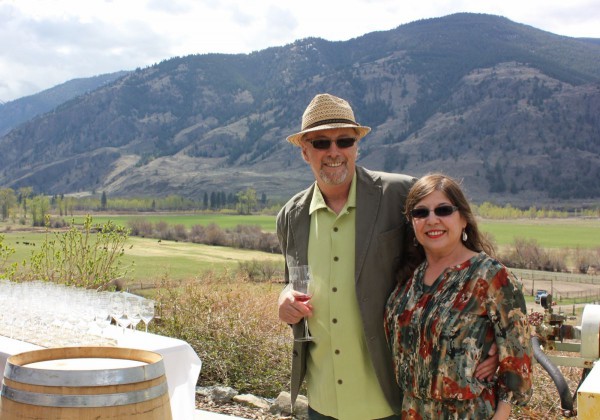 The Similkameen Valley is home to just over a dozen wineries and more than forty-five vineyards. The land gets lots of heat that is balanced with the moderating influence of the Similkameen River and is blessed with a near constant gentle wind. These conditions mean that there is little need to control pests. Indeed, this area is one of the biggest for organic farming. As a result, wines from this area reflect a purity of the land.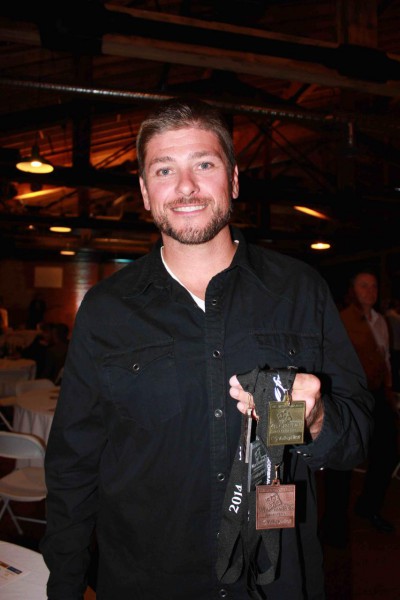 The winery offers nine wines, including Cinq Blanc (a white blend), Sauvignon Blanc, Riesling, Gewurztraminer, Chardonnay, Pinot Noir, Cabernet Franc, Malbec and Buddhafull, a Bordeaux blend. Their "Celebrate Life Wine Club" means you can have these special wines delivered right to your home. In addition, they offer some wines in kegs for restaurants to offer 'by-the-glass'.
I recently had the opportunity to sample three of their wines. The wines were opened one day and then I tasted them critically the following day, which undoubtedly gave them ample chance to open up and show their best. My notes are as follows: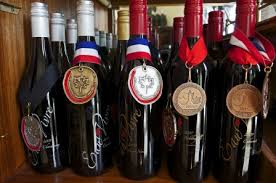 2013 Riesling
Eau Vivre
$19.00
Silver Medal
Straw coloured with medium intensity. The nose shows aromas of intense lime, mineral, petrol, apple and apricot. Good balance, clean and refreshing with bright, mouthwatering acidity. The flavours echo the nose. A medium-long finish.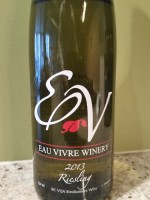 2013 Pinot Noir
Eau Vivre
$21.90
Gold Medal
Garnet red with hints of brick and medium intensity. The nose is complex and layered with Burgundian aromas of cherry, smoke, leather, meat, earth and forest floor. Well balanced with velvety smooth tannins. The palate is layered and echoes the nose, followed by a lingering finish.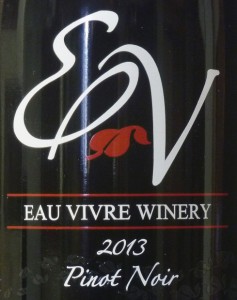 2012 Cabernet Franc
Eau Vivre
$22.00
Gold Medal
Garnet red with medium-deep intensity. The nose shows aromas of cassis, dust, chocolate, earth, pepper, raspberry, blackberry and plums. Well balanced with smooth silky tannins. Mouth-watering luscious fruit on the palate with fruit lingering on the palate.