Vancouver RAW presents: Natural Born Artists "MERGE"
Thursday, October 22nd, 2015
Doors open at 8PM
@CELEBRITIES NIGHT CLUB
1022 Davie St.
Vancouver, BC
Featuring 35 local artists!
www.RAWartists.org/vancouver/merge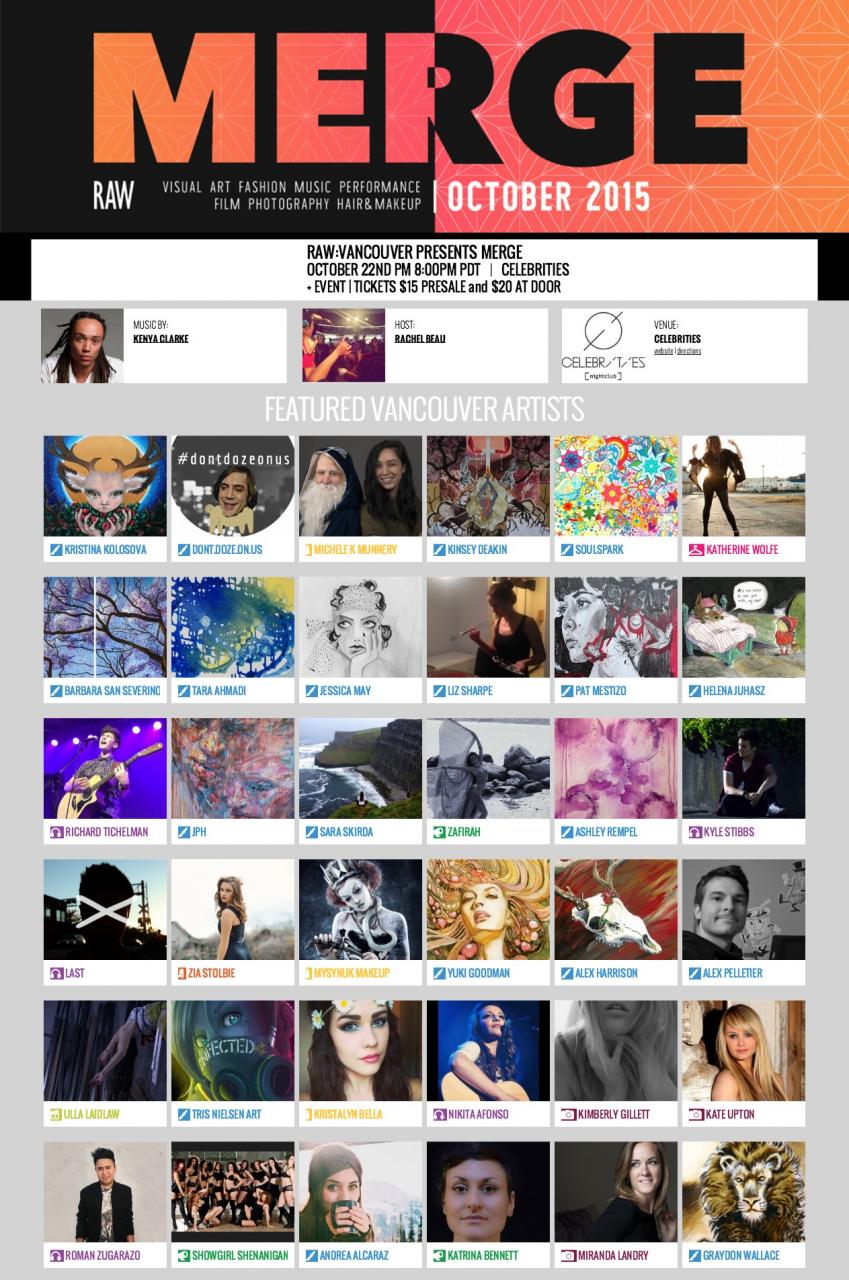 LIVE MUSIC: sounds by Nikita Afonso and the Reckless Revolvers, Richard Tichelman, Kyle Stibbs Band, and Electronic Music Artist "LAST"
FASHION SHOW: featuring KATHERINE WOLFE Clothing
STAND UP COMEDIAN: laughs delivered by Katrina Bennett
SHORT FILM SHOWING:    directed by Ulla Laidlaw
HOST: RACHEL BEAU     DJ: KENYA
DANCE PERFORMANCE:  a mixture of jazz, latin, hip hop and reggaeton by Showgirl Shenanigans
ART GALLERY: featuring Kinsey Deakin, Liz Sharpe, Taylor Smith, Tara Ahmadi, Jessica Wiebe,  Sofia Sanchez, Kristina Kolosova, Alex Harrison, Ashley Rempel, Pat Mestizo, Jeremy Henrickson, Andrea Alcarez, Alex Pelletier, Rick Sidhu, Yuki Goodman, Sara Skirda, Tris Nielsen, Helena Juhasz,
PHOTOGRAPHY: by Kim Gillett and Miranda Landry  
HAIR & MAKEUP FEATURES:  Character prosthesis & Beauty/ fantasy by Sarah Mysynuk and Michelle Munnery; editorial make-up designs by Kristalyn Bella Thornborrow, Hair by Zia Stolbie
What is RAW?
RAW is an indie arts organization for artists, by artists. Every month RAW hand selects and showcases artists in film, fashion, music, art, performing art, hairstyling, makeup artistry and photography. RAW creates a one night showcase event that features local creativity in all of its flavors. Visit www.RAWartists.org/about for more information.