PROHIBITION CELEBRATES AUTUMN  with 'COCKTAILS BY MOOD' MENU
You are what you drink – and this autumn, Prohibition invites Vancouverites to satiate their moods by indulging in a sleek, stylish and flawlessly crafted list of seasonal cocktails and spirits at the renowned Rosewood Hotel Georgia's dapper bar.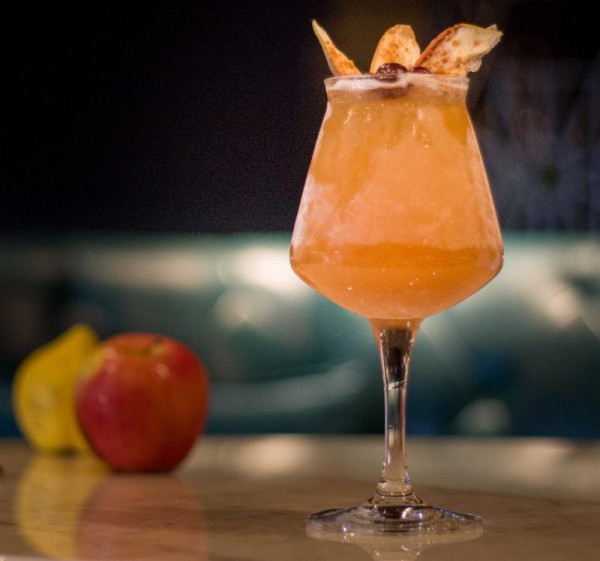 Created by Prohibition's award-winning bartenders Brad Stanton and Robyn Gray, the brand new menu has been designed to orient guests to the mood and specific qualities of each mix, separating drinks into four distinct categories – ranging from Uplifting, Celebratory and Flirtatious to Elegant, Sophisticated and Cultured. Patrons can sip on creative tipples such as the 'Quince Cobbler,' a visually stunning cocktail combining Grey Goose V/X, Pedro Ximenez sherry, orange, lemon and house-made quince jam that conjures the warmth and comfort of Vancouver winters.
For a lighter sampling, try the 'Georgia '27,' which commemorates the birth of Hotel Georgia and the year Prohibition came to British Columbia. The bar team creates this perfect pour with Hennessy VS cognac, Strega, B.C. rosé and a dash of fresh lemon, then "charge" it using an iSi soda siphon to create the cocktail's signature fizzy texture of fine bubbles.
Situated in the heart of downtown, guests can leave the crisp autumnal air behind as they descend to the glamorous bar that pays homage to a traditional speakeasy. Upon entering, guests are immediately transported to the era of glitzy flappers and notorious bootleggers. With lavish seating and seductive lighting, complemented by an ornate ceiling with posh velvet draped around the lounge, Prohibition's interiors are a tribute to the authentic backroom bars of the 1920s.
In addition to the bar's seasonal offerings, parched guests will find an impressive array of creative cocktails and classic standbys. Indulge in some bubbles from the expansive champagne menu or sip some refreshing daily house punch. The cutting-edge cocktail program features combinations inspired by the elegance of the era, including the Vieux Carré circa 1935 (Albert premium rye, Torres brandy, Cinzano Rosso, Bénédictine, Peychaud's bitters and Angostura bitters) and 'Sazerac vs. Sazerac vs. Sazerac,' where guests can delight in Sazerac three ways. Sample the unique beer selection or choose from a select list of regional and international wines. Perfect for groups, guests can also indulge in 'The Absinthe Experience' and gather around an absinthe fountain to sip and compare two varieties.
With weekly live entertainment – ranging from sultry acoustics to late-night DJ shows – Prohibition is the perfect locale for romantic outings, post-work catch-ups and celebratory evenings with friends. For more information or to book a reservation, call 604.673.7088 or visit prohibitionrhg.com.
About Rosewood Hotel Georgia:
Since 1927, the Hotel Georgia has represented Vancouver's most stylish and elegant retreat at the beating heart of the city.  The legendary property is located just steps away from long stretches of sea wall, the downtown shopping and business districts and Canada's greenest convention centre.  The 156-room hotel is home to Hawksworth Restaurant, led by visionary chef David Hawksworth; Sense® spa, offering a menu of West-Coast-style treatments; thoughtfully designed meeting facilities; as well as a heritage ballroom and spacious lounges, which act as a tranquil and enticing haven in this radiant downtown hub. In 2015, the Forbes Five-Star hotel was named one of the "Best Canada Hotels & Resorts" and "Best British Columbia Hotels & Resorts" on Condé Nast Traveler's Gold List. The hotel was also included on U.S. News & World Report's "Best Hotels in Canada" list as well as the "Top 25 Hotels in Canada" TripAdvisor Travelers' Choice rankings.
Rosewood Hotels & Resorts®
Rosewood Hotels & Resorts® manages 18 one-of-a-kind luxury properties in 11 countries, with 11 new hotels under development.  Each Rosewood hotel embraces the brand's A Sense of Place® philosophy to reflect the individual location's history, culture and sensibilities.  The Rosewood collection includes some of the world's most legendary hotels and resorts, including The Carlyle, A Rosewood Hotel in New York, Rosewood Mansion on Turtle Creek in Dallas and Hôtel de Crillon, A Rosewood Hotel in Paris, as well as new classics such as Rosewood Beijing. Rosewood Hotels & Resorts targets 50 hotels in operation by 2020.