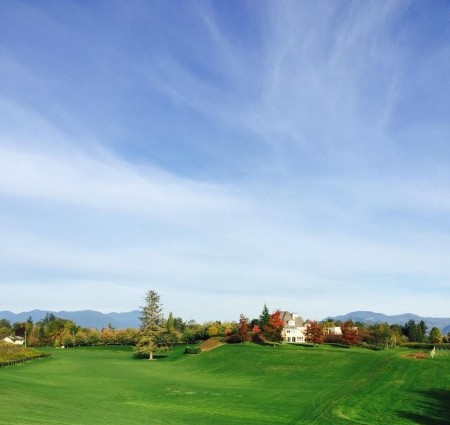 On October 15th, Tourism Abbotsford hosted their annual Harvest Dinner. Bringing together local farmers and media friends, the event was meant to showcase the bounty of food, wine and beer that Abbotsford produces. This year's dinner was held at Mt Lehman Winery. With it's sweeping views of the vineyard and beautifully decorated table set through the middle of the barrel room, the stage was set for an amazing meal.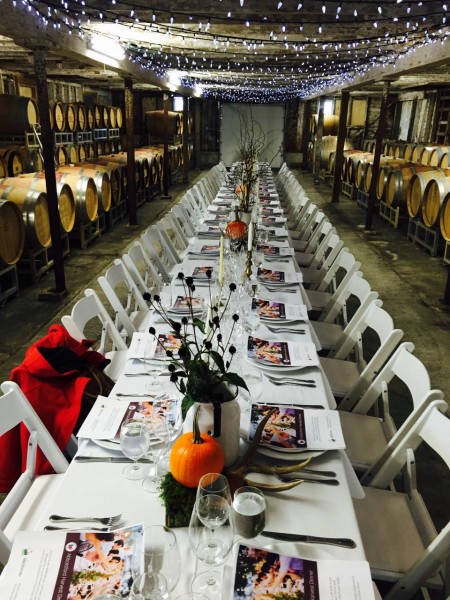 In 2009, after several years of growing grapes on their 3 acre vineyard, the Siemens family opened the Mt Lehman Winery. Now with over 15 acres planted and growing a little more each year, the Mt Lehman Winery is known for its award winning wines. They grow several grape varieties, including Pinot Noir, Pinot Grigio, Chardonnay and Merlot.
Upon arrival at the winery, we were greeted with a cocktail reception featuring two of Abbotsford's craft breweries. Craft beer is on the rise throughout the west coast and Abbotsford is feeling the excitement, as well. Ravens Brewing, which opened only four short months ago, was pouring three of their products including their English Dark Mild, their Farmers Ale and my personal favourite, their Raspberry Hefenwiezen. Produced using 4500 lbs of locally procured raspberries, the raspberry Heff was essentially Abbotsford in a glass.
The second brewery on hand that evening was Field House Brewing. Currently in the process of building their brewery near the historic downtown area of Abbotsford, owner Josh Vanderheide and brewmaster Parker Reid were on hand to discuss their vision for the brewery and introduce us to their brand. With a planned tasting room and outdoor picnic/recreational area, they are looking to open in mid-December of this year.
Following the reception, guests were seated for a family style feast, catered by Abbotsford's Restaurant 62. Known for their seasonal, locally inspired menus, the meal was a great representation of Abbotsford's agriculture. Further to providing us with the venue, Mt Lehman Wineries also provided a variety of wines to pair with dinner.
Beginning with the appetizer course, we were presented with two dishes. First, a plate of delicata squash roasted in Campbells Gold honey and served with pumpkin seeds and Mt Lehman Frisky Button Cheese. This was quickly followed by Maple Hills Farms chicken roulade with creamy polenta and kale chips.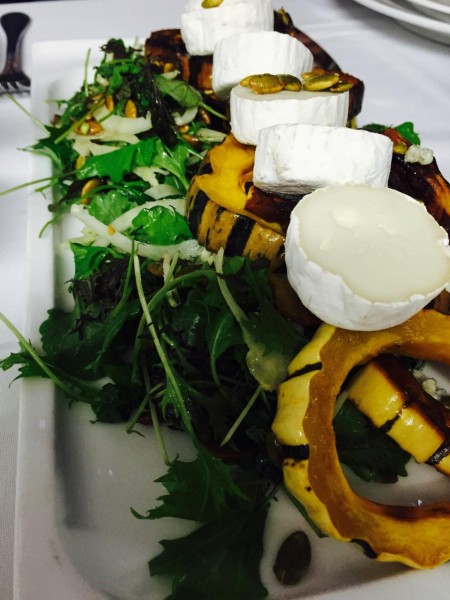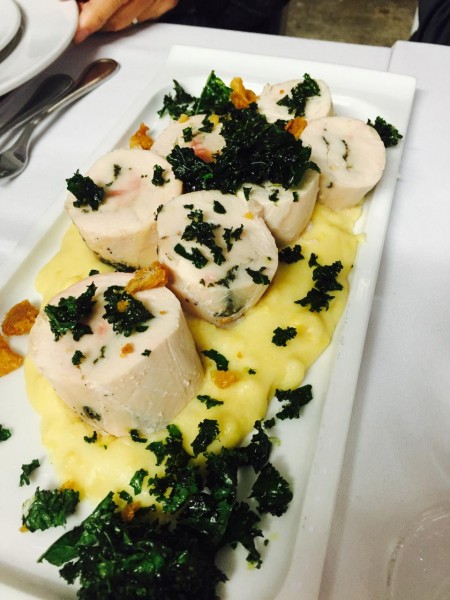 For the second course, we were treated to a variety of dishes including Lepp Farm Market's pork loin wrapped in with shallot and plum marmalade, duck breast from Yarrow Meadows with balsamic pearl onions, roasted beets and parsnips and organic Fraser Valley rice risotto with roasted shitake mushrooms.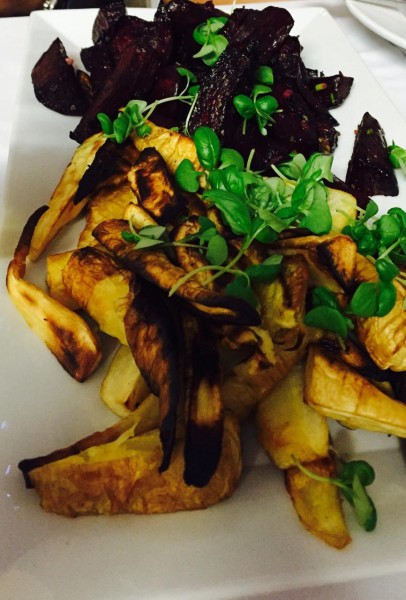 The evening concluded with the dessert course, which featured Birchwood Dairy ice cream with Gojoy Berries goji berry compote and chocolate blueberry bonbons from Onninck's Blueberry Farm. To treat us yet again, Vern Siemens generously handed out samples of his port-style wine direct from the barrel.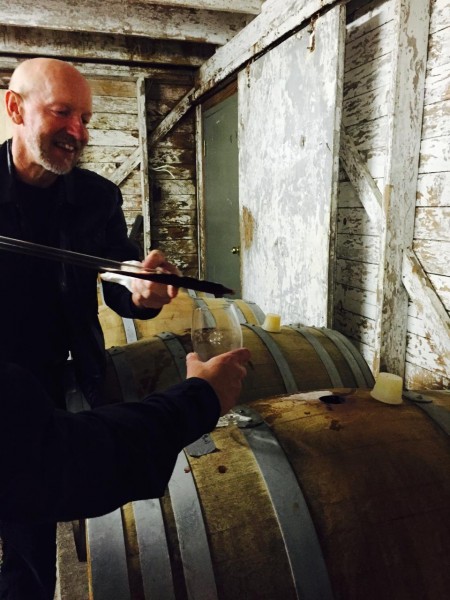 Perhaps the best part of the evening was being able to sit next to the farmers and learn a little about them and their farms. I had the pleasure of sitting across from Jesse Kaufman of Onnink's Blueberry Farm and I was interested to learn about their innovative quality control methods. Their triple sorting method allows them to ensure that only the largest, juiciest berries are sold to consumers. I was also happy to hear of their efforts to grow, maintain and harvest their berries in a sustainable, environmentally conscious manner. Some of these efforts include the refusal to use blueberry cannons to ward of birds. Instead, they choose to employ beneficial bugs and hawks to help maintain a healthy eco-system. The berries that don't make the cut through the triple sorting process are used in Onnink's blueberry iced tea and chocolate bonbons. Having tasted the bonbons, I can only say that they are worth the drive themselves.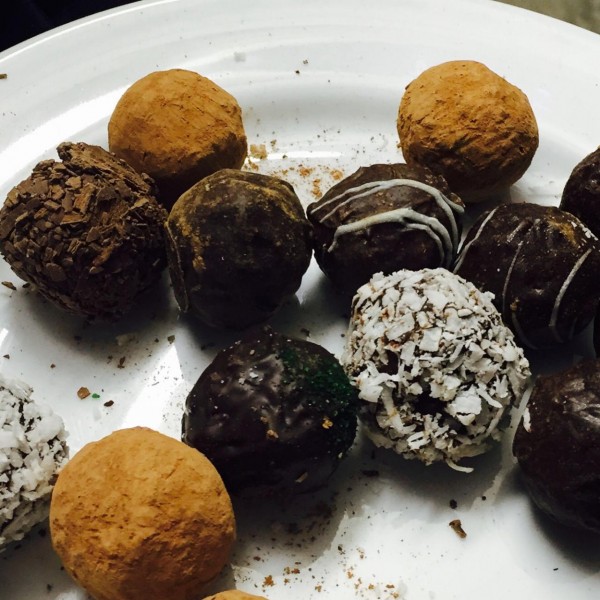 Always an advocate for knowing where our food comes from, I think it's incredibly important to not only know where our food is from, but to also support local farmers who are doing amazing things every day. The self-guided Circle Farm Tour is a great way to do just that. With various tours throughout the Fraser Valley and only an hours drive away, it's a incredible opportunity to learn a lot about the abundance for food grown nearby.
Feature pic: Tourism Abbotsford Facebook page