CURED SPRING SALMON SALAD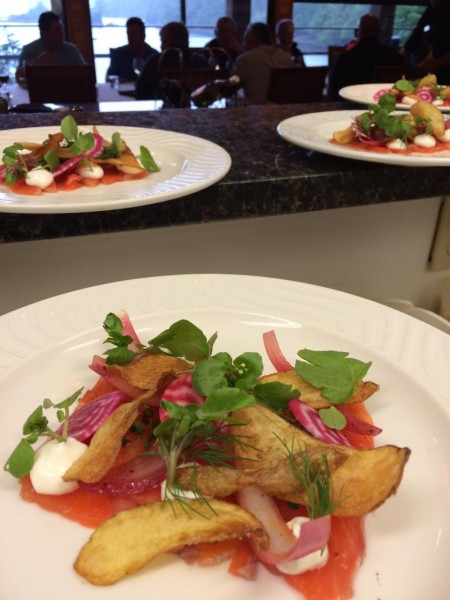 Serves six people as an appetizer
Ingredients:
600g fillet of spring salmon, skin on
6 small fingerling potatoes
½ a red onion
500 ml vegetable oil
50 ml apple cider vinegar
100 g Kosher salt
75 g brown sugar
1 bunch watercress
3 baby candy cane beets
50 ml sour cream
1 bunch dill
Preparation:
Begin by rubbing 75 g Kosher salt and 75 g brown sugar on the salmon fillet. Set aside in the fridge for 10 hours. Rinse and set aside in the freezer. Once this fish is almost frozen remove and slice thinly. Spread the slices in a rectangle shape on six plates.
Heat vegetable oil to 350 C and slice the potatoes thinly. Fry the chips until they are golden and crisp. Place on absorbent paper or cloth.
Pick the leaves of the watercress and dill. Washthm to remove any soil. Sprin dry in a salad spinner.
Slice red onion .5 cm thick. Marinate with apple cider vinegar and a pinch of salt for one hours.
Put sour cream into a piping bag. Thinly slice the candy cane beets on a mandolin.
Plating:
Using the plates with the sliced salmon place a few dots of sour cream onto the fish. Then proceed to add the marinated onions, watercress, dill, raw beet slices and potato chips.
Season with salt and pepper if necessary.
Serve immediately.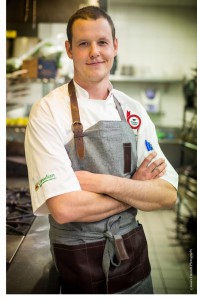 Chef Paul Moran originally from Kelowna, British Columbia, Red Seal certified, fluent in both French and English with a passion for ingredients, connecting with his surroundings and cooking to please and peak the interest of clients.
Chef at K2 Heli Ski Lodge, Nakusp, BC
2013 Winner of the first annual Hawksworth Young Chef Scholarship award, judged by Canada's top chefs at a national level
Executive chef at the Outpost, a West Coast Fishing Club lodge. Managing and executing five star dinning for guests on a three to four day stay basis. Including all meals for 15 live in Staff.
2013 Invited chef for BON APPETIT BANFF at the Juniper Hotel and Bistro, Banff
2012 – 2013 Restaurant consulting at TABLE in Paris and SOURCE in Vancouver.
2010-2012 Executive sous chef, restaurant SATURNE (Omnivore prize 2011&2012) Paris.
2009-2010 Tournant, restaurant LAURIE RAPHAEL Montreal.
2008-2009 Chef de Partie, HOTEL NEGRESCO Nice, France
2008-2009 Chef de Partie, JUMEIRAH BEACH HOTEL Dubai.
2004-2008 Junior sous chef, WEST Restaurant Vancouver.
Recipient of over 10 medals in Local and International Culinary Competitions. Including a Vancouver Rising Star gold medal.
Invited chef for SECONDS ARE FIRST. A dinner highlighting sous chefs of outstanding restaurants.
In attendance for Rene Redzepi's MAD food camp 2011 and 2012,
Invited chef Omnivore Festival 2011 and 2012,
Bocuse Dor in 2010, Alba truffle festival in 2009
Co star for "Morel Episode" on Food Networks Glutton for Punishment food series.
Paul is an extremely passionate Traveler and Outdoorsman, who enjoys Mountaineering, Snowboarding, Tennis, Wine, Swimming, Farming, Fishing, Hunting and Foraging.