This recipe was sent in by Chef Paul Moran, inspired while on a trip to Mexico.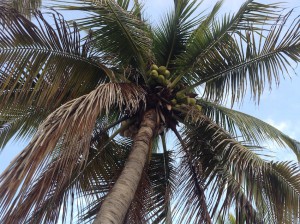 Coconut flan
3 servings Ingredients
– 1 x 14 oz. can Sweetened Condensed Milk – 1 Cup Moist Grated (Shaved) Coconut
– 1 Cup Whole Milk
– 1 Tablespoon Water
– 5 fresh large Egg Yolks, beaten – 1 fresh vanilla bean
========================================== Recipe for the CARAMEL SAUCE
– 1⁄2 cup Sugar
– 2 Tablespoons salted Butter – 2 Tablespoons Water
In a small sauce pan over medium-low heat, bring butter to bubbling temperature stirring constantly.
Add sugar, continue stirring continuously.
Continue to cook ingredients, over the medium heat, stirring until bubbly caramel brown in color.
Add water, return to a boil.
Pour into baking dish. Roll dish to cover sides. Cool overnight
Method for the flan
In a food processor, pulse the grated coconut until coarse in texture.
In a bowl, place coconut, vanilla, sweetened condensed milk, water, and whole milk.
Make sure that the coconut is not packed together, fully coated and combined with the liquids. Cover tightly and refrigerate over night.
Cooking the flan
Preheat oven to 350°.
Beat egg yolks together.
Mix in all other refrigerated ingredients thoroughly.
Butter completely all edges of the baking dish.
Pour mixture into baking dish that has been lined with a caramel coating. Place flan mixture pan into a larger deep pan. Pour water into the outer pan 1″ deep. Cover the pan tightly with tin foil. Bake 35-40 minutes (flan should start to set but still soft in the middle, like a creme caramel)
Allow to cool on a wire rack for 2 hours. Chill overnight.
To serve, use a pairing knife to cut around the edges and invert quickly onto a plate. Drizzle liquefied caramel from the dish as topping
I like to serve the flan with fresh fruits, berries or orange segments.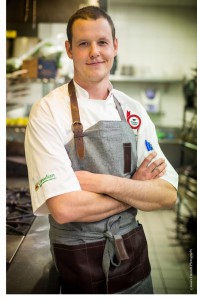 Chef Paul Moran is from Kelowna, British Columbia, Red Seal certified, fluent in both French and English with a passion for ingredients, connecting with his surroundings and cooking to please and peak the interest of clients.
Chef K2 Heli Ski Lodge
2013 Winner of the first annual Hawksworth Young Chef Scholarship award, judged by Canada's top chefs at a national level
Executive chef at the Outpost, a West Coast Fishing Club lodge. Managing and executing five star dinning for guests on a three to four day stay basis. Including all meals for 15 live in Staff.
2012 – 2013 Restaurant consulting at TABLE in Paris and SOURCE in Vancouver.
2010-2012 Executive sous chef, restaurant SATURNE (Omnivore prize 2011&2012) Paris.
2009-2010 Tournant, restaurant LAURIE RAPHAEL Montreal.
2008-2009 Chef de Partie, HOTEL NEGRESCO Nice, France
2008-2009 Chef de Partie, JUMEIRAH BEACH HOTEL Dubai.
2004-2008 Junior sous chef, WEST Restaurant Vancouver. Formal Education
2013 Invited chef for BON APPETIT BANFF at the Juniper Hotel and Bistro, Banff
Recipient of over 10 medals in Local and International Culinary Competitions. Including a Vancouver Rising Star gold medal.
Invited chef for SECONDS ARE FIRSTA dinner high lighting sous chefs of outstanding restaurants.
In attendance for Rene Redzepi's MAD food camp 2011 and 2012,
Invited chef Omnivore Festival 2011 and 2012,
Bocuse Dor in 2010, Alba truffle festival in 2009
Co star for "Morel Episode" on Food Networks Glutton for Punishment food series.
Paul is an extremely passionate Traveler and Outdoorsman, who enjoys Mountaineering, Snowboarding, Tennis, Wine, Swimming, Farming, Fishing, Hunting and Foraging.