Thanksgiving Pumpkin Pie with Chantilly Cream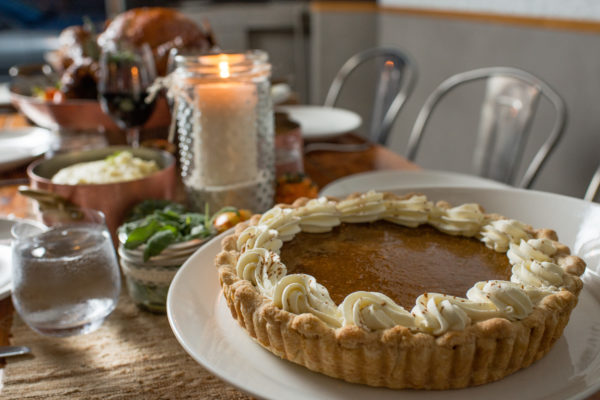 Dough:
Ingredients:
1 ½ cups flour
pinch of salt
pinch of sugar
½ cup butter
30 mL water
Method
Sift flour, add salt and sugar, then cut butter into small pieces.
Pinch butter into flour until broken down into pea-sized pieces.
Add water and start to bring together. Cover dough and rest in the fridge for an hour.
Roll out and place in pie pan (9")
Pumpkin Filling:
Ingredients:
116 mL whipping cream
116 mL whole milk
½ cup brown sugar
1 ¼ tbsp flour
1 tsp cinnamon
½ tsp ground ginger
½ tsp ground clove
½ tsp ground nutmeg
2 ½ whole eggs
333g (1 cup) pumpkin purée
Method:
Whisk all ingredients together and pour into shell.
Bake at 350°F for 30-40 minutes until the middle is firm and a knife comes out clean.
Chantilly Cream:
Ingredients:
1 cup heavy cream
2 tbsp powdered sugar
1 vanilla bean
Method:
Combine all ingredients.
Beat the cream until soft and billowy.
Pipe onto room temperature pumpkin pie.
See the #Thanksgiving series of recipes here.
Alex Abley
Pastry Chef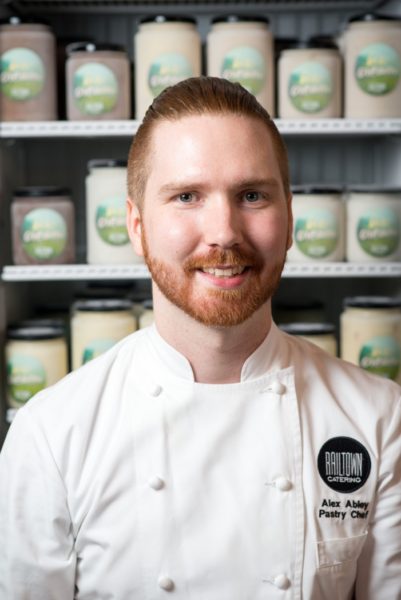 After graduating with honours from the Culinary Management program at Fanshawe College in London, Ont. and apprenticing in a local wedding-cake bakery, Alex Abley took on the role of Head Pastry Chef at French restaurants Decca 77 and Le Newtown in Montreal before coming to Vancouver and sharpening his skills for three years under celebrated fourth-generation patissier and chocolatier Thomas Haas. As Railtown Pastry Chef, Alex oversees a team of four cooks in one of the fastest-growing sectors of the business and is responsible for the production scheduling and recipe creation for all of Railtown Catering and Cafe's pastries and desserts as well as the in-house fresh bread program. Alex also boasts a background in visual arts, which helped him develop a keen eye for balance, form, composition and colour and allows him to infuse each of his menu creations with a delicately delicious finesse as pleasing to the eye as it is to the palate.
"Presentation is the key," says Alex. "Looking down at a plate and realizing that you've created something that not only tastes good but looks beautiful as well is what I strive for. And the diversity of the items that we make at Railtown — everything from plated desserts to a wide assortment of sweet and savoury canapés to rustic, homestyle breads — means that neither myself nor my team is ever bored. There's always something new to pique our interest."
For more information about Railtown Catering, visit www.railtowncatering.ca, become a fan of /Railtown Catering & Cafe on Facebook or follow @RailtownCaters on Twitter and @RailtownCaters on Instagram.
397 Railway St., Vancouver, B.C. V6A 1A4 | Mon – Fri 9 a.m. to 5:30 p.m. | (604) 568-8811