Honey-Brined Sage-Roasted Turkey and Gravy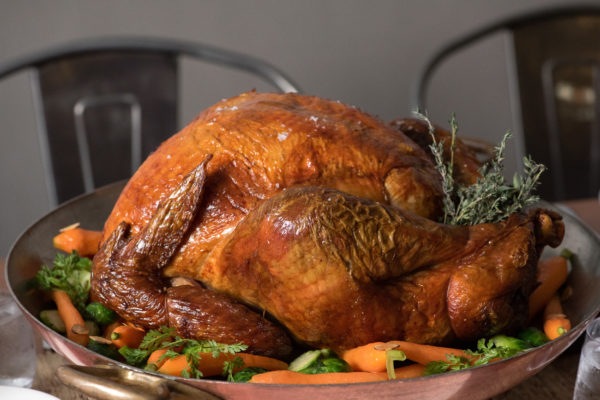 We use a tenderizing brine of honey, lemon, herbs, garlic, salt and spices for maximum moisture retention and flavour.
Ingredients:
1 15-lb Organic Tom Turkey
4 cups kosher salt, plus more to taste
1 cup honey
¼ cup whole black peppercorn
5 lemons halved
2 bay leaves
2 heads garlic, halved and smashed
1 bunch parsley
1 bunch sage
1 bunch thyme
¼ cup clarified butter for brushing
2 carrots, quartered
1 small leek, halved
1 small yellow onion, halved
8 cups turkey stock
1 cup flour
Method:
For the brine:
In a large stockpot, boil salt, honey, lemons, peppercorns, bay leaves, garlic heads, parsley, thyme in 8 liters of water.
Reserve the neck bones and giblets from the turkey. Let brine cool, add the turkey, then cover and refrigerate overnight.
To roast the turkey:
Heat the oven to 425°F.
Remove the bird from the brine and pat dry. Brush with clarified butter and season with salt and pepper.
Add fresh sage inside the cavity.
Transfer to a roasting pan fitted with a rack.
Add the reserved giblets, the neck bone, carrots, leek, garlic and onion to the bottom of the pan.
Roast until golden brown, approximately 30 minutes.
Turn the oven down to 275°F and continue cooking until a thermometer inserted into the deepest part of the breast reads 165°F (about 2.5 hours).
Keep warm and let rest for 40 minutes before carving.
Reserve the turkey fat from the pan, return to oven and roast the vegetables until caramelized golden brown. Set pan aside.
To make the gravy:
Place pan with giblets, bones and vegetables over medium high heat.
Add turkey stock and cook, scraping up bottom bits from the pan. About 10 minutes, then strain the stock.
Cook reserved turkey fat and butter in a pot, sprinkle in flour and cook for 2 minutes. Whisk in reserved stock.
Reduce heat to medium and continue to cook until gravy is slightly thickened, about 5-7 minutes.
Dan Olson
Executive Chef/Partner
Born and raised in Vancouver, Chef Dan Olson sparked an abiding passion for food and wine during stints at the Century Grill Restaurant and Bacchus Restaurant at The Wedgewood Hotel, where he earned the coveted role of Apprentice under Chef Robert Sulatycky for the Bocuse d'Or, helping Canada record a best-ever fourth-place finish at the prestigious world chef championship in 1999 before embarking on an extensive culinary walkabout and honing his craft in top-tier kitchens throughout the world.
Dan comes by his classical French techniques honestly, having worked under Chef Guy Lassausaie at his eponymous Michelin-starred restaurant in Lyon and Chef Yannick Alleno at the Michelin-starred restaurant Les Muses at the Hotel Scribe in Paris. Olson returned from his overseas sojourn in 2002 and cheffed for Four Seasons Resorts and Hotels in Chicago, Whistler, Dallas, Cairo, Bahamas and Washington, D.C. before settling in
California in 2006, where he worked as Senior Sous Chef and Executive Sous Chef at the Mobil Five-Star- and AAA Five-Diamond-award winning Beverly Hills Hotel before taking on the role of Executive Chef at the iconic Hotel Bel Air in Los Angeles in 2009.
Dan returned to both his Vancouver and Bocuse d'Or roots in 2012, founding Railtown Catering and Café with Chef Tyler Day and using the Downtown Eastside facility as a test kitchen to help coach the Canadian team to a top-ten finish among a field of 24 countries at the 2013 edition of the Bocuse d'Or competition in Lyon, France.
Twitter: @RailtownCaters
Instagram: @RailtownCaters
Facebook: /RailtownCafe
Website: http://railtowncatering.ca/
Feature image photo credit: jjelgertanja photographers