HEAVENLY HOLIDAYS: THOMAS HAAS ANNOUNCES NEW LINEUP OF CHRISTMAS-THEMED CONFECTIONS, CAKES AND TREATS FOR 2015
Chocolatier Makes Spirits Bright this Holiday Season with Variety of Decadent and Delectable Signature Gifts, Stocking Stuffers and Gift Boxes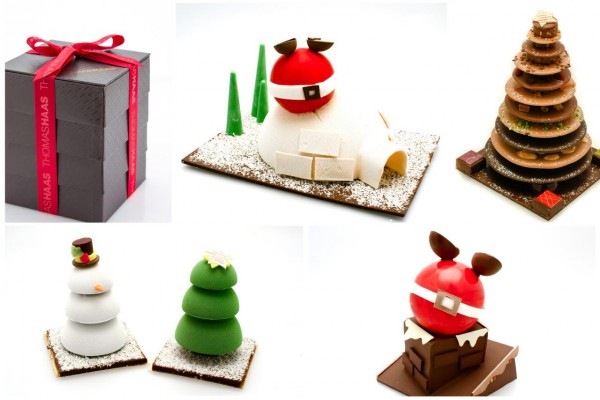 Renowned chocolatier and pâtissier Thomas Haas is tying a bright red bow on the holiday season this year by stuffing Santa's sleigh full of a new assortment of delicious Christmas-themed treats and confections.
For 2015, Haas' new signature creations include a Tannenbaum Chocolate Tree ($39/$59/$199), featuring a contemporary chocolate evergreen decorated with handmade chocolates, truffles and caramelized nuts; Santa in the Chimney ($59) or Santa in the Igloo ($59), both of which feature a chocolate-crafted Santa filled to the brim with handmade chocolates and holiday treats; a Frosty-inspired Holiday Snowman ($19) and whimsical Christmas Tree ($19), featuring willowy vanilla marshmallow and caramelized hazelnuts in a gianduja shell.
An assortment of delicious stocking stuffers will also be available and include Holiday Tree Barks ($8/$18), Hazelnut Wafer Bars ($4.90/$9 or four for $18), Chocolate Santas ($1.90 or three minis for $4.90/$19/$25) and Lollipops ($2.90 or five for $13).
Beyond the wide selection of new handcrafted confections, Haas is also reintroducing his beloved Fruitcake ($24) — a Yuletide staple lovingly fashioned from the finest of ingredients including sun-dried fruits soaked in rum, brandy and madeira for months — as well as showcasing his Christmas Stollen ($19/$32) made from almonds, rum-soaked golden raisins and freshly zested oranges, and Bûche de Noël ($35), a festive yule log available in four different flavours and available for pickup only on Dec. 23 and 24.
To view the full Thomas Haas 2015 Holiday Collection of signature gifts, stocking stuffers and holiday gift boxes, download the brochure via Dropbox.
All Thomas Haas 2015 Holiday Collection products are available at the two Thomas Haas pâtisseries in North Vancouver and Kitsilano beginning Nov. 13, with a limited selection also available at high-end retailers in Vancouver such as Whole Foods and Urban Fare. A variety of items may also be ordered online at www.thomashaas.com and shipped across Canada.
About Thomas Haas Chocolates & Pâtisserie
An internationally acclaimed, fourth-generation pâtissier who received an early education in the delicate art of hand-crafting pastries and chocolates in the kitchen of his family's café in Germany, Thomas Haas went on to apprentice and work in Michelin-starred restaurants in Europe and North America before settling in Vancouver and opening his own namesake chocolaterie, patisserie and café. Haas — Vancouver Magazine's Pastry Chef of the Year in 2011, '13, '14 and '15 — uses only the finest raw ingredients sourced both locally and from around the globe and, in keeping with family custom, eschews the notion of assembly lines and mass production techniques, instead trusting in a talented team of pastry chefs and chocolatiers whose finesse and sensitivity is lovingly expressed in every hand-spun confection. Thomas Haas products are exclusively available at both his Kitsilano and North Vancouver cafés as well as select leading hotels, retailers and restaurants across North America.
North Shore | 128 – 998 Harbourside Dr. | North Vancouver, BC  V7P 3T2 | 604-924-1847
Kitsilano | 2539 West Broadway | Vancouver, BC  V6K 2E9 | 604-736-1848
Hours: Tuesday through Saturday from 8 a.m. to 5:30 p.m. (closed Sunday and Monday)
Twitter: @thaaschocolates  |  Instagram: @thaaschocolates  |  Facebook: /thaaschocolates  |  www.thomashaas.com