Welcome to the Vancouver Foodster Fried Chicken Challenge. Restaurants from all over the city were invited to enter their fried chicken creations into this challenge. Each restaurant will be featuring their Fried Chicken creations on their menu from November 5 – 29, 2015.
A few of the unique creations in this challenge:
The Cascade Room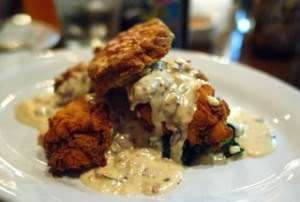 Southern Fried Chicken
Price:  $22
Description: Almond buttermilk biscuit, braised purple cabbage, french beans, red eye country gravy
Created by Tim Evans & Mike Buono
Offered: Nightly
The Cascade Room
2616 Main Street, Vancouver
Tel: 604) 709-8650
Web: http://www.thecascade.ca/
Twitter: @thecascaderoom
American Grille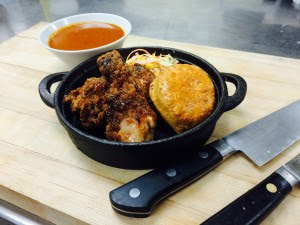 El Pollo Loco Fried Chicken
Price: $16.95
Description: Honey Glaze chipotle fried chicken, Bourbon bacon biscuit, Southern corn and cabbage slaw, Homemade gravy
Created by: Chef Danilo Ibara
Offered: All the time
American Grille
7571 Westminster Highway, Richmond
Tel: 604-232-2804
Web: http://american-grille.com/
Twitter: @GrilleYVR
Bao Down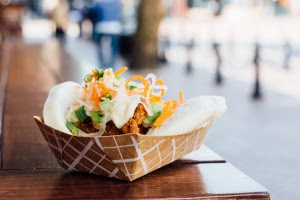 Bao Chicka Bao Bao
Price: $6
Description: Garlic & lemongrass fried chicken, carrot and daikon in a Thai vinaigrette, garlic scape mayo, fish sauce glaze and crispy garlic in a steamed Bao bun
Created by: Chef Greg Edwards
Offered: All the time.
Bao Down
12 Powell Street, Vancouver
Tel:  (778) 379-3611
Twitter: @baodowngastown
The full list of participating restaurants can be found here
http://vancouverfoodster.com/2015/11/05/vancouver-foodster-fried-chicken-challenge/
For our Challenges, we have 2 sets of winners. The People's Choice winners will be selected by the public who are invited to visit any of the participating restaurants and order the Burger creations and then decide on which ones they think are worthy of winning the challenge by casting their votes.
For this challenge we have 3 media judges and they are:
Tara Lee
Freelance journalist and broadcaster. Writer for Georgia Straight
Twitter: @VanGlutton
Sherman Chan
Food Blogger for his own shermansfoodadventures.com
Twitter: @Sherman38
Stephanie Yuen
Food Writer. Author. Broadcaster. Blogger for many publications including her own http://beyondchopsticks.com/
Twitter: @stephyuenyuen
Voting: The public is invited to order these Fried Chicken creations at the participating restaurants keeping in mind this criteria – originality, creativity, uniqueness,  traditional, non-traditional, price, value and most importantly taste. People can vote the same day after trying the creation and they can vote once a day throughout the promotion. People will be encouraged to Vote for their favourites from November 5-29, 2015.
http://vancouverfoodster.com/fried-chicken-challenge/
With a smartphone, customers will be able to vote from their table in the restaurant right after they have eaten the Fried Chicken creation.
We will announce the winning restaurants and their Fried Chicken creations on November 30, 2015.
About Vancouver Foodster
Founded in 2009 by Richard Wolak, Vancouver Foodster is Vancouver's premier online "Essential Food & Drink Intelligence" guide. The site offers expert advice on the hottest restaurants, parties, and openings this city has to offer, as well as the most interesting dining trends and newest cuisines and food around the region. Vancouver Foodster also runs a series of food challenges with restaurants and chefs throughout the year!