MARQUIS WINE CELLARS, MOËT HENNESSY & SUN SUI WAH SEAFOOD RESTAURANT PRESENT A VINTAGE CHAMPAGNE CHINESE CELEBRATION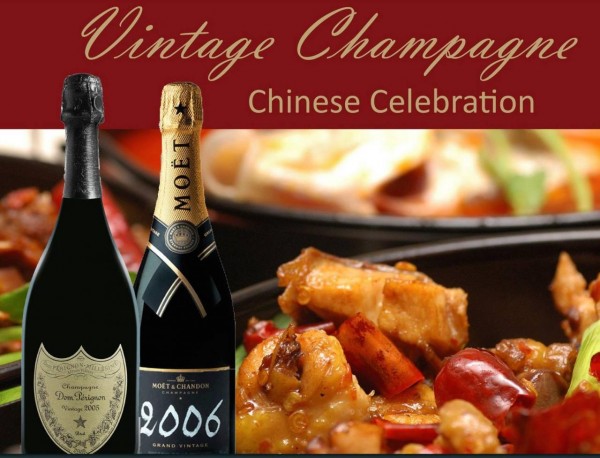 Known for its quality and prestige, champagne is adored by many. With its many styles, champagne is also one of the most versatile wines – all easily paired with a wide variety of foods. And a traditional Chinese ten-course dinner is one of our favourite cuisines to have with champagne!
Together with Moët-Hennessy, Marquis Wine Cellars is thrilled to invite you to an evening of champagne and Chinese cuisine at Sun Sui Wah. Featuring five flights of the latest vintages of Dom Pérignon Blanc, Dom Pérignon Rose and Moët & Chandon Vintage, you will discover how each is perfectly matched to Chinese dishes – as well as learning about this intertwined histories of Dom Pérignon and Moët & Chandon.
•Thursday, November 19, 2015 7:00pm to 9:30pm
•Tickets are limited and priced at $225.00 per person including tax and gratuity.
WHEN
November 19, 2015 at 7pm – 9:30pm
WHERE
Sun Sui Wah
3888 Main St
Vancouver, British Columbia V5V 3N9
Canada
CONTACT
Leah Bickford · leah@nullmarquis-wines.com · 604-306-4222
TICKETS
$225.00 CAD · Purchase tickets
About Marquis Wine Cellars
We are Vancouver's Premiere Wine Store.
Vision
Changing the way people think about wine one glass at a time.
Mission
To provide an inspired platform for our suppliers to present their wine, our team to recommend and our customers to enjoy.
Thinking Outside The Box – Can Do Attitude
We think outside the box. We do our best to get you what you want when you want it (legally of course!). If we do not push
the envelope we will never know how good we can be.
Having Fun
This is what it is all about -getting together with family and friends, breaking bread, and sharing a good bottle or two. We are the purveyors of your enjoyment and that we take your fun very seriously.
Non-intimidating
We demystify the wine business, we cut through all of the 'hocus pocus' and provide you with straight up honest advice.
Fuelling Passion
We are passionate about wine. So are the artisans whose wine we stock. It is our job to ignite that passion within you.
The Marquis Experience
We seek out and source premium wines in all price ranges. This does not come from sitting at our desks and reading magazines and looking at scores. It comes from personally visiting growers and tasting thousands of wines each year.
Great Wines All The Time
Whether you have $15 or $1500 to spend, you will get the best bottle possible each and every time.
Experience
Marquis Wine Cellars has over 26 years of experience of retailing discoveries, and have a track record of over delivering and making our customers happy.
Travel
Our team visits growers every year this allows our team to see first hand why our suppliers wines are unique and flavourful this gives the opportunity to source out new wines before they are "discovered"
Knowledge Base
Our team likes wine; we want to make sure you get what you want. We love to share our passion, enthusiasm and discoveries with you.
Most of our team has taken and passed either the International Sommelier Guild course, or the Wine and Spirit Education Trust course or is in the midst of taking the either of the courses.
Listening
We have not forgotten what got us to where we are, we listened to our customers wants and needs and ensuring you get what you want.
Discovery
There is nothing which excites us more than discovering new wines and passing that discovery to you, this ignites the passion of wine within an this is what excites us
Real Wine
Crafting wine is no easy task. It takes dedication, hard work and passion. By real wine we mean crated by real people and not institutions.
Low Yields: vignerons who do not try and extract more from their vines. They take what the vines can give. If that means they can only produce a small amount of flavourful wine so they can maintain their standards – so be it.
Stewards of the Land: people who farm in a responsible, sustainable manner. They craft wines with style personality and flavour unique to their place or origin.
Natural winemaking: this can be taken to extremes, in our context, vignerons who use natural yeast. These yeasts are found on the grapes and not in a packet or catalogue.
Minimal or no filtration: no stripping out of flavour; this may mean you may find some sediment in your wines.
Refreshing to taste: too many wines rely on high alcohol for flavour. Wine is a beverage which is refreshing, not fatiguing to drink; you want to have a second glass!
Community Based
Marquis Wine Cellars is a community based business. We do our utmost to support the culinary arts and community charities which contribute to the well being and enhancement of our neighbourhood and the City of Vancouver!
Marquis Wine Cellars |  604-684-0445 | Email | Website