7th ANNUAL TASTE OF TULALIP ROCK N' ROLL COOKING & SOMMELIER CHALLENGE
Hold on, this will be a fast paced culinary roller coaster with slammin' Rock and Roll music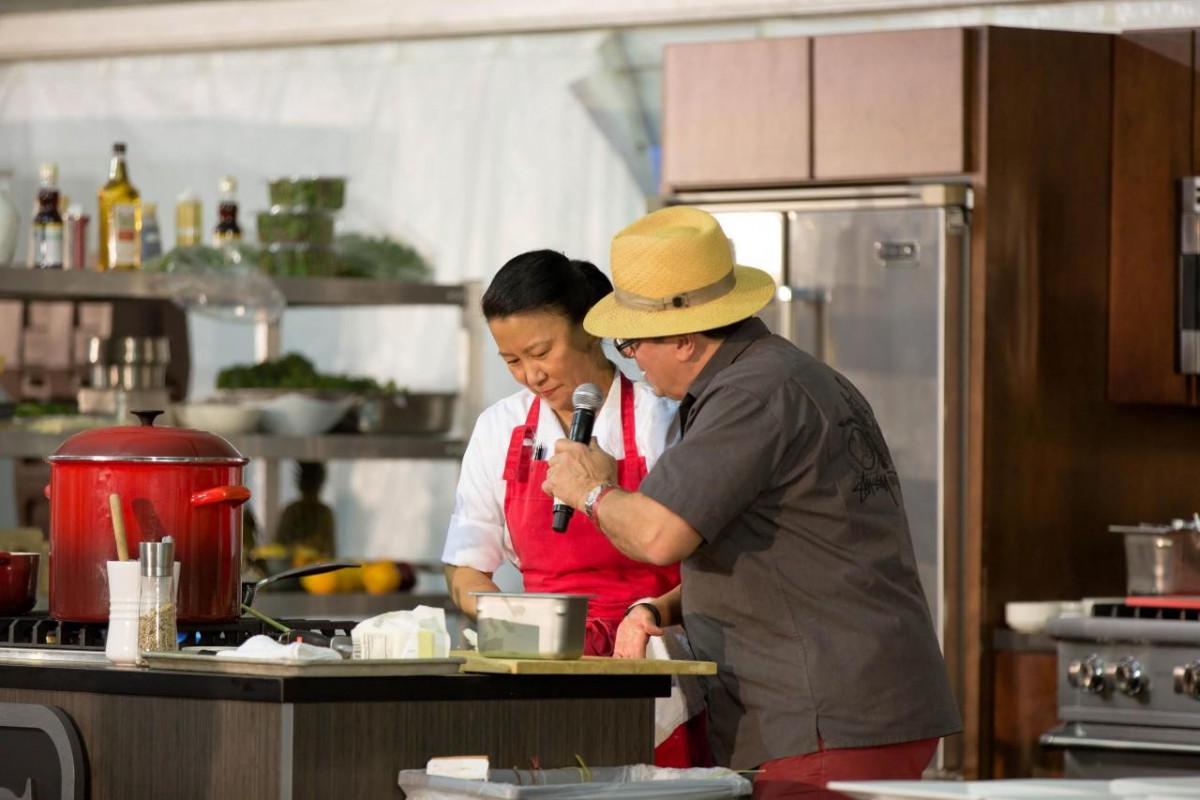 On Saturday, November 14th, get up close and personal at the 7th annual Taste of Tulalip Rock and Roll Challenge, where three chef/sommelier teams will face off for the ultimate, fun-filled 30-minute cooking and wine pairing showdown—Iron Chef Style. So hold on, as this will be a fast paced culinary roller coaster with slammin' Rock and Roll music, where each team of two chefs and one sommelier will combine talents to turn out the ideal entrée or appetizer from their mystery box. The dish will be paired off with a wine selection that the sommeliers will "hunt" for at the Grand Taste in the Orca Ballroom. During this year's competition there will be a total of three cooking "twists and turns," which is sure to keep it lively and edgy.
The Competitors
Each team will consist of one local Chef, one Tulalip Chef and one local Sommelier. This year's local guest chef lineup includes Toby Smith, The Ruins Seattle; Eric Truglas; and Dean Shinagawa, Kama'aina Grindz; along with Tulalip Chefs Nikol Nakamura, John Jadamec and John Ponticelli. The Sommelier gang will be comprised of Chris Horn, Purple Cafe Seattle; Dawn Smith, John Howie Steak; and Kristin Young, Bastille Cafe and Bar.
The Ingredients
The three "mystery boxes" will contain the ingredients for each team, which will be a well-guarded secret from all of the participating chefs. The boxes will measure the size of an apple crate and will be filled with identical ingredients.  After opening it, each team will be given up to five minutes to discuss the cooking preparation with their teammates, and then each team will have 30 minutes to create the perfect dish. While the chefs are preparing their food, the sommeliers will search the Grand Orca Ballroom for the ideal wine pairing.
The Kitchens 
The three identical Albert Lee Appliance — Thermador and Bosch kitchens will be set up with the needed commercial tools and cookware. This will include (tested and powered) blenders, burr mixers, Kitchen Aid mixers, food processors, gas cooktops, ovens and refrigerators, and all the necessary hand tools as well as plenty of standard knives. Also, pads of paper and pens for menu creation will be provided for each kitchen.
The Final Judgment
At the end of the challenge, the audience and celeb judges will vote on the best food and wine pairing between the teams. The five honorary judges (Guest Chef Chris Cosentino, aka @OffalChris, is the Chef/Owner of Cockscomb and Boccalone; Chef Thierry Rautureau, Loulay Kitchen and Bar, Chef T,  Rione XIII, Culinary Expert Mauny Kaseburg, and one member from the audience) will taste and vote for two team finalists and the audience will vote for the winning first place team using the three different Le Creuset utensils. The judges' votes will be based on food presentation, creativity, utilization of the mystery basket, and best sommelier wine pairing. Once the votes are counted, the winning team will be announced. All of the competitors will leave with some nice prizes and one team will leave with bragging rights!
The 7th annual Rock n' Roll Challenge takes place during the Saturday, November 14th Grand Taste Event with doors opening at 3:30 p.m. The cooking challenge starts at 4 p.m. and the event is open to all "Grand Taste" and "All Access" pass holders, and will be held in the Taste of Tulalip  Event Pavilion.
Taste of Tulalip 2015 sponsors include: Delta Air Lines, Albert Lee Appliance – Bosch and Thermador, Dillanos Coffee, Mercedes-Benz of Lynnwood, Coke, Le Creuset, Seattle Magazine, and Tasting Room Magazine.
About Tulalip Resort Casino
Award winning Tulalip Resort Casino is the most distinctive gaming, dining, meeting, entertainment and shopping destination in Washington state. The AAA Four Diamond resort's world class amenities have ensured its place on the Condé Nast Traveler Gold and Traveler Top 100 Resorts lists, as well as Preferred Hotel & Resorts membership. The property includes 192,000 square feet of gaming excitement; a luxury hotel featuring 370 guest rooms and suites; 30,000 square feet of premier meeting, convention and wedding space; the full-service T Spa; and 6 dining venues, including the AAA Four Diamond Tulalip Bay Restaurant. It also showcases the intimate Canoes Cabaret; a 3,000-seat amphitheater. Nearby, find the Hibulb Cultural Center and Natural History Preserve, Cabela's; and Seattle Premium Outlets, featuring more than 110 name brand retail discount shops. The Resort Casino is conveniently located between Seattle and Vancouver, B.C. just off Interstate-5 at exit 200. It is an enterprise of the Tulalip Tribes. For reservations please call (866) 716-7162.