If you have never been to Taste of Tulalip you are missing out on one fantastic wine tasting experience. I am a #winelover of Washington State wines and at Taste of Tulalp you will have an opportunity to taste the very best that Washington has to offer.
"Washington State's coveted culinary festival of the year.  A food and wine experience filled with extraordinary epicurean treats, celebrity chefs and sommelier superstars. Savor an abundant array of spectacular fare from Tulalip's top-notch team, lead by Exectuvie Chef Perry Mascitti and sample hand-selected pours by award-winning Sommelier Tommy Thompson showcasing wineries from Washington, Oregon, California and around the globe, with a not to miss craft beer tasting"  
The weekend starts as you check in Friday afternoon at the Tulalip Resort Casino's outstanding hotel where service is key. Cross the massive lobby filled with native art and colours to a warm welcome. The rooms are spacious and comfortable with king sized beds, seating area and special touches that symbolize the Tulalip Tribes.
Just to get things started there are two All Access events that I highly recommend. Beginning with a wine seminar with guest wine expert Anthony Giglio and Tommy Thompson, resident Sommelier.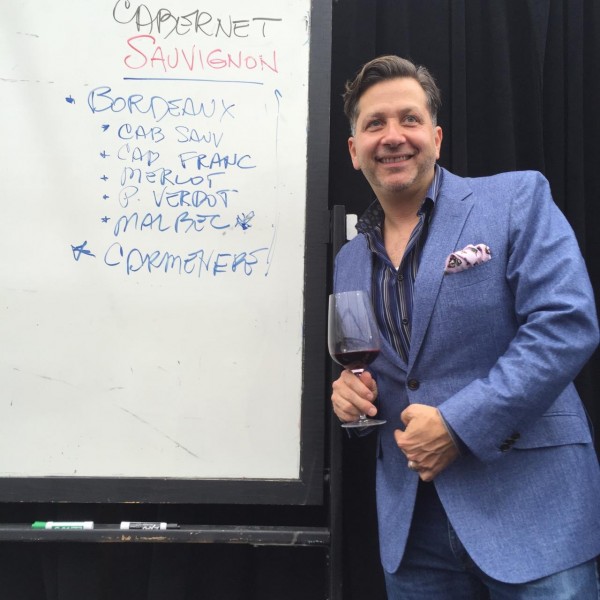 "Anthony Giglio is one of the most entertaining wine and spirits authorities on the planet. He is a writer, educator and raconteur who motivates countless imbibers to trust their own tastes and relax the rules. ..His witty, unpretentious style can be discerned in the weekly column he writes for Details Magazine's "Food + Drinks" section. Giglio has written ten books, including three editions of the annual FOOD & WINE MAGAZINE Wine Guide review of 1,000+ wines; five editions of the enormously popular Mr. Boston Official Bartender's Guide, and his highly regarded first book, Cocktails of New York.
Giglio has written for numerous publications, including Food & Wine, Travel + Leisure, New York, Esquire, Details, The New York Observer, Robb Report Worth, Every Day with Rachael Ray and Parade."
Tommy Thompson, Sommelier, Tulalip Resort Casino oversees the wine programs for all of the Resort's six restaurants, in house catering, room service, Destinations Lounge and the Canoes Caberet.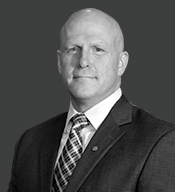 "Honored with the Washington State Wine Commission Award of Distinction in 2009, Thompson has developed an extensive program of Northwest wines for the resort, glanced with new and old world selections. Under his direction, the fine dining Tulalip Bay restaurant has garnered several accolades including, the Wine Spectator "Best of Award of Excellence", Seattle Magazine "Best Washington Focused Wine List" and the Washington Wine Commission "Grand Award".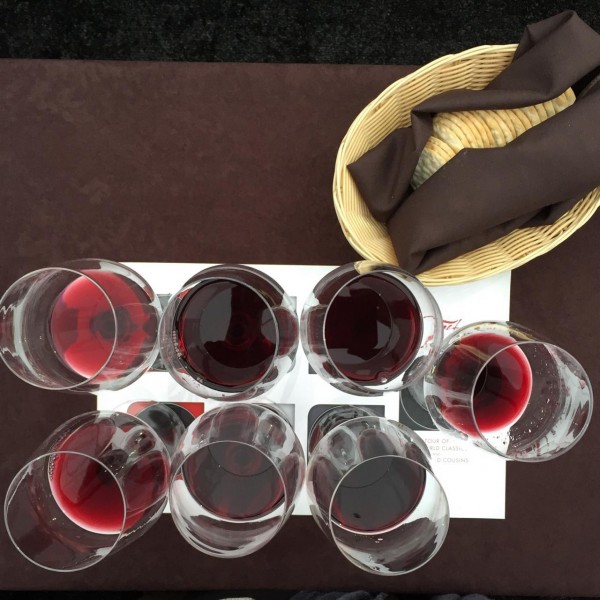 A wine seminar with Giglio and Thompson is not to be missed. Absolutely the most fun you can have while actually learning some practical hints and information about wine. The seminar has something for everyone from the wine novice, wine enthusiast, connoisseur and oenophile. An opportunity to taste excellent Old World wines against New World wines in a blind tasting. Conducted with humour and style, Giglio's insight and perspective puts a realistic spin on exploring the myths and facts while expelling the pretentious attitude of wine.
Followed by a Cooking Demonstration with Special Guest Chef Chris Cosentino "aka @OffalChris, the Chef/Owner of Cockscomb and Baccalone and an Award Winning Chef and Cookbook Author. Cosentino is a graduate of the culinary program at Johnson & Wales University and went on to build his résume at Red Sage in Washington, D.C. and Rubican, Chez Panisse, Belon, and Redwood Park in the San Francisco Bay area. Cosentino took his first executive chef position at Incanta in 2002 where his inspired and innovative interpretations of rustic Italian fare promptly earned the restaurant both critical and popular acclaim. Cosentino's debut on BRAVO's "Top Chef Masters' series was a huge success earning over $140,000. for the Michael J. Fox Foundation for Parkinson's research and being named the season four winner. In 2012, he saw the debut of his first cookbook "Beginnings: My Way to Start a Meal."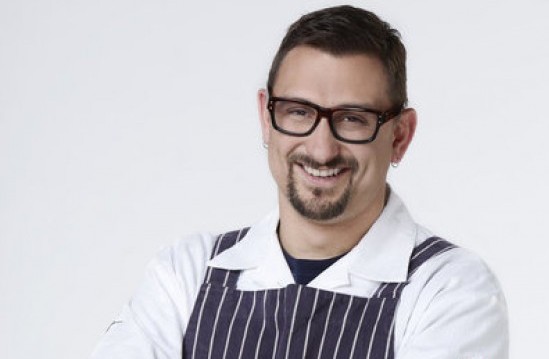 Later in the day the ROCK-N-ROLL COOKING CHALLENGE is hosted by Chef Chris Cosentino and Anthony Giglio. Judged by Chef Chris Cosentino, Chef Thierry Rautureau, Chef Ethan Stowell and Culinary Expert Mauny Kaseburg. A fast paced culinary roller coaster with slammin' Rock and Roll music .
Kitchens supplied by Albert Lee Appliance — Thermador and Bosch kitchens will be set up with the needed commercial tools and cookware. This will include (tested and powered) blenders, burr mixers, Kitchen Aid mixers, food processors, gas cooktops, ovens and refrigerators, and all the necessary hand tools as well as plenty of standard knives. Also, pads of paper and pens for menu creation will be provided for each kitchen.
Three Chef and Sommelier teams have 30 minutes to plan and prepare the contents of a "mystery" basket into the ultimate entrée or appetizer. Each team consists of two chefs and a sommelier. Chefs prepare their best dish and the Sommeliers will provide the perfect pairing.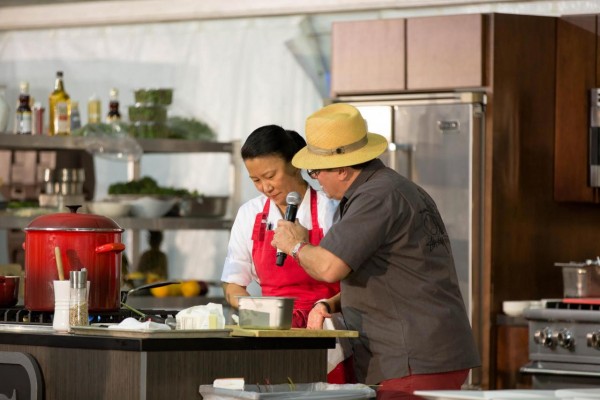 This year's teams:
TEAM BLUE SUEDE SHOES
Chef Dean Sinagawa, Banquets Chef, Tulalip Resort Casino
Chef Ty Carrow, Pastry Sous Chef, Tulalip Resort Casino
Sommelier Chris Horn, Wine Director, Purple Café and Wine Bar Seattle
TEAM DEEP PURPLE
Chef Eric Truglas, Culinary Director, Semiahmoo Hotel, Resort & Golf Club
Chef John Jadamac, Eagles Buffet Chef, Tulalip Resort Casino
Sommelier Dawn Smith, John Howie
TEAM SHADES OF GREY
Chef Toby Jensen, Executive Chef, the RUINS
Chef Nikol Nakamura, Pastry Chef, Tulalip Resort Casino
Sommelier Kristin Young, Bastille Café & Bar
Five honorary judges (Guest Chef Chris Cosentino, aka @OffalChris, is the Chef/Owner of Cockscomb and Boccalone; Chef Thierry Rautureau, Loulay Kitchen and Bar, Chef T,  Rione XIII, Culinary Expert Mauny Kaseburg, and one member from the audience) taste and vote for two team finalists and the audience votes for the winning first place team using  three different Le Creuset utensils. The judges' votes will be based on food presentation, creativity, utilization of the mystery basket, and best sommelier wine pairing. Once the votes are counted, the winning team is announced. All of the competitors leave with some nice prizes and one team will leaves with bragging rights!
…and the winner is!
TEAM BLUE SUEDE SHOES
Chef Dean Sinagawa, Banquets Chef, Tulalip Resort Casino
Chef Chef Ty Carrow, Pastry Sous Chef, Tulalip Resort Casino
Sommelier Chris Horn
Crispy Turkey Cutlet with Pecorino Cheese, Sundried Cranberry Sage Chutney, Spiced Guacamole and a Dungeness Crab Apple Fennel Slim Jim Salad on a Brioche Bun. The crab was the audience selection (one of the twists) and the slim jim was in the bag from the sommelier (one of the twists…when the somm selected a wine…they were given a secret ingredient…).
http://www.details.com/contributor/anthony-giglio
https://twitter.com/WineWiseGuy
https://twitter.com/offalchris
https://myvancity.ca/2015/10/07/taste-of-tulalip-rock-n-roll-challenge/
The big attraction is of course the "Grand Taste" on Saturday afternoon…my review coming next week.
Quotes courtesy of Taste of Tulalip Passport