This morning I was reading my Facebook page and came across an interesting article titled "How to Enjoy a Wine Festival to the Last Drop" originally published in The Californian (part of the USA Today network)
That got me thinking about what makes a great Wine Festival. As a novice #winelover I have been fortunate to attend a number of different Wine Festivals and besides the obvious, great wine, I have my own opinions on what makes a great Wine Festival.
I find the best experiences are at the events, whether they be large or small, where the wines are paired with food. I don't mean a wine dinner which is a whole other category just a tasting that includes "bites". Wine pairs with food, according to my favourite wine guru Anthony Giglio "the wine wise guy" from Jersey, old world wines are made to be drunk with food. So wines from Italy, France, Germany and other European countries are best tasted with at least a token amount of food. New world wines are made to drink but they are also enhanced with the pairing of food.
At a wine tasting event held at the Terminal City Club for the trade, showcasing over 100 of the finest wines from Southern Italy hosted by The Italian Trade Commission, it was about more than the exceptional wines. The 20th Annual "A Tasting of Wines From Italy™" is also an opportunity to taste the delicious cheeses and antipasti of Italy. This so defines the wine tasting experience.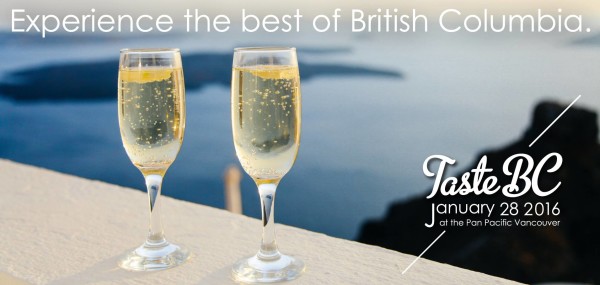 Held in January each year Taste BC showcases some excellent B.C. wines, beers, ales and spirits. Paired with local bites like fresh oysters, tasty ceviche, tapenade and for your sweet tooth chocolates and macarons. This event benefits BC Children's Hospital and is hosted and organized by Liberty Wine Merchants. Be sure to add it to your calendar for next year.
https://myvancity.ca/?s=Taste+BC
This weekend you have a chance to experience a great Wine Festival that pairs Yakima Valley wines with the best of culinary bites from local restauranteurs, food trucks and caterers. The Seattle Wine and Food Experience features the wines and craft food of the Yakima Valley. It's this weekend – February 20 – 21st. Still a limited number of tickets available.

Also well worth a trip to Seattle is the Taste Washington which runs from March 31 – April 3, 2016. I attended in 2014 and was very impressed. Over 225 Washington wineries, 65 restaurants, local and national chefs participate in Taste Washington! The floor area is enormous which means it is never crowded and with so many excellent Washington wines to taste you would not be disappointed. The room is not intimidating thanks to the well thought out layout and large overhead numbered banners that make it easy to navigate and locate exactly the wineries you have targeted. The food – oh man, the food – it is incredible. From food truck & diner fare to fine dining experiences all paired with the best wines Washington has to offer.
https://myvancity.ca/?s=taste+washington

If you haven't been you absolutely must attend the Taste of Tulalip in November. Held at the Tulalip Resort Casino's elegant banquet rooms and ballroom this is one wine event to put on your "don't miss this" list. There are a number of events starting on a Friday evening, including the ultimate wine pairing dinner, VIP wine tastings, seminars, meet-ups with the winery principals, Magnum party and the Grand Taste. The Grand Taste is the grandaddy of wine tastings with the most incredibly scrumptious appetizers, an edible display of imported cheeses and salamis, mouth watering desserts paired with the "best of the best" Washington State wines.
https://myvancity.ca/?s=taste+of+tulalip
Of course it just isn't possible to taste all the wines on offer, even if you do spit, which I don't. I follow Wine Wise Guy Anthony Giglio's method of tasting: it takes three sips because the first one does not count and it takes two more to know if you will enjoy the wine and always have a nibble even if it's only a bread stick (one with sesame seeds even better).
i narrow down the list of wines in advance so I have a list and a short list to be sure to taste. My method is to use Quini. I look for other Quini users who like the same wines or same varietals as I do and check to see which wines from my tasting list others have liked. Quini is a great tool for finding other wine lovers whose tastes are similar to your own. A wine experts 92 might be your 80 if you don't share similar taste in wine, that's why Quini works well. You just look for other Quini users using their handy app. Look for the wines you know you like and then see who shares your taste in wine, check out their list of favourites and you can expand your wine horizons. Quini is also handy at the wine store. How often have you been stomped for a selection if your favourite wine isn't on the shelf?  Now is your chance to try a new wine that comes with a Quini recommendation.
I admit it, I am a #winelover, a straight out wine novice, and an unapologetic gourmande with a passion for finding the absolute best events that give the best value. For me that's any wine tasting event that pairs top wines with food fit for the discriminating foodie. So far the wine festivals and wine tastings I've mentioned here are my favourites.