Four Fraser Valley estate wineries have banded together to promote awareness of their local, Langley-based wineries. These wineries are so close to metropolitan Vancouver and yet many people have never discovered them. I suggest you head out for a Sunday afternoon drive to the scenic Campbell Valley and taste what these wineries have to offer. It's much easier than a trip to the Okanagan to sample some great BC wine.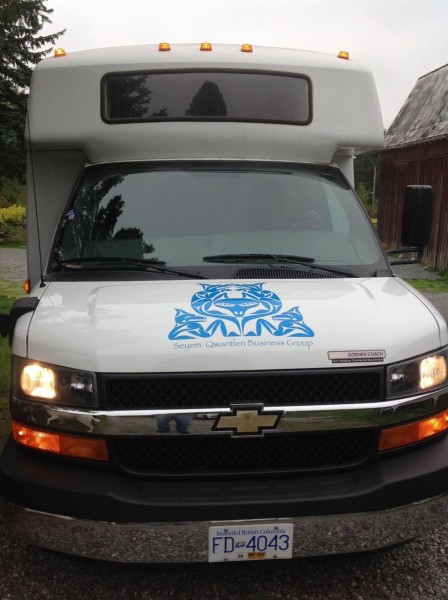 Recently, I was a part of a media bus tour. We visited four wineries and finished up with a tasty luncheon at lelem arts and cultural café in Fort Langley.
Our first stop was Township 7 on 16th Avenue in Langley. This is a picturesque winery with ten-year-old chardonnay and pinot noir vines growing on site. The grapes for their other wines come from various sites in the Okanagan. Township 7 host several events at the winery during the year including art shows, live music and theatre, charity fundraisers, wine seminars, community vine pruning, a grape harvest & stomp as well as winemaker dinners.
Next on the tour was Vista D' Oro just a short distance away on 208th Street, just off 4th Avenue. Vista D'Oro Farms and Winery grows grapes and a variety of fruit. The Farmgate Shop and Tasting Room offers wine preserves (jams) such as Orchard Pear and Pinot Noir plus many more. Twenty different ones in fact, available seasonally.   The wines at Vista D'Oro are now all coastal wines. They have made the decision not to bring grapes down from the Okanagan. Owner Patrick Murphy has also made the decision to move to 'natural wines', made with minimal intervention. When you go there, be sure to try their signature D'Oro, a Port-like, fortified walnut-infused after dinner wine. You'll be amazed.
Our next stop was the original estate winery in the Lower Mainland. Chaberton, originally Domaine de Chaberton, now more than more than twenty years old, continues to produce a wide selection of top quality red and white wines. General Manager Brian Ensor took us on a tour of the vineyard and facilities.  While the aromatic varieties are grown on site, others, and all the reds are sourced from the Similkameen and Okanagan Valleys. Visitors often stop in the tasting room before heading to eat in the Bacchus restaurant, which borders the vineyard.
The last tasting of the day was at Backyard Vineyards with winemaker James Cambridge. This winery, which opened in the late 1990's was originally called Glenugie. It has come a long since then with a refurbished tasting room and a new exciting direction under James Cambridge who came to Backyard with impressive credentials having worked at some of the top wineries in Ontario and the Okanagan.
Our final stop was at lelem' Arts and Cultural Cafe in Fort Langley where we were treated to a final glass of wine and an impressive lunch.