100 Reasons to Celebrate this Season Made-in-BC charity reaches milestone
The BC Hospitality Foundation (BCHF) is pleased to announce that it has reached a significant milestone. This November, the BCHF helped its 100th beneficiary.
As you read the inspiring testimonial of Susan Selles, the Foundation encourages you to share her story of hope and determination with others this holiday season.
In Susan's name, one can also make a donation directly to the Foundation HERE. The BCHF suggests $100.00 in celebration of their 100th beneficiary, but any amount goes to help others across British Columbia coping with a financial crisis due to a health condition.
The BC Hospitality Foundation has now provided financial assistance to hospitality workers and students from Vancouver, Victoria, Whistler, Kelowna, Prince George, Nanaimo, Penticton, Qualicum Beach, Kimberley, New Westminster, Kamloops, Quesnel, Mission, Campbell River, Vernon, Osoyoos, Maple Ridge, Langley, Ucuelet, Ladysmith, Invermere, Pender Island, and Coquitlam. Who do you know that they can help?
Susan's Story: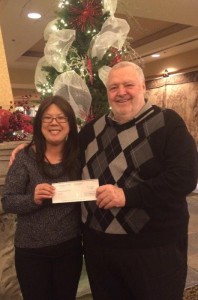 Susan, an upbeat single mother of two busy children, has been working for nearly 20 years at the Penticton Lakeside Resort, rising through various departments, and is currently their sales manager. Last year, she developed pancreatitis, which led to a portal vein thrombosis and a partial shutdown of her liver. Numerous doctor and hospital visits completely exhausted her bank of vacation days as well as her savings account, putting enormous stress on her family. While still recovering from that illness, she received even more devastating news.
In August 2015, she was diagnosed with an aggressive form of breast cancer. This September, she had the tumour removed and underwent a partial mastectomy. Chemotherapy treatment began in November.
Despite her ongoing treatments, she found it hard to completely stop working, saying "work keeps me sane and helps me stay occupied and positive." Nevertheless, she continued to move further into financial deficit.
Then, a colleague who attended a recent Thompson Okanagan Tourism Association conference reminded her about the BCHF. She made an application right away and within less than a month received approval for  desperately-needed financial support which will make up her income shortfall, helping her to pay for prescriptions not covered by her MSP, and for necessary time off work for treatment and therapy.
"You have to take these things one day at a time," Susan told the Foundation. "Negative thoughts are not good for any disease, and I prayed nightly for any kind of help. The support of the BCHF is truly amazing. It feels like a great weight has been lifted off my shoulders."
She shares that each successive chemotherapy treatment makes her increasingly tired, as the medication builds in her system, but for the sake of herself and her two children, she refuses to give up.
"I'm appreciating LIVING more now that I have cancer. You quickly realize that the only thing that matters in life is your family, and my children have been so supportive and understanding. With all the time off work and the cost of medication, what are you supposed to do? Cut back on food? Not pay your rent? The support of the BC Hospitality Foundation is literally the answer to my prayers. When I received the cheque, I was crying. So very thankful."