L'ABATTOIR OPENING TICKET AUCTION FOR NO. 1 GAOLER'S MEWS ON MONDAY JULY 8th FOR EXCLUSIVE DINNER FEATURING CHEF DEREK DAMMANN

Maison Publique and McKiernan's Chef to join forces with Chef Lee Cooper for Edition No. 16 of No. 1 Gaoler's Mews benefiting the BC Hospitality Foundation
L'Abattoir re-launched their No. 1 Gaoler's Mews dinner series in 2019 with 100% of the proceeds from ticket sales benefitting the BC Hospitality Foundation (BCHF). They are now looking forward to welcoming Chef Derek Dammann from Maison Publique and McKiernan Luncheonette on Friday August 9th for the second of three events in the dinner series this year.
Although his well-known restaurants are located in Montreal, Chef Derek Dammann hails from Vancouver Island, and he's looking forward to returning to BC this summer to work with his old friend and cooking schoolmate, Chef Lee Cooper.  "I always look forward to cooking with Lee, and it's not every day that we get to work on something as special as No. 1 Gaoler's Mews, so I jumped at the opportunity," says Dammann.
Chef Dammann has had a varied and successful career. He worked side-by-side with Chef Jamie Oliver as Chef de Cuisine at Oliver's Fifteen restaurant, which was based on bringing young unemployed and sometimes troubled youth into the workforce.  After opening Maison Publique, Dammann co-authored a best-selling cookbook, True North: Canadian Cooking from Coast to Coast, with Chris Johns.  In late 2018 Dammann partnered with renowned Chef David McMillan and his team to open McKiernan Luncheonette, which has already received widespread recognition.
Chef Lee Cooper is eagerly awaiting the arrival of his long-time friend to deliver an unforgettable and once-in-a-lifetime evening this summer.  "Each dinner is different and unique – a reflection of the visiting Chef – and with Derek, because we've known each other for so long, both in the kitchen and out, the dinner will be a true collaboration with each dish created and prepared by both of us in tandem," says Cooper of the August 9th dinner.
There are only 8 seats available for each of the No. 1 Gaoler's Mews dinners, and guests are seated in the beautifully appointed kitchen so they can watch the chefs cooking every dish in the multi-course feast.  It's an intimate affair, and a lot of fun for the diners, with numerous special touches that are unique to each dinner.  The online ticket auction  for Edition No. 16 featuring Chef Dammann opens Monday, July 8th at 9am and closes Saturday, July 13th at 6pm.  Tickets are sold in pairs to the highest bidder, with 100% of the proceeds going directly to the BCHF.
Dana Lee Harris, Executive Director of the BC Hospitality Foundation says "The BCHF is honoured to be the chosen charity of these dinners.  It is a great opportunity for the team at L'Abattoir to help fellow hospitality workers in their time of need, while at the same time mentoring our future culinary leaders through the scholarship program."
Anyone interested is invited to add their contact information to the list to receive updates on all the future dinners as well as information about when the ticket auctions open.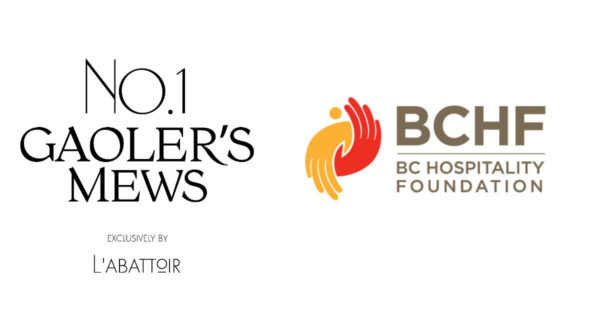 ABOUT L'ABATTOIR | Located in the heart of historic Gastown since 2010, L'Abattoir is situated in a refurbished 19th­ Century heritage brick and­ beam building that pays homage to its history as the site of Vancouver's first jail in the city's main meat­packing district. Today, L'Abattoir has staked its claim as one of Canada's best restaurants with a diverse array of French­-inspired West Coast fare focusing on locally sourced, seasonal ingredients along with an ever­ changing selection of classic and signature cocktails and a broad list of BC and imported wines. Whether in its front­ of­ house bar and lounge, elevated dining room or glass­ and­ steel­ accented atrium, L'Abattoir offers dinner from Sunday to Thursday from 5:30 pm to 10 pm and Fridays and Saturdays from 5:30 pm to 10:30 pm, weekend brunch on Saturdays and Sundays from 10am to 2 pm, Happy Hour daily from 5:30 pm to 6:30 pm and bar service until midnight seven days a week.  L'Abattoir also offers 1200 square feet of beautifully appointed private dining facilities that are completely separate from the restaurant dining room and are available to book for corporate events, weddings or other celebrations.
217 Carrall Street, Vancouver, BC  V6B 2J2 | 604­568­1701 | labattoir.ca| gaolersmews.com
Facebook: /labattoir | Twitter: @LABATTOIR_VAN | Instagram: @labattoir_van | @no1gaolersmews
ABOUT THE BC HOSPITALITY FOUNDATION:  The BC Hospitality Foundation (BCHF) is a registered charity that raises funds to support those in the hospitality industry facing financial crisis due to a medical issue.  Each year hundreds of hospitality workers across BC face financial challenges and have nowhere else to turn.  The BCHF helps them when all other options have been exhausted.  In addition, the BCHF offers a scholarship program to foster the development of the next generation of hospitality workers and industry leaders.
https://bchospitalityfoundation.com
Media release and images provided by Alexis Cooper, L'Abattoir.
[wdi_feed id="2″]