STEP INTO SUMMER AT HARVEST COMMUNITY FOODS
Chinatown eatery celebrates warmer weather with seasonal CSA program, new rotating rice bowls, and house-made goodies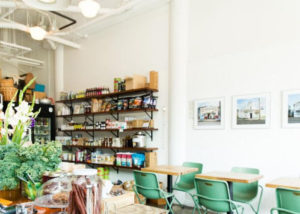 Summer is almost here and the popular  Chinatown eatery,
Harvest Community Foods
, is spreading the season's bounty with Community Supported Agriculture (CSA) bags packed with fresh local produce, new rotating rice bowls, and house-made products (dumplings, anyone?) that visitors can enjoy at home.
Throughout the year, Harvest's CSA program delights customers with perfectly packaged bags containing seasonal produce grown on local farms. This summer, the culinary treasure chests will feature intriguing ingredients like asparagus, radish and leafy varietals such as miner's lettuce. Each bag also includes recipes so customers can cook up the goodies without delay.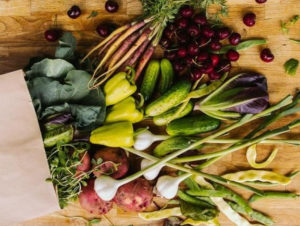 Priced solely to cover the cost of each bag's produce, the CSA program is a not-for-profit endeavour and a labour of love and dedication to B.C.'s incredible community of farmers and suppliers.
Each CSA bag is priced at $35, portioned for two people and are available for pickup bi-weekly. The next round of bags can be retrieved on Thursday, July 4, and the deadline to place orders is July 2. To sign up and receive sneak peeks at upcoming box selections, as well as receive healthy recipes delivered straight to your inbox, sign up for Harvest's 
bi-weekly newsletter
.
Visitors to Harvest will also notice summer fare gracing the menu, including a rotation of hearty rice bowls perfect for a lunchtime pick-me-up. Catering to a range of palates, diners can enjoy flavourful combinations like mapo tofu and ground pork; chickpea lentil tempeh; and Oyako Donburi, a traditional Japanese dish made with chicken and egg. The nourishing, sure-to-impress bowl is simply delicious, and accompanying ingredients can be found in upcoming CSA bags. Sign-up for the next round of CSA's to gather additional ingredients in one easy pickup!
Fans of
Burdock & Co
— Harvest's sister restaurant — will likely have attended the eatery's ever-popular Disco Dumplings
Monday-night series. Now, dumpling fans won't have to wait until the next event to get their favourite snack: featuring burdock and pork dumplings, the pillowy-soft delights are available for purchase frozen at Harvest (priced at $10 per bag; each bag includes 10 house-made dumplings). But that's not all: Harvest has introduced even more house-made products, including cherry yoghurt; raspberry jam; rose honey; pickled green beans; and chili garlic sauce, the perfect accompaniment to Harvest's dumplings. Keep your eyes out for the beautiful rebranded packaging, perfect as gifts with no wrapping necessary.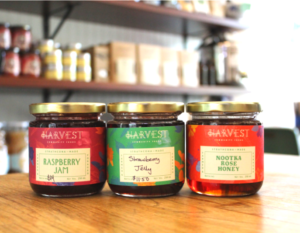 "We are thrilled to share this season's freshest ingredients through our CSA program and refreshed menu," says Gabriella Meyer, chef and partner of Harvest Community Foods. "Summer produce is vibrantly hued and delightfully flavourful, perfect for crafting aesthetic dishes that taste as amazing as they look. Our guests can taste these flavours over lunch, or peruse our shelves for ingredients to take home and share with their loved ones."
Harvest Community Foods is open Monday to Friday, 11am to 8pm; and Saturday to Sunday, 11am to 7pm. Though the kitchen shuts down 30-minutes before closing time, guests are more than welcome to browse the expansive collection of local produce and goodies lining the shelves. For more information, visit
Harvestunion.ca
.
About Harvest Community Foods
At its core, Harvest Community Foods is committed to bringing sustainable fare that is equally delicious and health-conscious to the local community. By carrying locally sourced produce, small-batch artisan products and plenty of vegan alternatives, Harvest aims to encourage Vancouverites to cultivate a close connection to the food they eat and the region they call home. The grocery and restaurant's design achieves the perfect balance between rustic and contemporary, echoing the aesthetic yet approachable vibe of sister eatery Burdock & Co. Warm, welcoming and bustling throughout the day, Harvest is a place to gather and connect – a true cornerstone of the thriving neighbourhood in which it is located.
Harvestunion.ca

Media release and images provided by Gemma Bishop, Avenue PR.

[wdi_feed id="2″]