Slow Fish Canada dinner returns to Vancouver Well known chefs cook together to raise awareness for sustainable seafood
Lovers of seafood and social times are to mark their calendars, as the Chefs' Table Society's Slow Fish Canada Dinner returns at the Pacific Institute of Culinary Arts (PICA) on September 27th, 2015. This annual event unites Vancouverites to gather and taste sustainable seafood in the most interactive way. Tickets, $89 + taxes and fees, can be purchased here. 
The evening starts with PICA culinary student-prepared canapés, and libations including BC wines and beer from and beer from Dogwood Organic Brewery. Next, attendees move through the school's eight professional teaching kitchens to meet the visiting chefs, who will each offer a tasting-sized portion of sustainable and lesser-known local seafood delicacies paired with wines from Salmon Safe wineries: Tinhorn Creek Vineyards, Covert Farms Family Estate, Sage Hills Vineyard, Haywire , vinPerdu Cellars, Inniskillin Okanagan Estate Winery, See Ya Later Ranch, Kalala Organic Estate Winery.
The event is presented by The Chefs' Table Society of British Columbia, whose mandate is to support sustainable food production and BC producers. Leading the event is Chefs' Table Society chef Ned Bell, YEW Seafood at the Four Season's. Other participating chefs include: Andrea Carlson, Burdock & Co, Robert Clark, The Fish Counter, Scott Jaeger, The Pear Tree, Alana Peckham, Alligga, Dino Renaerts, Bon Vivant, Chris Whittaker, forage and Greg McCallum, L'Abattoir.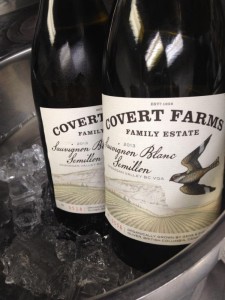 The intention of the event is to raise awareness for Slow Fish Canada (a Slow Food initiative) and its role in protecting our oceans. The quality and variety of the ocean's bounty will be in the spotlight at this special dinner.
While the participating chefs are known, their dishes remain a mystery until the night of, ingredients could include items such as sea urchin, sea kelp, wild gooseneck barnacles,scallops, halibut, pink salmon, wild lingcod, squid and geoduck*. Produce to be provided by Salmon Safe Rootdown Organic Farm, Glorious Organics, Klippers Organics Acres, Glen Valley Organic Farm, Shalefield Organic Gardens, Stein Mountain Farm, Helmer's Organic Farm, and Harker's Organics
Tickets, $89 + taxes and fees, include reception, food samples and beverages. As well, a chance to interact with eight acclaimed chefs.
With only 100 tickets available, seafood lovers are advised to act quickly, so they do not miss what is sure to be an exciting and delicious affair. Tickets can be purchased here.  
*Please Note: Due to the fluctuations in water temperature the slow fish to be used is subject to change based on safety and sustainability of product.  
About The Chefs' Table Society of British Columbia
The Chefs' Table Society of British Columbia is a registered, non-profit society composed of BC's leading chefs and culinary professionals. It is a chef-administered, province-wide collaborative dedicated to creating a foundation for the exchange of information between culinary professionals. The Society supports innovative and sustainable programs that will inspire, educate and nurture BC chefs, producers and the local food industry. The Chefs' Table Society secures apprenticeships for and bestows bursaries to emerging local chefs and also finances culinary education programs in BC schools. For more information or to become a member visit chefstablesociety.com. Get social with the chefs on Facebook, Instagram, or Twitter.
About Slow Fish Canada
Slow Fish Canada is a campaign to that focuses on issues related to fisheries, and encourages only the seasonal consumption of wild salmon, discourages the consumption of any form of farmed salmon, and is committed to the restoration of wild salmon stocks. Learn more about the Slow Fish Movement at  www.slowfood.com/slowfish/ Follow Slow Food Canada on Facebook and  Twitter.