New York advertising agency 6S Marketing started using the name "6S" back in 2000. Never did they imagine that one of the biggest companies in the world would start using a variation of their name.
As Apple prepares to unveil the next versions of the iPhone, rumors regarding the possible names of the September 9th release being iPhone 6S and iPhone 6S Plus are abundant. 6S Marketing has launched a campaign called #WeAre6S to ask Apple to consider naming the device the iPhone 7, instead.
"We named the company 6S because it sounds like 'success,'" explains 6S Marketing President, Chris Breikss. "The name came from a custom license plate on a Mercedes that my father and I spotted when I was 11 years old — it read SSS SSS. After much deliberation, we realized that translated to 'six-esses,' or 'successes.' Years later, that eventually became the name of our company."
The full history of the 6S Marketing name and the open letter to Apple can be found on WeAre6S.com.
"Our name is very important to us," Breikss says. "After the iPhone 4S and 5S launched, we realized that our once-unique name could be in jeopardy, linked to the most popular mobile device in the world. We love Apple's products; most of us use iPhones on a daily basis and we're flattered to potentially share the same name. However, we would prefer that Apple change the naming convention and consider calling their next phone the iPhone 7."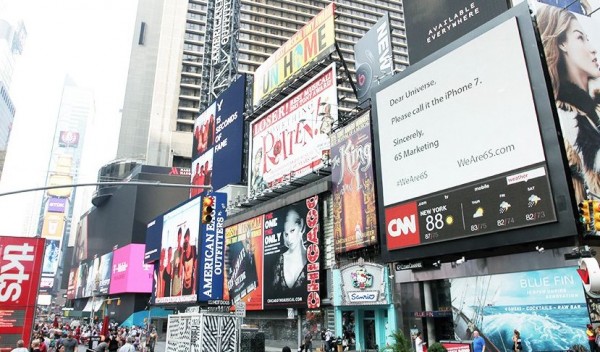 To broadcast their request, 6S Marketing has placed a billboard in Times Square, as well as a mobile billboard in front of Apple's iconic glass cube New York store, with a simple message — "Dear Apple, Please call it the iPhone 7. Sincerely, 6S Marketing."
The company also regularly uses the hashtag #WeAre6S to highlight their corporate culture on Instagram and Twitter. The public is en- couraged to follow this hashtag (as well as the website WeAre6S.com) for all updates, including news of any response received from Apple regarding the company's request.
About 6S Marketing
6S Marketing is a global marketing agency that transforms businesses for the digital age. For over 15 years, the company has been helping clients embrace the digital world and the technological change that is revolutionizing their businesses by connecting data and storytelling to help make brands profitable, shareable, and ultimately more valuable. 6S Marketing provides distribution of advertising creative via such paid campaigns across multiple digital channels as Facebook, Google, Twitter, YouTube, Tumblr, Instagram, Pinterest, LinkedIn, WeChat, Weibo and Baidu.
This press release has been published here with the permission of Chris Breikss, President, 6S Marketing.
6S is more than a marketing agency—they're a trusted partner and collaborator.