This is the third and last instalment in "Getting to Know Olympic Athlete Crispin Lipscomb"
Lipscomb will compete on February 11, 2014 at 2:00 a.m. PST.
At one time you talked about going in a totally different direction by going into TV or film, did this happen for you?
I used to be heavily involved in film and TV, would take up any offer to get in front of the cameras. However the technology of film making accelerated right as I was getting off the Snowboard scene and I surrounded myself more in the forest and woodworking/ home renovating projects and did not catch up on the computer, cameras and challenges of film/TV. But you can go check out some projects from the past on You Tube. A fiend made a 4 -year documentary on my mission to Turin Olympics. Check out "The Pipe Dream" by Liam Walsh/ Sporatic Films circa 2006 at
http://www.youtube.com/watch?v=psCCWNYaelQ
What made you decide to travel to Korea?
I had done well at a World Cup there in 2005 and was invited back by local snowboard federations to compete and to draw more points for the local riders. I was introduced to a Buddhist Monk who hosted some cool annual contests. He runs a 1000 Year old temple in the mountains nearby a resort. This monk character loved to snowboard and would ride halfpipe in his robes and snow pants. He watched me run my snowboard camps there in Korea for a couple years and invited me and my crew to come up and stay at the temple and learn more about their Korean Buddhist scene.
What was it like for you there? What made you decide to become a Buddhist?
I ran snowboard camps there every year for four or five season in a row, visiting for two to three weeks mid-season. It was always fun being hosted at the resorts but I would always take a few extra days and stay way up the mountains at the Dragon's Gate Temple with the Monks. Speaking no English they would invite me to prayer sessions, meals, walks, and even some kung fuu lessons deep in the forest taught by some very small but incredibly strong a talented master. I was very interested in the fundamental ideas and principals taught by the Buddha and his followers. I found a bunch of parallels to our snowboarding sport and found other great lessons in the stories and legends of the Buddha's times.
How has being a Buddhist affected your life?
Hard to say, I feel I have become more calm, more forgiving and definitely have aimed to keep compassion at the front of my mind. I learned that compassion is to have understanding before judgement. My aim is to try to understand situations and other people's reactions or motivations before I make any quick decisions or judgements. It is not always easy and I have a whole lot to learn, but I find things more enjoyable and manageable when I keep compassion at the root of my thoughts. I have found it easier to deal with fear and physical challenges in my sport as well. I have found a different way to look at the passing of time and the passing of friends and family around me. I have appreciated life and loss and success and failure much more in the last few years.
Will this Olympics be your final encore or will you continue to compete?
I believe this will be the last round of such high level contest for me. I will compete at the Canadian National Champs in Calgary in March to satisfy the Canadian National Team and Olympic committee with whom I have signed an agreement to allow for me to compete here in Sochi. But I will not pursue the World Cup points, the Pro Tour media coverage or the big "spin to win" cash prizes. I just want to get out and snowboard as often as possible with friends and to sure all my experience and secret knowledge with hard working athletes on snow.
I recently read that you are now ranked #3 in your sport.  Do you feel added pressure because of your standing?
I am not sure I am ranked so highly but am going in to this week's contest ranked #2 in Canada. I have not needed outcome type motivation for this year's contest tour because the love of my sport, and the urge to get better every day has kept me working hard! I love snowboarding, even when it goes wrong. Every chance to learn and to improve or to face some fears is a great chance to live.
After the rush of competing in this Olympics will you go back to coaching or do you see your life going in a different direction?
I will definitely look forward to coaching in the coming years. My dream is to create a World class training center just north of Whistler to provide the environment foe young freestyle athletes to achieve their goals of Olympic Gold, of becoming stars in their sport and to learn the fundamental principals of good sport and good life.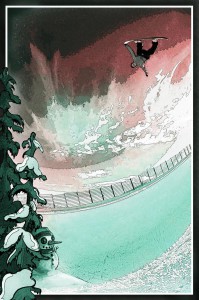 "Chop wood before enlightenment. Carry water after enlightenment." Buddha.
With continued thanks to Chris Breikss and 6S Marketing for their generous sponsorship of Olympic Athlete Crispin Lipscomb. Check out S6 Marketing's latest fund raising venture to benefit Crispin http://instagram.com/p/kLjFmthoOF/
You can also help out as additional funds are needed to cover the costs and to ensure Lipscomb can compete without worries about his financial security. You can be involved and help support this local athlete by donating to his indiegogo campaign.
Feature pic courtesy of fotojj.com