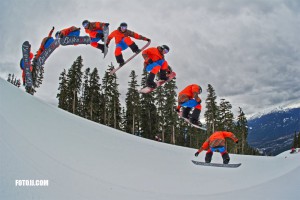 Lipscomb competed for the first time at about age 12 in Ottawa. He had been introduced to the sport of skateboarding on mini ramps (wooden half pipes) at the Ottawa Boys and Girls Club. Lipscomb then started to compete locally in Ottawa and Quebec at age 13 to 16 and competed for the first time on snow at 16 at Camp Fortune Ski Hill in Gatineau, Quebec. He garnered the sponsorship of a small shop called Sk8 City and skateboard legend Claude Regnier. Regnier supported and sponsored 14 year old Lipscomb for three years until he moved to Western Canada to pursue dreams of becoming a pro snowboarder.
Long before snowboarding became an Olympic sport Lipscomb aspired to become a pro snowboarder, to be featured in magazines, be sponsored by and have pro gear made by renowned brands. In his youth he would be on the snow daily, teaching at ski resort snowboard schools and discovering coaching. Coaching proved to be a great way to keep riding and pay the bills at the same time. Lipscomb's "Gold Medal Dreams" became a possibility at age 22 when he was discovered by the Canadian National Team, trying out for the 2003-2006 Olympic program.
Lipscomb was recently the coach of competitor Katie Tsuyuki, having turned that responsibility to Coach Dan Raymond he is now in a position to focus on his own aspirations. By his own admission this is "my last swing at the ball" and he recognizes that this is a very big opportunity to compete and do his best. Deservedly proud of what he has achieved in reaching his goal of participating in the Olympic Games and wanting to do his best work and have no regrets on February 11. Lipscomb has enjoyed the dual role as he approaches his own goal. Focusing on Katie's work keeps him in context. Lipscomb predicts Katie will run her best, "let loose on the throttle, going bigger and higher than she has before".
So we will be following the progress and competition of Crispin Lipscomb the comeback competitor.
Still additional funds are needed to cover the costs and to ensure Lipscomb can compete without worries about his financial security. You can be involved and help support this local athlete by donating to his 
indiegogo campaign
.