L'ABATTOIR ANNOUNCES THEIR NO. 1 GAOLER'S MEWS DINNER SERIES LINE-UP FOR 2020
Three of Canada's best chefs to join Chef Lee Cooper for three dinners in support of the BC Hospitality Foundation
With the start of the new decade and coming into its 10th year of operation, L'Abattoir is once again donating all of the proceeds from the exclusive No. 1 Gaoler's Mews dinners in 2020 to the BC Hospitality Foundation.
With another incredible line-up of guest chefs arriving at L'Abattoir's doorstep this year, Chef Lee Cooper is looking forward to welcoming three of Canada's best to collaborate on these exclusive and elaborate dinners for just 9 guests on each occasion.
Edition No. 18 of the dinner series will take place on Friday, March 20th and will feature a collaboration between Chef Antonin Mousseau-Rivard of Le Mousso and Le Petit Mousso in Montreal and Chef Lee Cooper.  Le Mousso was ranked #6 on Canada's 100 Best in 2019 and Mousseau-Rivard himself was awarded Most Innovative Chef at the same time.
Edition No. 19 on Friday, June 12th will feature Chef Rob Gentile of Buca and the King Street Food Company in Toronto.  The Buca collection of restaurants are consistently rated amongst Canada's top restaurants and Chef Gentile has taken Italian food to the next level in his kitchens and is looking forward to working on an incredible dinner at No. 1 Gaoler's Mews with Chef Lee Cooper this summer.
The final dinner of 2020 will take place on Friday, November 13th and will bring together mentor and mentee when Chef Scott Jaeger of culinary institution, The Pear Tree, joins forces with his former Sous Chef, Lee Cooper.  Chef Jaeger is a previous Bocuse D'Or contender for Canada and arguably one of Canada's very best and most talented chefs.
Chef and owner of L'Abattoir, Lee Cooper and his team made the decision to shift the focus of the No. 1 Gaoler's Mews dinners towards a higher purpose at the beginning of 2019 and haven't looked back since.  "We had been searching for a way of making a larger impact for an organization that we believed in, so rather than making many small donations to many different causes throughout the year, we took our passion project, No. 1 Gaoler's Mews and turned it into a fundraising program for a charity that we support wholeheartedly", says Cooper of the shift.
In 2019, L'Abattoir raised over $17,000 for the BC Hospitality Foundation and they hope to exceed that contribution in 2020.   "We are thrilled to be the recipients of L'Abattoir's fundraising through their No. 1 Gaoler's Mews dinners", says Dana Lee Harris, Executive Director of the BCHF.  The funds raised go towards providing assistance to those in the hospitality industry that are facing financial hardship due to a health condition. The foundation has also set-up a culinary scholarship in L'Abattoir's name, which is currently accepting applications until March 31, 2020.  
Tickets for each dinner are auctioned off the month prior to the dinner with 100% of the proceeds from ticket sales going towards the BC Hospitality Foundation.  Dinner and auction dates are listed below and interested diners can visit gaolersmews.com to sign up for announcements and to bid on tickets when the ticket auctions are opened for each dinner:
Edition No. 18: Friday, March 20th, 2020 featuring Chef Antonin Rivard-Mousseau
Auction opens: Monday February 24th at 9:00am 
Auction closes: Saturday February 29th at 6:00pm
Edition No. 19: Friday, June 12th, 2020 featuring Chef Rob Gentile
Auction opens: Monday, May 11th at 9:00am 
Auction closes: Saturday, May 16th at 6:00pm
Edition No. 20: Friday, November 13th, 2020 featuring Chef Scott Jaeger
Auction opens: Monday, October 12th at 9:00am 
Auction closes: Saturday, October 17th at 6:00pm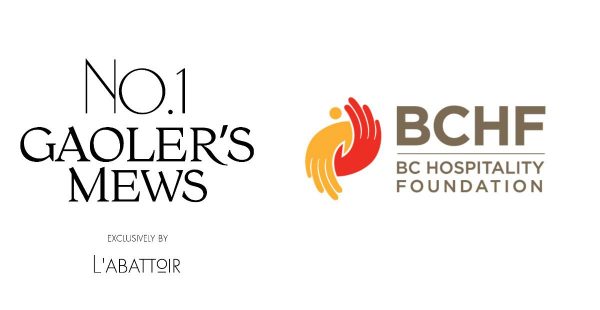 ABOUT L'ABATTOIR | Located in the heart of historic Gastown since 2010, L'Abattoir is situated in a refurbished 19th­ Century heritage brick ­and­ beam building that pays homage to its history as the site of Vancouver's first jail in the city's main meat­packing district. Today, L'Abattoir has staked its claim as one of Canada's best restaurants with a diverse array of French­-inspired West Coast fare focusing on locally sourced, seasonal ingredients along with an ever­ changing selection of classic and signature cocktails and a broad list of BC and imported wines. Whether in its front­ of­ house bar and lounge, elevated dining room or glass­ and­ steel­ accented atrium, L'Abattoir offers dinner from Sunday to Thursday from 5:30 pm to 10 pm and Fridays and Saturdays from 5:30 pm to 10:30 pm, weekend brunch on Saturdays and Sundays from 10am to 2 pm, Happy Hour daily from 5:30 pm to 6:30 pm and bar service until midnight seven days a week.  L'Abattoir also offers 1200 square feet of beautifully appointed private dining facilities that are completely separate from the restaurant dining room and are available to book for corporate events, weddings or other celebrations.
217 Carrall Street, Vancouver, BC  V6B 2J2 | 604­568­1701 | labattoir.ca| gaolersmews.com
Facebook: /labattoir | Twitter: @LABATTOIR_VAN | Instagram: @labattoir_van | @gaolersmews
ABOUT THE BC HOSPITALITY FOUNDATION:  The BC Hospitality Foundation (BCHF) is a registered charity that raises funds to support those in the hospitality industry facing financial crisis due to a medical issue.  Each year hundreds of hospitality workers across BC face financial challenges and have nowhere else to turn.  The BCHF helps them when all other options have been exhausted.  In addition, the BCHF offers a scholarship program to foster the development of the next generation of hospitality workers and industry leaders.
https://bchospitalityfoundation.com
[wdi_feed id="2″]