The BC Hospitality Foundation (BCHF) is pleased to announce it will receive 100% of the proceeds from a series of 3 intimate dinners held at L'Abattoir's No.1 Gaoler's Mews over the coming months. The dinners, each of which has only 8 seats available, will be collaborations between L'abattoir's Chef Lee Cooper and internationally renowned chefs. In order to maximize the funds raised for the BCHF, tickets will be sold via an exciting online auction. The first dinner, on March 19th, will feature Chef Kyle Connaughton and Katina Connaughton of SingleThread in California, which just received its third Michelin star.
L'Abattoir introduced its No.1 Gaoler's Mews dinner series in 2017, and the program was an immediate hit, with tickets selling out within minutes of being released. No.1 Gaoler's Mews is a "restaurant within a restaurant" – an intimate space in a 19th century brick and beam heritage building tucked behind L'Abattoir's Gastown location. The exclusive dinners held there take fine dining to new heights, as the table is prepared with crystal glassware and bespoke settings, there is custom décor, and guests receive keepsake gifts. Guests watch their multi-course dinner being prepared, and each dish is paired with premium wines. At this year's dinners, the lucky 8 will also enjoy tasting the work of award-winning chefs from Vancouver and beyond.
The 2019 dinners are a reboot after a brief hiatus, during which L'Abattoir explored options that would make the dinners not only a one-of-a-kind epicurean experience, but also a way for the restaurant to give back to the community. Chef Cooper notes that donating the event proceeds to the BCHF will "allow us to use our passion project to serve a higher purpose, as it gives us a way to support the local hospitality industry." The BCHF's Executive Director, Dana Harris, says the partnership between the charity and the restaurant is an inspiring example of the BCHF's core mission, which is that the hospitality industry works together to take care of its own. Furthermore, a portion of proceeds from each dinner will be earmarked for at least one culinary scholarship named for L'Abattoir.
The online auction for the 8 tickets available for the first dinner will open
here
a month prior to the event. The dinner on March 19
th
will include a multi-course menu paired with premium wines, and will be designed and executed by Chef Cooper, Chef Kyle Connaughton, and Katina Connaughton. The Connaughtons' SingleThread Restaurant in California has just been awarded its third Michelin star (read Michelin review
here
).
Subsequent 2019 No. 1 Gaoler's Mews Dinners will be:
· Friday November 8th featuring Canadian culinary icon Chef Rob Feenie of
Cactus Club Cafe
Details on the dinners will follow in the coming months.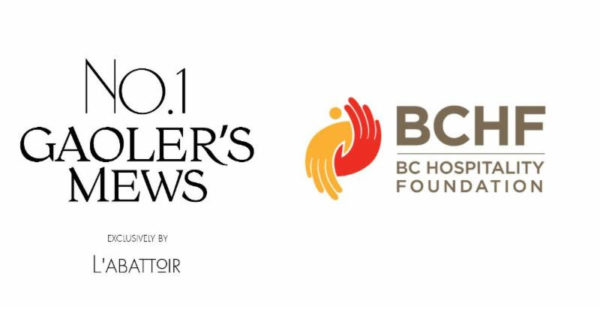 About the BC Hospitality Foundation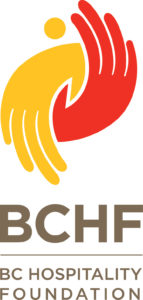 The BC Hospitality Foundation (BCHF) is a registered charity that raises funds to support those in the hospitality industry facing financial crisis due to a medical issue. Each year hundreds of hospitality workers across BC face financial challenges and have nowhere else to turn. The BCHF helps them when all other options have been exhausted. In addition, the BCHF offers a scholarship program to foster the development of the next generation of hospitality workers and industry leaders.
About L'Abattoir

Located in the heart of historic Gastown since 2010, L'Abattoir is situated in a refurbished 19th­ Century heritage brick and­ beam building that pays homage to its history as the site of Vancouver's first jail in the city's main meat­packing district. Today, L'Abattoir has staked its claim as one of Canada's best restaurants with a diverse array of French­-inspired West Coast fare focusing on locally sourced, seasonal ingredients along with an ever­ changing selection of classic and signature cocktails and a broad list of BC and imported wines. Whether in its front­ of­ house bar and lounge, elevated dining room or glass­ and­ steel­ accented atrium, L'Abattoir offers dinner from Sunday to Thursday from 5:30 pm to 10 pm and Fridays and Saturdays from 5:30 pm to 10:30 pm, weekend brunch on Saturdays and Sundays from 10am to 2 pm, Happy Hour daily from 5:30 pm to 6:30 pm and bar service until midnight seven days a week. L'Abattoir also offers 1200 square feet of beautifully appointed private dining facilities that are completely separate from the restaurant dining room and are available to book for corporate events, weddings or other celebrations.
217 Carrall Street, Vancouver, BC V6B 2J2 | 604­568­1701 | labattoir.ca| gaolersmews.com