Christopher Lay and Diana McKenzie opened Callister Brewing in 2015. Located on Franklin Street, just off of Clarke, Callister operates as a custom brew facility, renting space and equipment to three other brewers. The line up changes year to year, but this gives people interested in pursuing their passion an opportunity to hone their skills on a commercial level. Currently, Machine Ales, Brewery Creek (Chester Carey) and Real Cask (Adam Chatburn) are there. Each brewer is allotted taps and staffs the tasting room at least one day a week.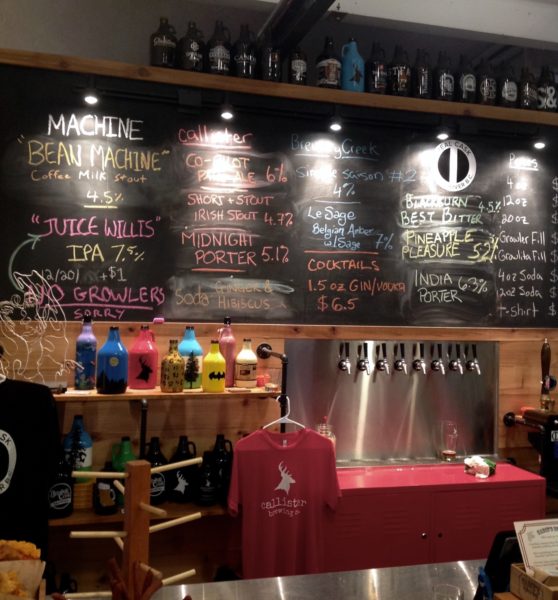 Machine Ales is the creation of Matt Kohlen and Adam Henderson, a beer judge and owner of Copper & Theory a beer import agency. Both were award winning home brewers before joining forces and creating Machine Ales. Currently, they are halfway through their year at Callister and are looking for a suitable site to open their own, bigger, brewery.
When I visited, I got to sit down with Matt Kohlen and talk to him, while his partner Adam manned the front end. At first, I was a little skeptical if Matt was a real craft brewer or as he is one of the few not to sport a beard, which I believe is almost obligatory in the craft brew industry.
They make two batches of beer each month, as it is about a two-week process from start to finish, and it tends to always sell out before the next batch is ready. This speaks to the need for Machine Ales to find their own larger facility so they can keep up with demand. When they are finally in their new digs, the plan is to make a couple of their 'regular' offerings and then have a rotating line up of unique ales as well, including barrel-aged sour beers. Their fruity IPAs have proven to be very popular, especially with some people (often females) who don't usually like beer.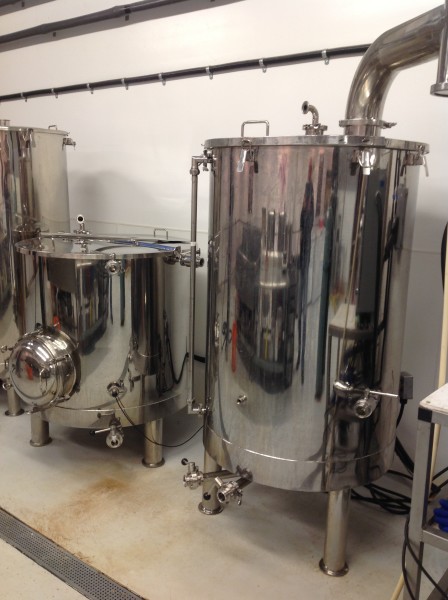 Matt mentioned that the beer in the tanks is held at very cool temperature (42°) and that as it warms up in the glass, it evolves and the complex aromas and flavours emerge. To the uninitiated, it may seem that making one style of beer, India Pale Ale, would get to be boring, but nothing could be further from the truth as the possibilities are almost endless.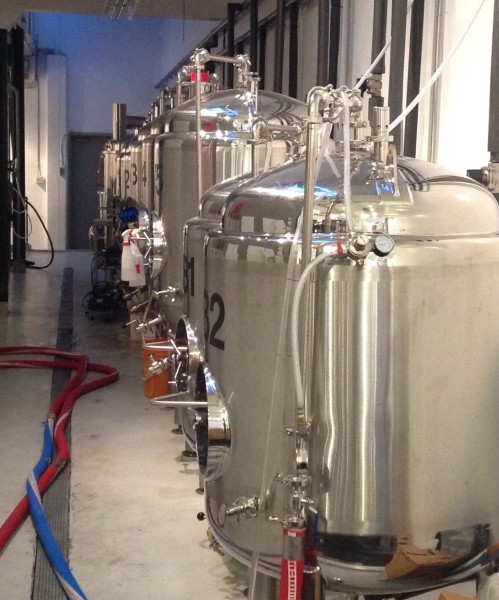 The combination of hops to get just the right flavour profile and the timing of the dry hopping makes all the difference. All the flavour comes from the hops – it is the combinations and the timing that matters, that makes the difference. Kohlen said that some hops are public domain strains while the better ones these days are patented. Machine Ales buys the finest hops from Washington State, New Zealand and Australia. Depending on the brew being made, Matt sometimes controls the water profile, tweaking it if necessary to enhance certain flavours.
It's all about the flavour, and it is probably safe to say that compared to years ago, people drink less, but better beer. Matt explained that it is easy to make good beer, even very good beer and that can help to explain the proliferation of craft breweries that have arisen over the last few years. However, to make truly excellent beer is a little trickier. That involves painstaking attention to all the factors involved. It is attention to small details, such as selection of hops, temperature, timing and water profiles, that can make all the difference.
After fine-tuning their skills at Callister Brewing, Matt and Adam are ready to strike out on their own. Their goals are modest ones – to make THE BEST beers, and after sampling their Juice Willis IPA. I am inclined to believe they will do just that. This particularly fruity IPA beer was big, soft and delicious with just the right amount of hops and notes of pineapple, stone fruit and orange on the finish. Matt described this beer as being an East Coast style of IPA. So far, the guys have been experimenting and each batch tends to be a one off, so drop by often and see what's new. Machine Ales are currently only available at the brewery and at The Alibi Room in Gastown, which receives a couple of kegs each month and sells out soon after it is tapped.
Callister Brewing Co can be found at 1338 Franklin Street in Vancouver, just north on Clarke off of Hastings. They are open Wed to Friday from 2 – 8, Saturdays from 1 – 8 and Sundays 1- 6. Closed Monday and Tuesday. Drop by and try a range of beers from four different brewers all at one site. Callister also offer gin and vodka from nearby Odd Society Distillers.
There is great competition in Vancouver's craft brew industry and it is pushing all brewers to become better. In other words, the best is yet to come. Now that is something we can all look forward to. Cheers!