Science of Cocktails is back – and thirsty Vancouverites will once again have the opportunity to be shaken and stirred by this one-of-a-kind event that explores the art of mixology, modern cuisine and the science behind both.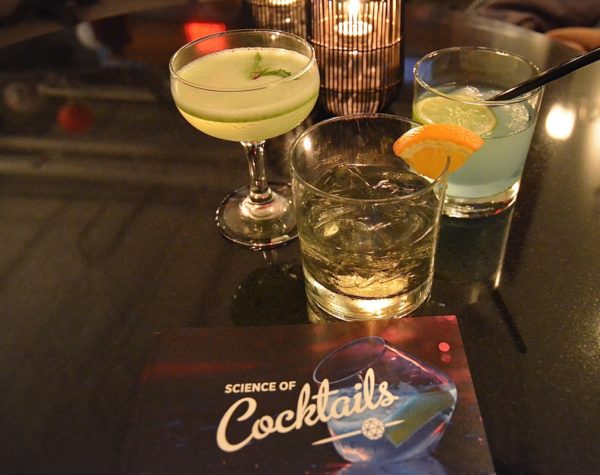 On February 9, 2017, the signature fundraiser will transform Science World at TELUS World of Science into Vancouver's largest laboratory, featuring the city's most talented bartenders and chefs. Science of Cocktails supports Science World's Class Field Trip Program, which provides free class field trips to Science World for students at underserved schools in Vancouver and the Lower Mainland.
An average field trip, including bus transportation to and from the building, admission, a workshop, and a take-home activity, costs approximately $1350 per class. Last year, funds raised at Science of Cocktails 2016 enabled more than 5,000 students to apply for a Science World Class Field Trip Bursary this school year. This year's event hopes to surpass this milestone.
It's just been announced that Science of Cocktails is officially SOLD OUT. For those lucky people who have a ticket, here's a sneak peek of what to expect at the event, including some modern takes on cocktail design.
First, Gez McAlpine demonstrated the concept of 'Nitro Muddling' which avoids the unpleasant side of muddled herbs by employing liquid nitrogen to muddle herbs like basil, mint and thyme. The result – the Nitro Lady, consisting of Botanist gin, lemon juice, egg, sugar, orange bitters and my herb of choice, which in this case was basil. Delicious!
Gez was kind enough to supply the recipe.
2 oz Botanist Gin
3/4 oz Cointreau
1 oz lemon
1/2 oz egg white
A few sprigs of either Thai basil, thyme or mint
A splash of liquid nitrogen
Nitro-muddle your herb of choice: Pour a little liquid nitrogen into a stainless steel shaker with the leaves, and use a muddler to grind them into a frozen dust. Then add Botanist Gin, Cointreau, lemon & egg white. Shake with ice and pour through a tea strainer into a chilled coupe glass.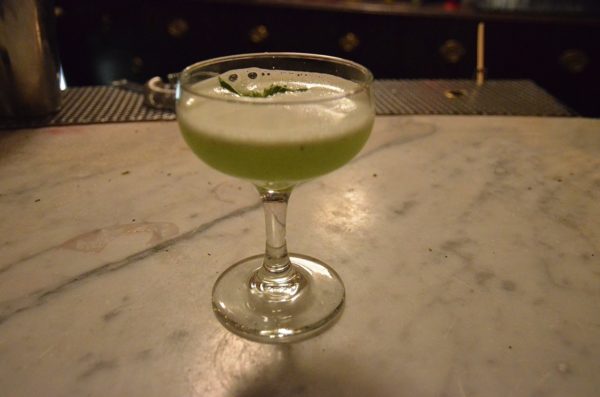 Next, Trevor Kallies put together a 'Clarified Cocktail' called the Pina Clear-ada. Made with Havana club rum, coconut water, falernum, demerara syrup, pineapple juice, lime juice, and scalded milk, this punch is totally clear due to all the dairy solids being removed. Although the difference was clear, it tasted to me exactly like a traditional pina colada.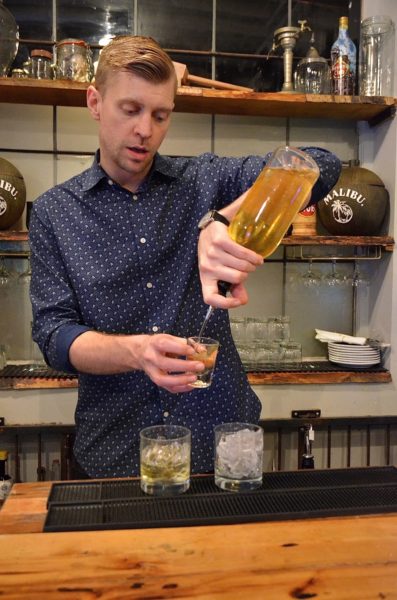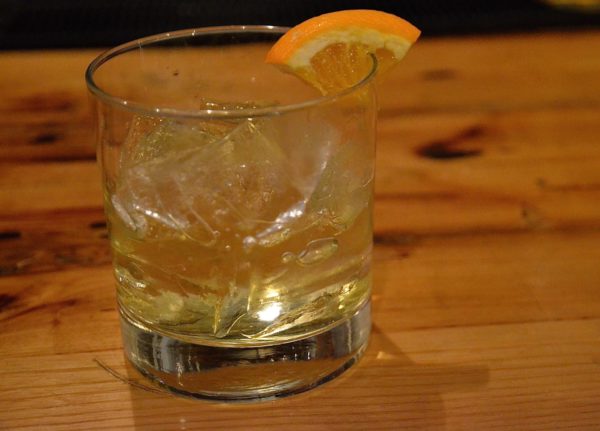 I also got a taste of some of the dishes that will be served by a dozen Vancouver chefs at food stations throughout Science World.
First, I was treated to a tasty dessert from Showcase Restaurant and Bar. Executive Chef Jesse Hochhausen and Sous-Chef Rory Higdon employed that crowd-pleasing liquid nitrogen to create a yummy passion fruit curd with meringue, kaffir lime, white chocolate and coconut.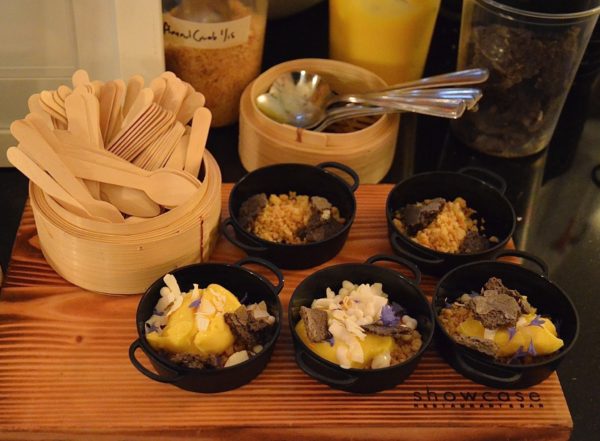 Next, Emelle's Catering's Executive Chef Mary Lee Newnham and Chef Darren Upshaw
presented Thai-influenced carrot and ginger spheres on meringue coconut nests with curry hollandaise and crispy basil.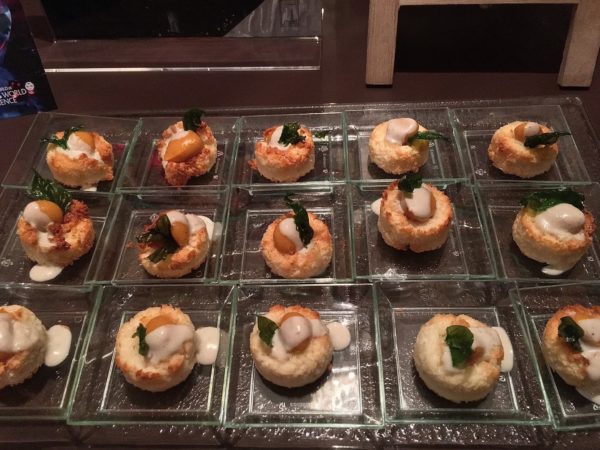 Culinary Capers Executive Chef Stewart Boyles served up crispy bites of puffed black rice with pumpkin brulé and red onion.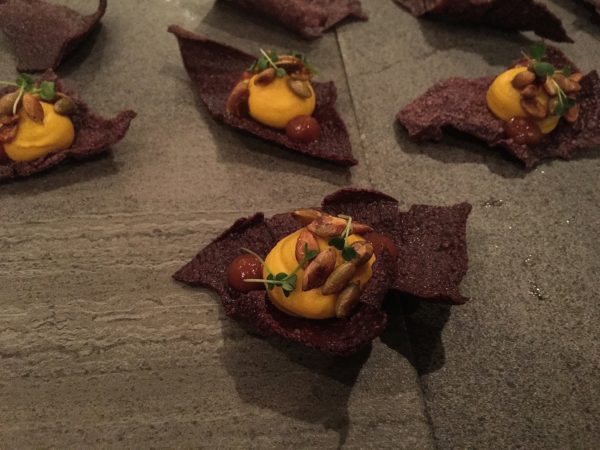 My personal favourite was a beautiful tricolor beet terrine with a poached prawn, chive pearls, fennel and orange foam presented by Sysco Chefs Andrew Mott and Andrew Nickerson. Gorgeous in every way.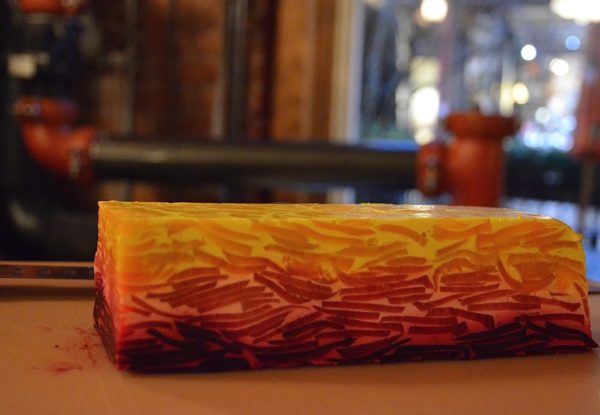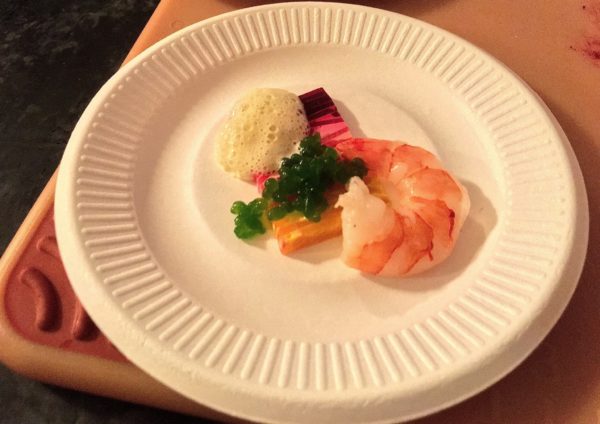 Of course, it wouldn't be Science of Cocktails without science – and I caught some of the attractions that guests will enjoy on February 9th.
Created by the talented team at MakerLabs, Robot Bartender makes a mean negroni.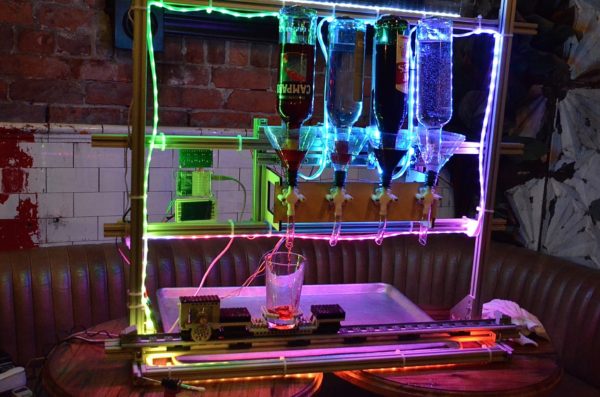 And back by popular demand, Brian Anderson, Director of Performance and Fun Times, Science World, will use good old liquid nitrogen at almost -200 degrees Celsius to make balloons seemingly inflate themselves and rubber turn as hard as stone.
Science of Cocktails is a 19+ event. Doors open for VIP guests at 7 pm on Thursday, February 9th, and at 8 pm for general admission ticket holders. For more information, visit https://www.scienceworld.ca/cocktails, or call 604-443-7484.