My less than covert smile seemed to amuse some and confuse others as I strolled down Robson Street on that perfect, Music Monday morning.  It was perfect because by 9:40 am the sun had already made quite a presence in Vancouver, and a light sweater was all that was needed to navigate the crowded sidewalk towards Robson Square.  It was perfect because faint and distant notes had begun puncturing the din and brouhaha of traffic, thereby signalling the world's largest event dedicated to promoting music in schools, was nearby.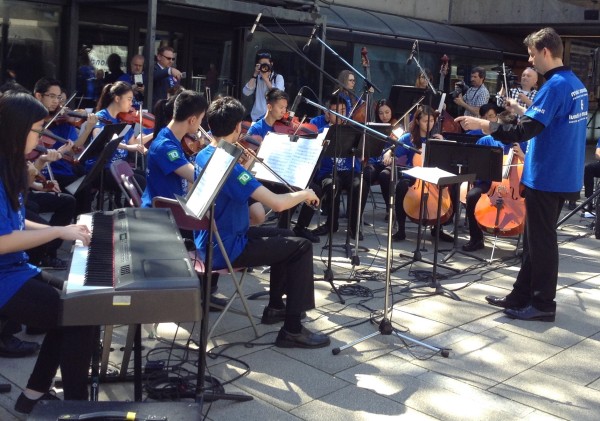 The usual articulation of strings and brass warming up, filled the air as I entered the venue.  More than two hundred pumped, music students busied themselves within their designated areas.  Veteran musicians from the Vancouver Bach Choir, the Royal Canadian Artillery's Band of the 15th Field Regiment, and the Vancouver Fire and Rescue Service band surveyed the scene with anticipation, obviously pleased to contribute their talents.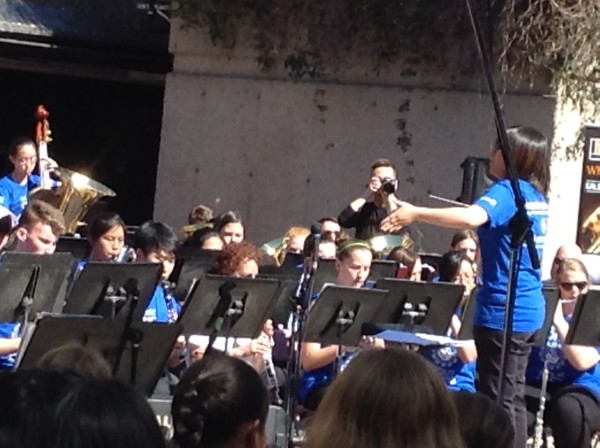 At 10:00 am the 12th Annual Music Monday began with  Canadian children's singer and JUNO award-winning artist, Charlotte Diamond as emcee. Next, Christin Reardon MacLellan the President of the Coalition for Music Education in BC, the conductor of a youth band in the Greater Vancouver Youth Music Academy, and the Education & Community Programs Manager for the Vancouver Symphony Orchestra, welcomed musicians and guests.
Her passion for music education was palpable as she spoke to its benefits:  'Playing in a music ensemble offers children an experience they can't get elsewhere. In band and orchestra, students learn non-verbal communication, self-expression through an instrument, development of fine motor skills, positive social interactions, and how to participate in the creation of something bigger than oneself.'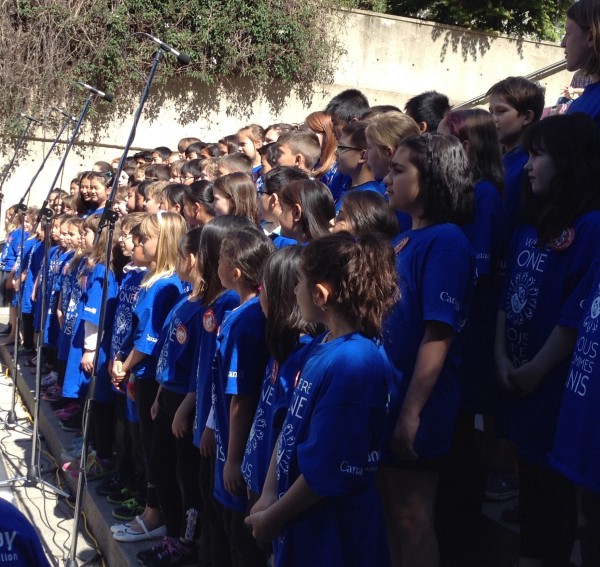 Demonstrating the truth of Christin's words and the words of others who followed, conductors Dr. Robert Taylor and Dr. Jonathan Girard of UBC led the Music Monday anthem, 'We Are One', written by Connor Ross of Ontario when he was 16 years old.  To say it was powerful is an understatement!  The performance was much more than that:  it was inspiring and infectious;  it was moving and uplifting; it was an accomplishment created by the inclusion of hundreds of voices uniting as one.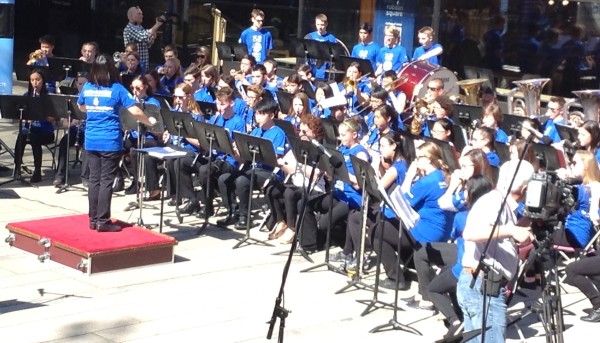 As members of each of the four lower mainland schools represented: Argyle, Killarney,  Seaquam Secondary Schools,  and Nestor Elementary,  carried out well-rehearsed, stirring pieces, I was struck by the relationships between the musicians and their conductors.  Notable was a pronounced audible and visual sharing of joy and pride.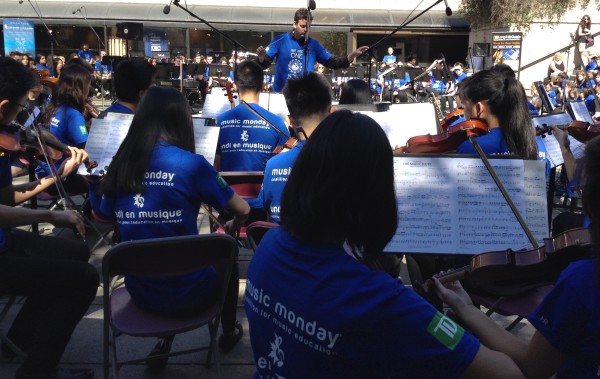 It would be difficult to leave this event untouched by the splendour of music; or, untouched by the importance of good music programs with qualified teachers in our public schools.  I was pleased, then, to learn that the Province of BC has issued a proclamation that May 2nd shall be known as music day in BC.  Perhaps, school music programs might not meet the guillotine after all!  One can only hope!